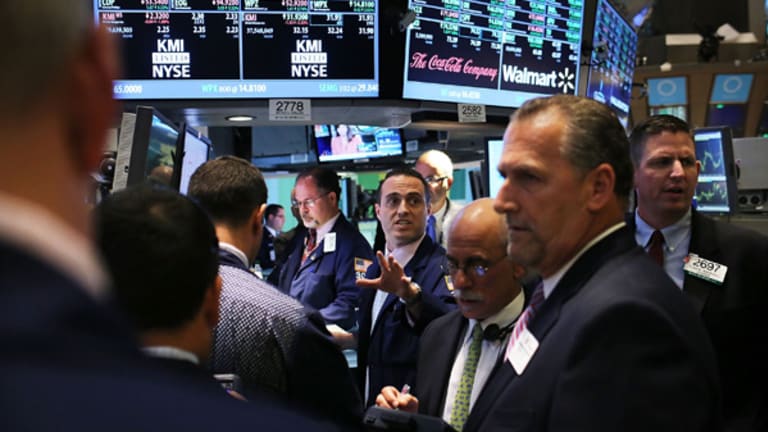 Stocks Put In a Nothing Day
Stocks finished Friday's session mixed, with tech shares rising on Intel's rosy outlook and blue chips faltering.
(
Updated with final price movements throughout
.)
NEW YORK (
) -- Stocks finished Friday's session mixed, as tech shares rose on
Intel's
(INTC)
rosy outlook while blue chips faltered.
After advancing as many as 31 points to start the day, the
Nasdaq Composite
turned negative at midday before ultimately finishing higher. The tech-heavy index tacked on 1.04 points, or 0.05% to 2028.77.
Meanwhile, the
Dow Jones Industrial Average
finished lower, losing 36.43 points, or 0.38%, at 9544.20, halting its win streak at eight sessions. Twenty of the Dow's 30 components ended in the red. The
dipped 2.05 points, or 0.2%, to 1028.93.
Friday's choppy trading came even as
raised its guidance range to $8.8 billion to $9.2 billion, up from the previous range of $8.1 billion to $8.9 billion. The Thomson Reuters consensus stands at $8.55 billion. Intel said the boost in guidance comes from strong demand for its chips. Intel closed 4% higher at $20.25.
Intel's gain was offset on the Dow by declines of 1.2% or more in
Boeing
(BA)
,
Merck
(MRK)
and
JPMorgan Chase
(JPM)
.
"There is a lack of conviction right now," said Robert Pavlik, chief market strategist with Banyan Partners. "You can't draw much of a conclusion based on the Dow's action right now, although it seems like a pullback may be in the offering given the recent run-up. In the back of people's minds, they still want to own stocks, but they want to own them at prices a little lower from where we are."
Friday's mixed session did little to change the major U.S. indices' performance for the week. The Dow and Nasdaq each rose 0.4%, and the S&P 500 tacked 0.3% over the last five sessions. The S&P 500 and Nasdaq are both headed for their sixth straight winning month.
In addition to Intel's strong outlook, a few other technology names kept the Nasdaq afloat Friday.
Late Thursday,
(DELL)
topped earnings expectations. Additionally, chipmaker
Marvell
(MRVL)
analysts' estimates, despite taking a revenue and profit hit.
Dell rose 1.8% to close at $15.93, and Marvell gained 5% to $15.36.
Outside of the tech space,
The Wall Street Journal
reported that
American International Group
(AIG)
CEO Robert Benmosche is willing to wait as long as three years to offer stakes in two multibillion-dollar foreign units that the troubled insurer had been racing to spin off. After surging more than 13% earlier in the day, AIG shares pared gains and ended up 5% to $50.23.
J. Crew
(JCG)
and Paris-based
L'Oreal
(OR)
better-than-expected profits for the recent quarter and first six months in 2009, respectively, and estimated that sales will continue to improve.
J. Crew shares rose 6% to end at $34.73. Overseas, L'Oreal added 7.4% to $69.50.
(TIF)
, which also topped estimates, jumped 11.3% to $37.57.
Turning to the day's economic data, the Commerce Department posted personal spending and income data for July before the start of trading. Personal income was flat last month, compared with expectations for a 0.1% rise. June's 1.3% decline was revised to a 1.1% slide. Personal spending, meanwhile, rose 0.2% in July as expected, with the prior month revised higher to 0.6% from 0.4%.
Shortly after that, the University of Michigan said the final read on its consumer sentiment for August came in at 65.7, slightly above the consensus of 64.
Long-term Treasury bonds reversed early losses stemming from the personal income and spending report. The 10-year note was up 4/32 in price, lowering the yield higher to 3.44%. The 30-year bond rose 18/32 in price, yielding 4.19%.
In other news,
China Unicom
(CHU)
it reached a three-year agreement to sell
Apple's
(AAPL)
iPhone in China, the world's largest mobile-phone market.
Stocks overseas were mostly higher. In Europe, London's FTSE 100 and the DAX in Frankfurt were rising 0.8% and 0.9%, respectively. In Asia, the Nikkei in Japan rose 0.6%, while the Hang Seng in Hong Kong edged down 0.7%.
Crude oil futures were up 25 cents to $72.74 a barrel, while gold jumped $11.50 to $958.80.
-- Written by Robert Holmes in New York with contributions from Elizabeth Trotta.