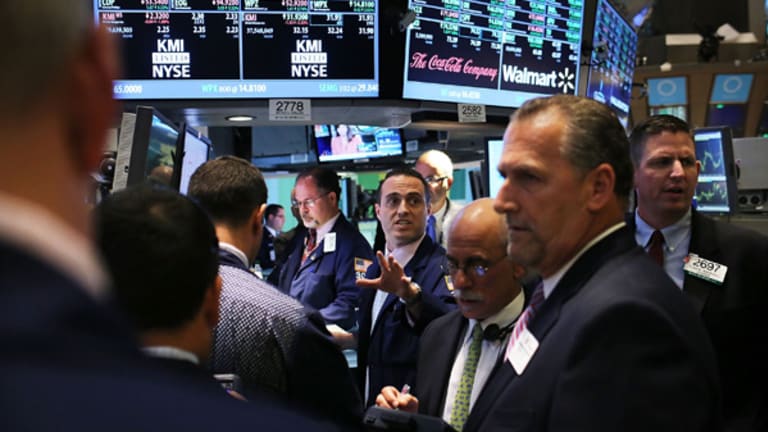 Stocks Put In a Down Day
All three major averages close at least 2% lower, as U.S. losses are in line with global declines. Alix Steel discusses the day in The Real Story video above.
All three major averages close at least 2% lower, as U.S. losses are in line with global declines. Alix Steel discusses the day in The Real Story video above.
Updated from 4:26 p.m. EDT
The major indices in New York shed more than 2% apiece Monday, with U.S. losses in line with global declines, as oil sank and commodities pulled back in the face of a strengthening dollar.
The
Dow Jones Industrial Average
finished down 187.13, or 2.1%, at 8612.13, while the
S&P 500
was lower by 22.49, or 2.4%, to 923.72. The
Nasdaq Composite
gave up 42.42, or 2.3%, to 1816.38.
The early-week selloff came after the Dow moved into positive territory for the year on Friday, as all three major indices closed out another week with gains.
Alcoa
(AA) - Get Report
fell 6.5%;
Caterpillar
(CAT) - Get Report
gave up 4.3%;
DuPont
(DD) - Get Report
declined 4.5%; and
Boeing
(BA) - Get Report
fell 3.7% on the Dow.
"The markets were due for some kind of selloff; they've had the longest buying stampede I have chronicled in my record," says Jeffrey Saut, chief investment strategist at Raymond James, noting that the strengthening dollar and some weaker than expected data from the U.S. Treasury were at play.
The dollar, although weaker against the yen, strengthened against the pound and euro during the session, while crude futures shed $1.42 to settle at $70.62. Rising oil pushed stocks like
Chevron
(CVX) - Get Report
,
Chesapeake Energy
(CHK) - Get Report
,
BP
(BP) - Get Report
and
Conoco Phillips
(COP) - Get Report
sharply lower. Gold fell $13.20 to $927.50.
"It just seems to be a little bit of the unwinding of the 'reflation' trade we've been seeing," says Bill Stone, chief investment strategist at PNC Wealth Management. "It might have got a little ahead of itself; so many people bought into inflation getting out of control -- and as soon as everyone is a believer, the trade stops working."
The U.S. Treasury Department offered one surprise. It reported that net
long-term securities transactions
fell to $11.2 billion in April, down from a revised $55.4 billion in March, and well below expectations for $60 billion. Net foreign sales of long-term securities totaled $8.8 billion, down from $36.5 billion in March.
Meanwhile, data earlier in the day from the Federal Reserve Bank of New York's Empire State Manufacturing Survey showed conditions in New York continued to deteriorate in June, at a moderately faster pace than in May. The general business conditions index fell 5 points to -9.4, well below expectations of -4.8 and down from the month prior, but still significantly above the sharply negative readings in October through March.
The new orders index remained negative and near last month's level; the shipments index fell 6 points to -4.8; the inventories index fell and remained well below zero, according to the report.
"I still think that it's the story of trying to weigh the recovery, and frankly on the days when you get better economic news or the market senses more recovery in the economy, stocks trade better," says PNC's Stone.
President Obama
Wednesday to propose "the most sweeping reorganization of the financial-market supervision since the 1930s,"
The Wall Street Journal
reported. At the heart of the plan is to give the
Federal Reserve
the power to oversee the biggest financial players and to give the government the power to unwind and break up systemically important companies and create a new regulator for consumer-oriented financial products, according to the report.
The administration's goal is to make it less likely the economy will again come so close to collapse by increasing policymakers' toolbox in times of need. Although lawmakers are expected to take issue with some issues, such as how to arrive at a system that doesn't only bail out large financial companies when they fail, according to the report.
Among the larger financial institutions,
Bank of America
(BAC) - Get Report
shares were down 2.8%,
Morgan Stanley
(MS) - Get Report
lost 4.4%, and
Citigroup
(C) - Get Report
gave up 2.9% on Monday.
Anxiety built over the weekend as finance ministers at the Group of Eight (G8) finance meeting in Italy discussed winding down economic stimulus, while International Monetary Fund chief Dominique Strauss-Kahn said that the world economy might yet feel the worst of the recession.
Stocks overseas were widely lower. In Europe, London's FTSE 100 and Frankfurt's Dax were down 2.6% and 3.5%, respectively. Japan's Nikkei lost 1%, while Hong Kong's Hang Seng gave up 2.1%.
Longer-dated Treasuries were rising in price. The 10-year was up 18/32, yielding 3.72%, while the 30-year was higher 1-5/32, to yield 4.57%.
In corporate news,
Capital One Financial
(COF) - Get Report
said loans
in its U.S. credit card business rose nearly one percentage point in May, from a month prior. Shares were down 2.3% at $23.40.
Meanwhile, Citigroup Chairman Richard Parsons said that while the government money is keeping the bank afloat, it will ultimately be
.
Outside of financials,
United Technologies
reaffirmed
its expectations for 2009 revenue and earnings. Its shares were down 2% at $54.72.
There were also a few analyst adjustments at the start of the new week: Goldman Sachs upgraded
Dell
(DELL) - Get Report
to neutral from sell, in light of cost-cutting measures and increased second-quarter demand. Dell shares gave up 3.9% to $12.87.
Also, Goldman downgraded
KB Home
(KBH) - Get Report
to sell, citing overexposure to the California market and limited cash flow. The price target was cut to $12 from $15. Shares lost 6% to $13.24.