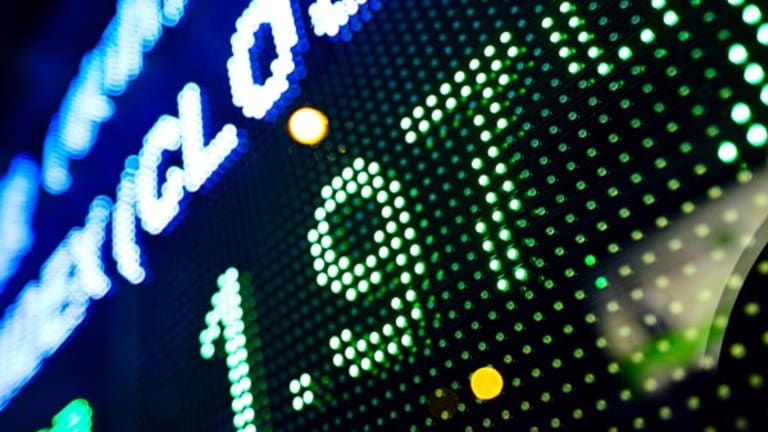 Stocks Punished Again
The major averages close near session lows as bond yields climb.
Updated from 4:11 p.m. EDT
Stocks closed near their worst levels of the session Tuesday as the continuing advance in bond yields dragged the major averages lower once again.
The
Dow Jones Industrial Average
rallied back from an early 104-point deficit and added as many as 24 points. The momentum proved short-lived though, and the blue-chip index reversed ground to finish with a loss of 129.95 points, or 0.97%, at 13,295.01.
Elsewhere, the
S&P 500
was lower by 16.12 points, or 1.07%, to 1493. The
Nasdaq
gave back 22.38 points, or 0.87%, to 2549.77.
Keeping pressure on the market was another selloff in Treasuries, particularly on the long end. At 4:10 p.m. EDT, the 10-year note was dropping 23/32 in price, lifting the yield to 5.25%, a five-year high that puts it even with the current fed funds rate. The 30-year bond was sinking 1-14/32 to raise the yield to 5.36%.
"Today's action was all interest rate-related, and until there's a sense the bond market will stabilize, we're in store for a volatile week," said Jay Suskind, head of institutional equity trading with Ryan Beck & Co. "Today, selling beget more selling as the 10-year's yield kept rising. There hasn't been a panic, but the bids keep slowly disappearing."
Michael Sheldon, chief market strategist with Spencer Clarke LLC, said that the stock market is having trouble adjusting to the new rate environment, and that investors have to re-evaluate what to do next.
"We've been taken by surprise at the speed in the move of bond yields," Sheldon added. "On a short-term basis, bond prices are likely to see some profit-taking, with yields backing off these recent highs."
Recent sessions have seen the broad indices controlled by the movements of the fixed-income side. Last week, a three-day slump erased 400 points from the Dow and 77 points from the Nasdaq before some of the losses were recovered Friday.
On Monday, stocks seesawed and ultimately ended little changed. The Dow ticked up 0.57 points to 13,424.96, the S&P 500 gained 1.45 points at 1509.12, and the Nasdaq eased 1.39 points to 2572.15.
Market participants are growing increasingly skeptical that the
Federal Reserve
will cut interest rates anytime soon, which has pushed the Treasury yields higher. Many investors had expected a rate cut sometime this year, but heightened concerns over inflation have all but completely undone those hopes.
"The probability of a Fed cut comes less and less, and that is concerning to the market," said Paul Mendelsohn, chief investment strategist with Windham Financial. "Chinese investors might be parking in the short end, which is reshaping the yield curve, too."
Among individual stocks,
Texas Instruments
(TXN) - Get Report
slipped 2.1% to close at $35.04 after the chipmaker tightened its earnings forecast and lowered its revenue expectations a bit.
Following the prior close, the company predicted a second-quarter profit of 40 cents to 44 cents a share and a top line of $3.36 billion to $3.51 billion. The midpoint of the new revenue range was slightly below the consensus target.
The loss in TI dragged on the Philadelphia Semiconductor Sector Index, which ended with a loss of 0.9%. Among other sector decliners, The Amex Airline Index lost 2.1%, the Philadelphia Housing Sector Index slid 1.9%, and the Philadelphia Oil Service Sector Index finished lower by 1.5%.
On the earnings front,
Lehman Brothers
(LEH)
posted a second-quarter profit of $1.27 billion, or $2.21 a share, up from $1 billion, or $1.69 a share, in the year-ago quarter. Analysts expected the broker to earn $1.88 a share, according to Thomson First Call. Shares finished higher by 38 cents, or 0.5%, to $76.06.
Lehman is the first of several investment banks that will report this week.
Bear Stearns
(BSC)
and
Goldman Sachs
(GS) - Get Report
are also on the schedule, and
Morgan Stanley
(MS) - Get Report
is set to report next week.
Cal Dive
(DVR)
agreed to buy
Horizon Offshore
(HOFF)
in a stock-and-cash deal worth about $650 million, and
Dean Foods
(DF) - Get Report
cut its outlook.
Cal Dive surrendered 48 cents, or 3%, to $15.52, while Horizon surged 10% to $18.64. Dean Foods sank 4.3% to $31.07.
As for research calls,
Apple
(AAPL) - Get Report
was downgraded to accumulate from buy at ThinkEquity, while the same firm lifted
RF Micro Devices
(RFMD)
to buy from source of funds.
Apple tacked on 19 cents, or 0.2%, to $120.38. RF Micro was worse by 4 cents, or 0.6%, to $6.25.
Bernstein upgraded
JDSU
(JDSU)
to outperform from market perform, and the shares rose 46 cents, or 3.5%, to close at $13.47.
Away from stocks, commodity prices were weaker. Crude oil ended down 62 cents at $65.35 a barrel. Gold lost $7.70 to $651.30 an ounce, and silver slid 23 cents to $13.05 an ounce.
Overseas, many major markets slipped. London's FTSE was down 0.7%, and Frankfurt's DAX was off 0.4%. Tokyo's Nikkei declined 0.4%, but Hong Kong's Hang Seng added 0.1%.