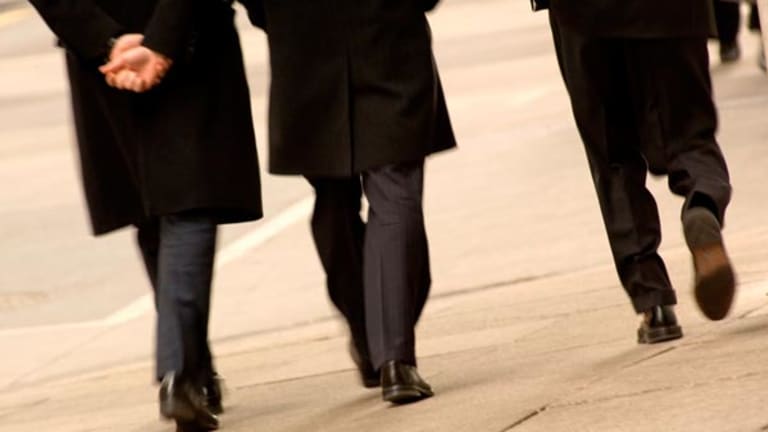 Stocks Power Higher on War News
The Dow ends 2.7% higher, while the Nasdaq gains 3.6% amid hopes that the war is going well.
Updated from 3:30 p.m. EST
Stocks ended sharply higher Wednesday, as optimism about the war with Iraq outweighed some disappointing economic data.
According to preliminary data, the
Dow Jones Industrial Average
rose 214 points, or 2.7%, to 8284, while the
Nasdaq
gained 48 points, or 3.6%, to 1396. The
S&P 500
added 22 points, or 2.6%, to 880.
Buying was generally broad based, with chip stocks up almost 7% on average, while retailers and banks were up more than 3%. Oil prices and bonds were lower, as was gold, while the dollar was firmer against the euro and yen.
Volume on the Big Board reached 1.22 billion, with winners beating losers by more than 2 to 1. On the Nasdaq, 1.28 billion shares changed hands, with advancers outpacing declines by more than 2 to 1.
"Significant progress on the military front, with advanced allied forces drawing within 20 miles of Baghdad, has reignited speculation about a short war," said Larry Wachtel, senior vice president at Prudential Securities. "Not only has the military success triggered bargain hunting and short covering, but it expresses the scramble among sideline-sitting monetary managers not to get left behind during a melt-up."
U.S. forces reportedly destroyed a key division of Iraq's Republican Guard at Baghdad, and the U.S. continues to battle Republican Guard units in the nearby city of Karbala, 70 miles south of Baghdad. Meanwhile, the Pentagon confirmed the rescue of Jessica Lynch, who had been listed as missing in action. Central Command said, however, that 11 bodies had been found at the hospital where Lynch was found, although it's unclear if they are U.S. soldiers.
The obsession with war allowed investors to overlook some weak economic news Wednesday. Factory orders fell 1.5% in February after climbing 1.7% in January. That was below economists' expectations for a 0.7% decline. On Tuesday, the manufacturing sector showed deterioration from the prior month as did construction spending.
"In our view, even in the event of a quick resolution
which looks unlikely, we doubt the economy will do much more than bounce back for a quarter or two," said David Rosenberg, chief economist at Merrill Lynch. Rosenberg said the end of the 1991 Gulf War touched off a brief bout of euphoria, "but beyond the initial rebound, the economy did not embark on a self-perpetuating vigorous expansion until the second half of 1993."
Treasuries were lower, with the yield on the 10-year note at 3.93%. Nymex crude was down $1.43 to $28.35 a barrel.
Overseas markets were higher, with London's FTSE 100 up 1.8% to 3753 and Germany's Xetra DAX up 5.6% higher to 2589. In Asia, Japan's Nikkei gained 1% to end at 8069, while Hong Kong's Hang Seng rose 1.3% to 8706.
In corporate news, U.S. House and Senate spending panels approved separate proposals for aid for the airline industry. The White House called the proposals "excessive."
Biogen
undefined
was up 12% to $33.92 after it said its first-quarter and full-year earnings would be higher than expected due to strong sales of its new psoriasis drug, Amevive.
SBC Communications
(SBC)
has dropped out of the race to purchase
General Motors'
(GM) - Get General Motors Company Report
satellite TV provider DirecTV. This leaves Rupert Murdoch's
News Corp.
(NWS) - Get News Corporation Class B Report
as the sole bidder for GM's
Hughes Electronics
(GMH)
, the parent company of DirecTV. SBC and News Corp. were up 4% to $22.25 and $27.59, respectively. GM was up 3% to $34.85.
After having posted a 7.9% drop in March auto sales,
Ford's
(F) - Get Ford Motor Company Report
president and chief operating officer, Nick Scheele, said the carmaker will stick to its estimates of demand in the U.S. market for 2003, despite the war. On Tuesday, Ford responded to GM's new incentive program by offering interest-free loans on most of its vehicles for up to five years. Ford was up 4% to $7.81.
General Electric's
(GE) - Get General Electric Company Report
proposed $2.06 billion acquisition of Instrumentarium, a Finnish maker of medical equipment, is under scrutiny by the European Commission. Officials are worried the merger combines two major competitors in the region, leading to a high market share. Separately, GE affirmed earnings estimates for the quarter and full year. GE was up 4% to $27.18.
Among retailers posting earnings Wednesday are home furnishings merchant
Bed Bath & Beyond
(BBBY) - Get Bed Bath & Beyond Inc. Report
, electronics seller
Circuit City
(CC) - Get Chemours Co. Report
and supermarket chain
Pathmark Stores
(PTMK)
. Bed, Bath & Beyond was up almost 6% to $28.93. Circuit City was up 3% to $5.30, and Pathmark was up 5% to $7.20.
Measurement systems maker
National Instruments
(NATI) - Get National Instruments Corporation Report
lowered its forecasts for first-quarter earnings after the bell Tuesday, citing geopolitical uncertainty and bad weather. Shares were down 12% to $30.65.
Among warnings,
Key Energy
(KEG) - Get Key Energy Services, Inc. Report
, an oil-field services company, said it won't meet earnings forecasts for the first quarter after having invested heavily in upgrading and repairing its equipment. Shares were up 1% to $10.50.
PepsiAmericas
(PAS)
cut its first-quarter outlook to 5 cents to 6 cents a share, below analysts' forecasts of 12 cents a share. The world's second-largest bottler and distributor of Pepsi-Cola soft drinks also announced it will lay off about 530 employees to meet earnings estimates for this year. Shares were down 2% to $11.69.
On Tuesday, the Dow ended 0.9% higher at 8069. The S&P 500 rose 1.2% to 858, while the Nasdaq gained 0.5% to 1348.