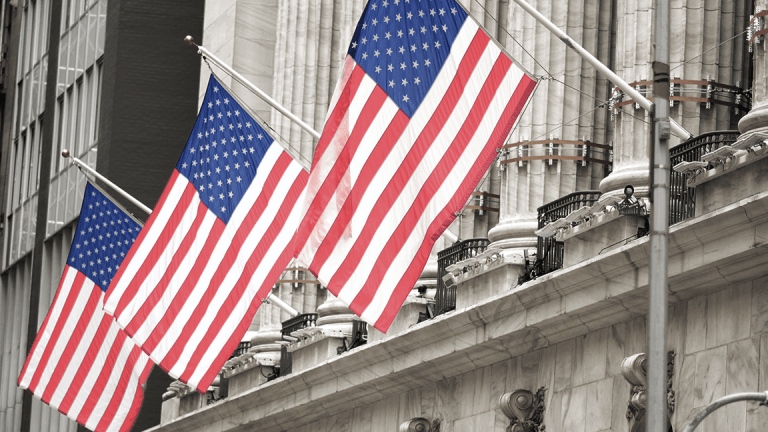 Dow Jumps Over 200 Points Following Solid U.S. Jobs Report
Stocks rise Friday as Wall Street assesses a stronger-than-expected U.S. jobs report for May.
Stocks rise Friday as Wall Street assesses a stronger-than-expected U.S. jobs report for May.
Here Are 4 Hot Things to Know About Stocks Right Now
The U.S. added 223,000 jobs in May, higher than economists' forecasts, and the unemployment rate dipped to 3.8% from 3.9% the previous month.
Average hourly earnings in May rose to 2.7% on an annual basis from 2.6%.
Donald Trump said in a tweet before the jobs numbers were released: "Looking forward to seeing the employment numbers at 8:30 this morning." The White House defended Trump's break with protocol.
For the week the Dow fell 0.48%, the S&P 500 rose 0.49% and the Nasdaq jumped 1.62%.
Wall Street Overview
Stocks rose Friday, June 1, as Wall Street assessed a stronger-than-expected U.S. jobs report for May.
The Dow Jones Industrial Average I:DJI    closed up 219 points, or 0.90%, to 24,635. The S&P 500 I:GSPC  gained 1.08% and the Nasdaq I:IXIC  was up 1.51%.
Leading the Dow higher were Intel Corp. (INTC) - Get Report  , DowDuPont Inc.  and Microsoft Corp. (MSFT) - Get Report .
The U.S. economy added 223,000 jobs in May, topping economists' expectations that called for the creation of 190,000 new jobs. The unemployment rate dropped to 3.8% in May, an 18-year low, from 3.9% a month earlier. Hourly earnings year over year rose to 2.7% from 2.6% last month.
Mike Loewengart, vice president of investment strategy at E*Trade Financial Corp., said that with "significant year-over-year wage gains, the inflation fears of February could pick up steam again, which could bring a chorus of (Federal Reserve) hawks squawking for more rate hikes.
"These numbers could serve as a wake-up call that our economy is hustling despite geopolitics, but that could also bring added volatility as market participants adjust their expectations for increased Fed action," he added.
Investors on Friday also continued to weigh the impact of Donald Trump's decision to impose steep tariffs on steel and aluminum imports.
Sentiment remained cautious given both the Trump administration's somewhat bellicose approach to world trade and the swift response from the European Union, Canada and Mexico, all of which imposed or prepped retaliatory tariffs following the dropping of exemptions on import levies on Thursday, May 31.
Ford Motor Co. (F) - Get Report  was up 1.39% after unit sales in May rose 0.7%, higher than estimates of a 1.9% decline. 
Deutsche Bank AG (DB) - Get Report shares slipped 0.36% after new CEO Christian Sewing attempted to draw a line under the lender's escalating challenges that could threaten its multi-billion dollar restructuring.
Standard & Poor's cut its long-term credit rating on Germany's largest lender by one notch to BBB+, citing execution risks to Sewing's task of retrenching operations around the world in favor of a focus on core domestic and European markets. 
"Many of you are sick and tired of bad news," Sewing wrote in a memo to staff on Friday. "That's exactly how I feel. But there's no reason for us to be discouraged. Yes, our share price is at a historic low. But we'll prove that we have earned a better valuation on the financial markets."
Shares of Costco Wholesale Corp. (COST) - Get Report  fell 0.56% after the warehouse retailer posted fiscal third-quarter earnings of $1.70 a share, 1 cent above estimates, but gross profit margins of 11% trailed forecasts of 11.4%.
Total revenue in the quarter rose 12.1% to $32.36 billion and beat estimates. Same-store sales rose 7% in the quarter, above estimates that called for an increase of 5.4%.
The company also said it would raise its minimum wage by $1 to $14 or $14.50 an hour. The new wage goes into effect on June 11.
Lululemon Athletica Inc. (LULU) - Get Report  jumped 16% after the yoga apparel company topped first-quarter earnings expectations and saif it expects second-quarter profit ahead of Wall Street estimates.
Abercrombie & Fitch Co. (ANF) - Get Report   fell 8.8% despite the retailer reporting a loss in the first quarter that was narrower than estimates and revenue that beat expectations. The adjusted loss in the quarter was 56 cents a share on revenue of $730.9 million. Same-store sales rose 5%.
The retailer said it expects second-quarter same-store sales to rise in the 2% to 4% range.
VMware Inc. (VMW) - Get Report rose 6.1% after the cloud company posted adjusted quarterly earnings of $1.26 a share, above forecasts of $1.14.
4 Top Experts Tell You How to Play the Market. TheStreet's Scott Gamm recently sat down with top market watchers from Bank of America, Fisher Investments, Invesco and Wells Fargo. Click here and register to watch a free roundtable in which they lay out their best advice.