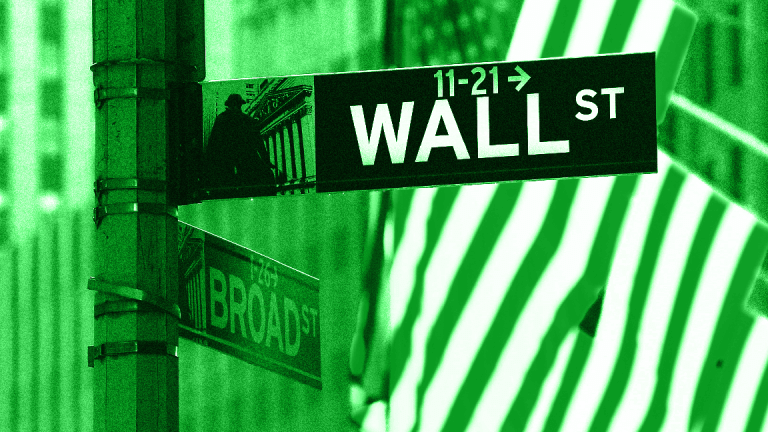 Dow, S&P 500 and Nasdaq Rebound as Oracle and Facebook Tumble
The Dow jumped on Tuesday amid sharp declines for Facebook and Oracle.
Here Are 3 Hot Things to Know About Stocks Right Now
Even with its gains on Tuesday, the S&P 500 remains more than 150 points below its all-time high reached on Jan. 26.
The Dow Jones Industrial Average remains nearly 1,900 points below its all-time high, also reached on Jan. 26.
Oracle shares dropped nearly 10% on Tuesday. Facebook fell by 2.5%.
Wall Street Overview
Stocks rebounded on Tuesday, March 20, following sharp losses in the previous session that were led by a selloff in Facebook Inc.
(FB) - Get Meta Platforms Inc. Class A Report
shares, and as investors renewed their concerns over a brewing global trade war.
Shares of Oracle Corp. (ORCL) - Get Oracle Corporation Report  fell 9.4% on Tuesday after the enterprise software company issued fiscal fourth-quarter guidance on cloud-computing revenue that disappointed Wall Street.
Reports said President Donald Trump may reveal $60 billion in targeted tariffs on China this week aimed at addressing long-term concerns that it violated rules on intellectual property.
Also on Wall Street's radar was the two-day meeting of the Federal Reserve that begins Tuesday -- markets widely expect the Fed to raise interest rates by a quarter percentage point to a range of 1.5% to 1.75% at the conclusion of the central bank's meeting on Wednesday, March 21. The bigger question for Wall Street, however, could be whether the Fed will bump up its forecast for rate hikes this year to four from previous forecasts of three. 
The Dow Jones Industrial Average was up 116 points, or 0.47%. The S&P 500 was up 0.15% and the Nasdaq was up 0.27%.
Leading the Dow higher were Nike Inc.  (NKE) - Get NIKE, Inc. Class B Report , Boeing Co. (BA) - Get Boeing Company Report  and Intel Corp. (INTC) - Get Intel Corporation Report  . Chevron Corp. (CVX) - Get Chevron Corporation Report  was up 0.5% after JPMorgan Chase & Co. (JPM) - Get JPMorgan Chase & Co. Report said the recent pullback in the stock  presented a favorable entry point for investors.
Stocks fell sharply on Monday, March 19, as Wall Street prepped for the Fed meeting and Facebook tumbled nearly 7% over reports that as many as 50 million of its users may have had their data compromised. The Dow dropped 335 points, or 1.35%, to 24,610, the S&P 500 declined 1.42% and the Nasdaq finished down 1.84%.
Facebook fell 2.5% on Tuesday. A report from The Verge said the social media giant and Action Alerts Plus holding has scheduled a meeting for all employees Tuesday to let them ask questions about the Cambridge Analytica data privacy scandal.
The meeting, scheduled for 1 p.m. ET, will be led by Paul Grewal, the company's deputy general counsel. Grewal is expected to explain the background of the case, in which former Trump campaign consultant Cambridge Analytica used data that was inappropriately obtained from roughly 50 million Facebook users to try to influence elections.
Oracle said cloud-computing revenue would rise 19% to 23% in the quarter. Analysts were looking for growth of more than 27%.
BlackBerry Ltd. (BB) - Get BlackBerry Limited Report rose 2.8% after the company announced a new partnership with Action Alerts Plus holding Microsoft Corp. (MSFT) - Get Microsoft Corporation Report in which it would provide a secure environment for Microsoft Office apps like Excel, PowerPoint or Word.
MuleSoft Inc. (MULE) jumped 27% on Tuesday after a report from Reuters said Salesforce.com Inc. (CRM) - Get salesforce.com, inc. Report was in advanced talks to buy the software maker.
Subscribe to our Youtube Channel for extended interviews, Cramer Replays, feature content, and more!
Watch all of Jim Cramer's full NYSE live shows right here: