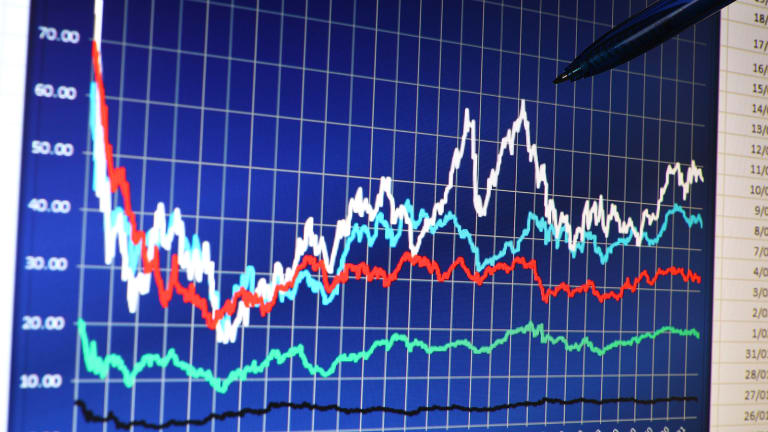 Publish date:
Stocks Maintain Gains as Retailers Move Higher
Stocks are trading higher Tuesday afternoon after shares of retailers spike on strong quarterly earnings.
Stocks are trading higher Tuesday afternoon after shares of retailers spike on strong quarterly earnings.
Stocks turned mixed Tuesday afternoon after rising for most of the day after shares of retailers spiked on strong quarterly earnings. 
The S&P 500 fell 0.11%, the Dow Jones Industrial Average rose 0.05%, and the Nasdaq posted a slight gain.
Matt Weller, senior market analyst at Forex.com, said while retailers are doing well the energy sector is weak because of lower oil prices and has been holding the market back. West Texas Intermediate crude oil fell 1.72% on Tuesday to $41.02 a barrel.
"It's kind of a stock pickers day, where certain sectors and markets are doing much better than other ones," he said. "The overall indices are masking the differentiation." 
The Consumer Price Index, after declining for two months because of lower energy and import costs, increased by 0.2% in October.
Industrial production for October fell by 0.2%, after two months of declines, but manufacturing output showed some improvement, rising by 0.4%.
The NAHB Housing Market Index, an index of homebuilder sentiment, slipped in November by 3 points to 62.
Weller said that the mixed economic environment will likely lead to a slower trading day on Tuesday, but Wednesday's release of the minutes from the October meeting of the Federal Open Market Committee could provide more clarity.
"With that mixed data, it's not negative enough to throw the Fed off the track of raising interest rates in December," he said. "Traders are really desperate for some sort of certainty."
Walmart (WMT) - Get Report shares gains more than 4% after third-quarter earnings at the world's biggest retailer came in at $1.03 a share and beat forecasts. Revenue of $117.41 billion missed forecasts by a slight margin.
Home Depot (HD) - Get Report shares jumped more than 4.3% after the home-improvement retailer's third-quarter earnings and revenue topped Wall Street forecasts. Same-store sales in the period rose 7.3%.
TJX (TJX) - Get Report rose more than 3.8% after it posted quarterly earnings that beat forecasts. Same-store sales at the retailer increased 5%.
Dicks Sporting Goods (DKS) - Get Report fell over 11% after it slashed its profit guidance for the fourth quarter and year.
Airgas (ARG) climbed 7.4% on reports that Air Liquide will announce a deal to purchase the company. A combination would create the world's largest industrial gases supplier, according to Bloomberg.
Urban Outfitters (URBN) - Get Report plunged more than 7% after the company reported earnings of of 42 cents a share, meeting analysts expectations, but revenue of $825 million came in below estimates.
GNC Holdings (GNC) - Get Report  dropped almost 11.2%, Herbalife (HLF) - Get Report  fell more than 2.2% and Vitamin Shoppe (VSI) - Get Report  fell 7.5% after reports said the Department of Justice plans to announce criminal and civil actions against dietary supplements companies. The DOJ will hold a press conference at 3:30 p.m. EST to detail its actions.
Angie's List (ANGI) - Get Report fell by more than 0.7% after it rejected a buyout offer from IAC/InterActiveCorp (IACI) .