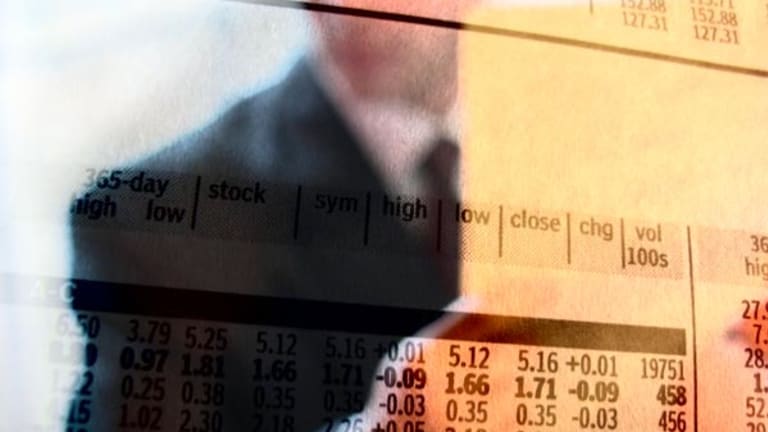 Stocks Post Gains
Stocks in New York are trading in the green Wednesday as investors grow more optimistic that Congress will approve a $15 billion bailout for U.S. automakers.
Stocks in New York are trading in the green Wednesday as investors grow more optimistic that Congress will approve a $15 billion bailout for U.S. automakers.
Updated from 9:43 a.m. EST
Stocks in New York continued to trade higher midmorning Wednesday as a bailout plan for the U.S. auto sector continues to take shape in Washington.
The
Dow Jones Industrial Average
was climbing 90 points at 8782, and the
S&P 500
was up 8.8 points at 897. The
Nasdaq
was gaining 19 points at 1567.
Stocks sold off Tuesday amid a slew of corporate earnings warnings and negative headlines in the package-delivery sector and despite a less-severe-than-expected decline in monthly pending home sales.
Washington is reportedly on the cusp of an agreement for a $15 billion bailout for the
Big Three automakers
--
Ford
(F) - Get Report
,
General Motors
(GM) - Get Report
and
Chrysler
. The emergency plan, under which the government would draw from an existing loan program meant to help the automakers build fuel-efficient vehicles, could come to a vote in the House and Senate as early as Wednesday.
In economic data, the Commerce Department reported a 1.1% decline in
wholesale inventories in October
, wider than the 0.2% cutback predicted by economists and the biggest inventory decline by wholesalers since November 2001.
According to the Mortgage Bankers Association, its Market Composite Index, a measure of mortgage loan application volume, was 796.8 in the week ended Dec. 5, a decrease of 7.1% on a seasonally adjusted basis from 857.7 one week earlier. The refinance share of mortgage activity is now 73.7% of total applications, up from 69.1% the previous week.
In company news, insurance behemoth
(AIG) - Get Report
owes Wall Street firms as much as $10 billion for speculative trades that went south, according to a report in
The Wall Street Journal.
The trades, which the company argues are "credit protection instruments", were not previously detailed, and thus the losses aren't covered in the government's $150 billion bailout package. It remains to be seen how AIG plans to pay them off. AIG's shares were on the decline Wednesday morning.
Shifting to commodities, crude oil was rising $2.60 to $44.67 a barrel. Gold was gaining $32.90 to $807.10 an ounce.
The Department of Energy reported that U.S. crude oil inventories increased about 400,000 barrels in the week ended Dec. 5 over the week prior. "At 320.8 million barrels, U.S. crude oil inventories are in the upper half of the average range for this time of year," the department said.
OPEC is scheduled to meet next week to evaluate the effectiveness of its earlier decision to cut production targets by 1.5 million barrels per day, and to weigh the need for more cuts. Another OPEC production cut could help stabilize oil prices that have fallen with global economic hardships.
"It remains unclear whether production cuts so far are enough to avoid a counter-seasonal inventory build in the fourth quarter of 2008, a build that would add to downward price pressure over the winter," according to a short-term outlook report this week by the Energy Information Administration. However, "The position of some OPEC members at the upcoming meeting may be influenced by a desire to avoid excessive production cuts that might further tighten the market and trigger a sharp price rebound that could hurt the world economy," wrote the EIA.
Shares of
Exxon Mobil
(XOM) - Get Report
,
BP
(BP) - Get Report
and
ConocoPhillips
(CON)
were trading higher Wednesday.
In other economic news, three-month dollar-based London Interbank Offered Rate (LIBOR) broke through its low for the year Wednesday morning, falling 6.5 basis points to 2.09875%. LIBOR, the rate at which banks borrow funds from other banks, is the world's most widely used benchmark for short-term interest rates.
Meanwhile, the rates for three-month Treasury notes fell below zero -- albeit temporarily -- Wednesday morning. Treasury bill rates turn negative when investors are so risk-averse that they're essentially willing to pay the U.S. government to safeguard their money.
Longer-dated U.S. Treasury securities were recently falling in price. The 10-year was falling 22/32 to yield 2.72%, and the 30-year was giving up 1-07/32, yielding 3.09%. The dollar was of late weaker against the euro and pound, and stronger against the yen.
Overseas, European markets were mixed -- the FTSE in London was down 0.3%, while the DAX in Frankfurt traded up 0.2%, respectively. In Asia, Japan's Nikkei and Hong Kong's Hang Seng both ended higher.
Copyright 2008 TheStreet.com Inc. All rights reserved. This material may not be published, broadcast, rewritten, or redistributed. AP contributed to this report.