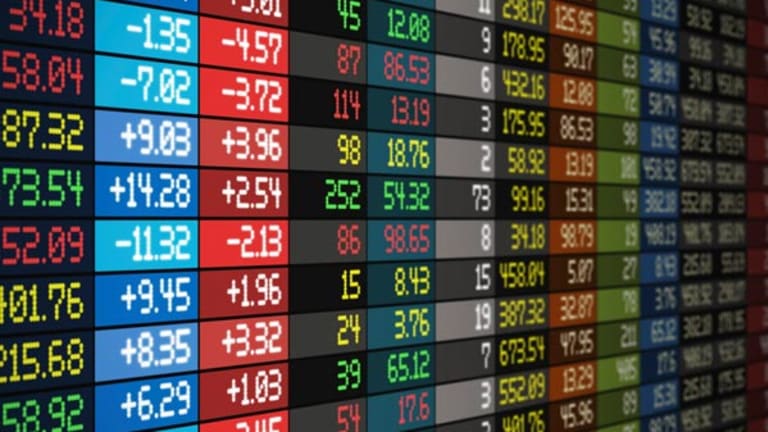 Stocks Plunge to Year's Lows
The major indices fall from their recent trading range as interest rate fears drag down the market.
Updated from 4:05 p.m. EDT
Stocks plummeted Monday to their lowest closing levels of the year as uncertainty about interest rate hikes and geopolitics continued to spook investors.
The
Dow Jones Industrial Average
posted its biggest loss in two months, losing 127.11 points, or 1.26%, to 9990.23. The blue-chip index closed below 10,000 for the first time since Dec. 10, 2003.
The
S&P 500
shed 11.56 points, or 1.05%, to 1087.14, while the
Nasdaq
fell 21.89 points, or 1.14%, to 1896.07. The 10-year Treasury bond traded down 1/32 in price to yield 4.78%, while the dollar was higher against the yen and euro.
Trading was heavy, with more than 1.9 billion shares changing hands on the
New York Stock Exchange
, where decliners outnumbered advancers by about 9 to 1. Volume fell just short of that mark on the Nasdaq, where decliners took about a 7-to-2 lead.
Stocks have not been seen at these levels since late March, when the major indices were widely believed to have found the bottom in a temporary correction.
"Investors don't like uncertainty, and various uncertainties out there now, like rising interest rates, rising energy prices, the election and the outcome of the war in Iraq have all become bigger issues that people aren't sure how to deal with," said Michael Sheldon, chief market strategist at Spencer Clarke LLC. "The data shows that investors are certainly becoming more concerned about what's happening in the market, but we haven't seen the kind of panic selling so far that is typically associated with major market bottoms."
Traders looked to gold as a safe haven, sending the CBOE Gold Index up more than 3.2%. Also, a 0.4% the Philadelphia Semiconductor Index was able to post a 0.4% gain in the face of a selloff that touched most sectors.
"You saw continued inflationary fears building into the market, and I think that's also fear that the economic recovery is incredibly fragile, and as soon as the
Fed
raises rates, even a small amount, everybody's going to stop buying anything," said Ken Tower, chief market strategist with Cybertrader. "I think the market is very oversold here. A bottom is in sight, but right now we're in the steepest portion of the correction, so we could have a couple of nasty days. But improvement isn't too far off."
Some market watchers have been skeptical of the Fed throughout the recent climate of interest-rate speculation, accusing the central bank of falling behind the curve on monetary policy by staying in a position of generous accommodation while an economic pick-up was already evident. Some have raised the possibility of an inter-meeting rate-hike happening before the Fed meets again in June.
But Robert Pavlik, a portfolio manager at Oaktree Asset Management, rejects this notion. He projects a rate-hike of 25 basis points in June, followed by another possible hike at the August meeting. "I think the Fed has done the right thing in taking this slow because before some of the recent economic data came out, it certainly looked like the economy was on the fence -- they didn't know which way it was going to go," he said. "I hope that when the rate hike finally comes, it will stabilize the markets, but there is a likelihood that we have two or maybe three hikes on the way. The first one, or 25-basis points, is priced in, but what comes after that?"
"From an investor's standpoint, I hope
action from the Fed will slow things down," he added. "But, I'll be honest with you. I don't think it will."
International markets were also bathed in red Monday following Friday's jobless number, which showed the U.S. economy added 288,000 jobs, heightening concerns about a Federal Reserve interest rate increase. London's FTSE 100 closed down 2.3% to 4395, while Germany's Xetra DAX lost 2.8% to 3785. In Asia, Japan's Nikkei tumbled 4.8% to 10,885, while Hong Kong's Hang Seng lost 3.6% to 11,786.
Also weighing on the financial markets was the newest round of criticism of the Bush administration and its handling of the war of Iraq. Reports of widespread abuse of Iraqi prisoners at the Abu Ghraib prison, along with the intensified violence that has plagued the occupation in recent months, have led to widespread uncertainty about the final outcome of the country's foray into the region. On Monday, President Bush issued a strong endorsement of his embattled Secretary of Defense Donald Rumsfeld while critics continued to call for his resignation.
While concern about geopolitics and interest rates has taken a heavy toll on financial stocks over the last month, bank investors had another big buyout to lift their spirits.
SunTrust
(STI) - Get SunTrust Banks, Inc. Report
announced last night it was acquiring
National Commerce Financial
(NCF)
for about $7 billion, beating out
Fifth Third Bancorp
(FITB) - Get Fifth Third Bancorp Report
in a brief bidding war. The combined bank will be the nation's seventh-largest, with about $148 billion in assets. Shares of SunTrust lost $5.19, or 7.8%, at $61.69, while National Commerce closed down 84 cents, or 2.6%, to $30.96.
Investors could also breathe easier about a fall in the price of oil following a comment from the Saudi oil minister for an OPEC production increase. Crude futures traded down $1.09 on the Nymex to $38.84 a barrel.
In other corporate news,
Citigroup
(C) - Get Citigroup Inc. Report
said it will pay $2.65 billion to settle a class-action suit brought by holders of
WorldCom
stocks and bonds who claimed it had participated in the massive fraud with the phone company. The financial giant admitted no wrongdoing but said it has increased its reserve for other pending class-action cases against it to $6.7 billion. Its shares closed down $1.36, or 2.91%, to $45.36.
In earnings news,
Charter Communications
(CHTR) - Get Charter Communications, Inc. Class A Report
reported wider first-quarter losses this year having absorbed losses previously attributed to minority interests. The broadband communications provider reported a net loss of $294 million, or $1 a share, compared to last year's loss of $182 million, or 62 cents a share, but it increased revenue thanks to added subscribers. Its stock closed down a quarter, or 6.5%, at $3.61.
Cablevision
(CVC)
narrowed its first-quarter loss on higher revenues, selling additional services to its cable customers such as high-speed data and telephone services. It earned $120 million, or 42 cents a share, compared to $151 million, or 54 cents a share, in the same quarter last year. Its shares ended down 67 cents, or 3.1%, at $20.95.
Before Tuesday's opening bell,
May Department Stores
(MAY)
is expected to report first-quarter earnings of 27 cents a share, up from last year's 13 cents a share. However, the markets will be largely focused on
Cisco's
(CSCO) - Get Cisco Systems, Inc. Report
earnings announcement, due out after the closing bell. The tech giant is expected to report first-quarter earnings of 18 cents a share, up from 15 cents a share.
No major economic releases are scheduled for Tuesday.