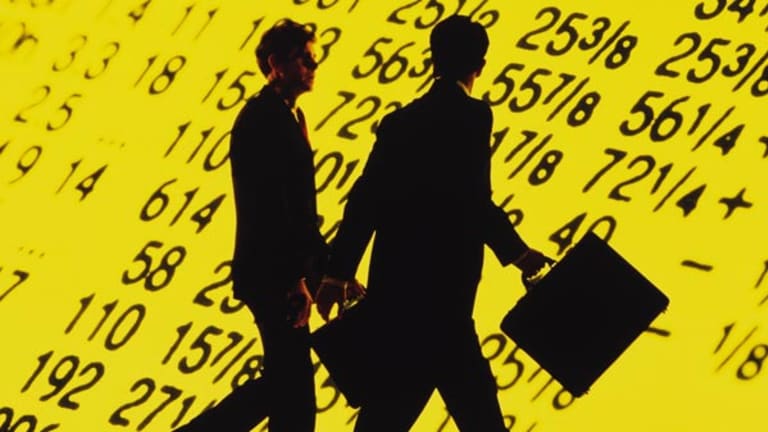 Stocks Plunge to Year Lows
A disappointing jobs report casts doubt on the recovery. The Dow loses 147 points.
Updated from 4:10 p.m. EDT
Stocks collapsed to their lows for the year under the weight of a surprisingly weak employment report for July that bred fresh questions about the sustainability of the economic recovery in the face of soaring oil prices and geopolitical turmoil.
The
Dow Jones Industrial Average
lost 147.70 points, or 1.48%, to 9815.33; the
S&P 500
dropped 16.74 points, or 1.55%, to 1063.96; and the
Nasdaq Composite
was down 44.74 points, or 2.46%, to 1776.89. The 10-year Treasury note rallied, adding 1 17/32 to yield 4.21%, while the dollar was lower against the yen and the euro.
All three major stock indices finished at new closing levels for 2004 after hitting their lowest intraday levels during the session. For the week, the Dow is down 3.2%, the S&P is off 3.4% and the Nasdaq lost 5.8%. They've lost ground for five out of the last six weeks.
Friday's selling came on moderate volume, exceeding 1.5 billion shares on the
New York Stock Exchange
, where decliners held roughly a 3-to-2 majority. On the Nasdaq, nearly 1.7 billion shares changed hands, and decliners outnumbered advancers by about 7 to 2.
In a research note, senior technical analyst Mark Arbeter of Standard & Poors wrote that the average volume levels "may give the bulls some ammunition that this is just a minor breakdown and that the indexes are nearing a bottom. However, many market bottoms occur in the face of capitulation-type volumes, not average levels."
According to the Labor Department, 32,000 nonfarm jobs were added to the economy in July, a five-week month, well short of Wall Street's 243,000-job consensus. June's growth was revised to 78,000 jobs from 112,000. The unemployment rate ticked down to 5.5% in July, reflecting labor pool defections.
"This is incredible," said Paul Mendelsohn, chief investment strategist with Windham Financial. "It could only have been worse if it was negative. This is a complete disaster. I'm issuing a warning that we're in potential crash alert mode. This is bad for George Bush, it's bad for the economy, and it's bad for every American out there.
"This indicates that the soft spot we saw in June may be something much worse, especially with oil up over $44 a barrel here," he added. "This may be turning into a sinkhole."
Patrick Fearon, an economist with A.G. Edwards, said he feels the numbers are probably still indicative of a soft spot that is not atypical of the early stages in a broad economic recovery. He also pointed to strength in the measure of employment from the household survey, which showed a decline in the unemployment rate, as evidence that there were some positives in the report.
"This isn't necessarily an indication that the expansion is in trouble," Fearon said. "We've had two months of weak payroll numbers and we certainly recognize that this is a bit of a soft spot, but we think the economy has the potential to recover from it."
The report may provide some support for stocks on one level, in that the
Fed
may not raise rates as fast as previously anticipated in light of the apparent weakness in the job market.
In other employment news, increases in average hourly earnings held steady at 0.3%, as expected, and the average work week ticked up to 33.7 hours, compared with the 33.6 hours logged in June. Economists had expected it to reach 33.8 hours.
In New York, Nymex crude for September delivery settled down 46 cents to $43.95 a barrel, slipping after an executive of Russian oil giant Yukos tried to persuade markets that the company has enough cash to keep export operations up and running in the near term. Earlier, crude futures touched another all-time contract high of $44.77 a barrel as supply concerns were again whipped up by a fire at a
BP
(BP) - Get BP Plc Report
refinery in Texas.
Stocks were coming off a brutal session in which oil jitters combined with bearish bets on Friday's employment report to send the Nasdaq Composite and S&P 500 to their lowest levels of the year. The Dow Jones Industrial Average lost 163 points, or 1.6%, to 9963, while the Nasdaq fell 33 points, or 1.8%, to 1822.
On Friday, broad losses were particularly severe in semiconductors, biotechnology, computer hardware and airline stocks. Gold stocks were a lone point of strength, with the CBOE gold index recently up 2.5%.
Among Dow components, 29 out of 30 stocks were in the red, led by
Intel
(INTC) - Get Intel Corporation Report
, down 3.8%;
Boeing
(BA) - Get Boeing Company Report
, down 3.4%; and
Honeywell
(HON) - Get Honeywell International Inc. Report
, down 3.3%.Only
Caterpillar
(CAT) - Get Caterpillar Inc. Report
fared well, gaining 63 cents, or 0.9%, to $70.25.
In earnings news,
Nvidia
(NVDA) - Get NVIDIA Corporation Report
lost $5.13, or 35.2%, to $9.43 after reporting second-quarter earnings that fell sharply from a year ago and badly missed analyst estimates. The graphics chipmaker earned $5.1 million, or 3 cents a share, in the quarter, down nearly 80% from the year-ago profit of $24.2 million, or 14 cents a share. Analysts were expecting 15 cents on a pro forma basis.
Nvidia cited a chipset recall at
Intel
(INTC) - Get Intel Corporation Report
and price competition from both it and
ATI
(ATYT)
.
Shares of
Pixar Animation Studios
(PIXR)
added $1.78, or 2.7%, to $67.78 after reporting late Thursday that its second-quarter profits jumped 92%, beating estimates, on sales of
Finding Nemo
DVDs and home videos.
Shares of
MCI
(MCIP)
gained $2.15, or 15.5%, to $15.99 after the telecommunications firm reported a narrower-than-expected loss and set a 40-cent quarterly dividend. MCI's loss was $71 million, or 22 cents a share, in the second quarter, compared with a loss of $388 million, or $1.19 a share, last year. Revenue fell 15% from a year ago to $5.24 billion.
Analysts had been expecting a loss of 96 cents a share in the most recent quarter.
Another source of nervousness for the broader market was the fate of
Google's
IPO, which now appears likely to post at least a week late due to brokerage problems registering investors for the deal's Dutch Auction pricing. Several media outlets were saying the highly anticipated offering is now likely to come to market in the week beginning Aug. 16, at the earliest. The one-week delay comes on the heels of several high-profile offering withdrawals amid choppy markets on the major exchanges in recent weeks.
Overseas markets closed lower, with London's FTSE 100 down 1.7% to 4338 and Germany's Xetra DAX losing 2.6% to 3728. In Asia, Japan's Nikkei closed down 0.8% overnight to 10,973, while Hong Kong's Hang Seng lost 0.1% to 12,479.
Before Monday's opening bell, earnings releases are due from
Cablevision
(CVC)
, expected to report a second-quarter loss before special items of 40 cents a share, down from last year's gain of 56 cents a share; and
Charter Communications
(CHTR) - Get Charter Communications, Inc. Class A Report
, post a loss of 50 cents a share, wider than last year's loss of 13 cents a share.
Later, economists are expecting the government to report at 10 a.m. EDT that growth in wholesale inventories cooled in June to 0.5%, down from the 1.2% recorded for May.