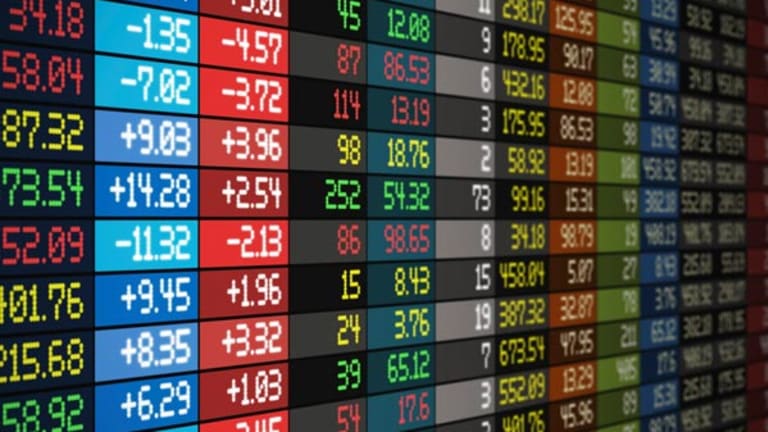 Stocks Perk Up on Earnings
Circuit City easily beats estimates.
Updated from 4:07 p.m. EDT
Blue chips led the market higher Wednesday as a big quarter from
Circuit City
(CC)
and a better-than-expected read on the U.S. trade deficit helped bring in buyers.
The
Dow Jones Industrial Average
gained 40.34 points, or 0.36%, to 11,129.97, and the
S&P 500
rose 1.55 points, or 0.12%, to 1288.12. The
Nasdaq Composite
added 4.33 points, or 0.19%, to 2314.68.
"Today wasn't much of a day," said Art Hogan, chief market analyst with Jefferies. "There was a lot of positive news and the economic data was good, but the reaction was a very quiet, almost muted one. Tomorrow may be even quieter in terms of volume as we approach the end of this holiday-shortened week."
An extremely light 1.40 billion shares traded on the
New York Stock Exchange
, with advancers matching decliners. Trading volume on the Nasdaq was a similarly paltry 1.56 billion shares, with advancers outpacing decliners 8 to 7.
The Dow benefited from a 4.2% gain in component
General Motors
(GM)
after Bob Lutz, head of product development at GM, said the company's market share is sustainable. The index was also aided by a 3.3% rise in
Boeing
(BA)
after China placed an order for 80 new jets.
The 10-year Treasury bond fell 13/32 in price to yield 4.98%, while the dollar rose against the yen and euro. Precious metals were higher, with gold futures adding $1.90 to close at $601.30 an ounce. Silver finished up 6 cents at $12.66 an ounce, close to a 22-year high.
Markets got an early boost from Circuit City, which said fourth-quarter earnings rose 65% from a year ago and beat estimates by 7 cents a share. The company guided 2007 sales to a range of $12.4 billion to $12.8 billion, slightly above the Wall Street consensus of $12.3 billion. Shares added $2.04, or 8.3%, to finish at $26.65.
"Earnings have been the driving force for the bulls over the last month, pushing the market higher in the face of rising interest rates and soaring oil prices," said Marc Pado, market strategist with Cantor Fitzgerald. "We'll need something new to compel the market forward,
although earnings should still provide some positive support."
Meanwhile,
Genentech
( DNA) fell despite reporting a 48% jump in first-quarter earnings to $421 million, or 39 cents a share. Adjusted earnings of 46 cents a share were a nickel better than forecast. Revenue rose 36% to $1.99 billion, and the biotech titan bumped up guidance for the full year. Genentech was down 99 cents, or 1.2%, to close at $80.71.
To view Gregg Greenberg's video take on today's market, click here
.
Wednesday's economic slate featured a Commerce Department report that showed a narrowing of the U.S. trade deficit to $65.74 billion from January's revised $68.59 billion. Economists had expected the deficit to shrink to $67.5 billion.
On Thursday, the Commerce Department is expected to say that retail sales rebounded by 0.5% in March after falling 1.4% in February. Also due are reports on initial jobless claims for last week, import and export prices for March and the University of Michigan's preliminary reading on consumer sentiment for April.
Oil prices edged lower after the Energy Department said that crude stocks rose 3.2 million barrels for the week ended April 7. Meanwhile, gasoline inventories fell 3.9 million barrels while distillate inventories dropped 4.2 million barrels.
Although lower, prices still remained near seven-month highs as traders digested Iran's claim to have successfully manufactured enriched uranium as part of a nuclear research program. May crude, which gained $1.35 on Monday and 24 cents Tuesday, finished down 36 cents to $68.62 a barrel in Nymex floor trading. The situation in Iran beat down U.S. stocks Tuesday.
"Oil isn't near record highs due to fundamental reasons," said Hogan. "It's higher due to fears of disruption. It's flirting with $70 a barrel and, because of the nature of disruption the fears, it could drop precipitously if that situation changes."
Pado noted that, in addition to the geopolitical pressures, "the technical breach and economic outlook all contributed to yesterday's market correction."
The decline in crude pressured the Philadelphia Oil Service Sector index, which slipped 0.8%. The Amex Gold Bugs index jumped 3.2%, and the Philadelphia Semiconductor Sector index was up 0.6%, while the Amex Airline index finished higher by 0.1%.
After the bell Wednesday,
Advanced Micro Devices
(AMD)
swung to a first-quarter net profit of $185 million, or 38 cents a share, compared with a loss of $17 million, or 4 cents a share, last year. Analysts expected EPS of 30 cents, according to Thomson First Call. Sales rose to $1.33 billion, matching estimates.
Ahead of the report, AMD was up $1.06, or 3.1%, to $35.41. Shares were down slightly in the after-hours session.
Commerce Bancorp
(CBH)
posted a first-quarter profit of $77.3 million, or 41 cents a share, rising slightly from $77.1 million, or 45 cents a share, last year. The Thomson First Call consensus was for earnings of 40 cents a share. Commerce was lower by $1.03, or 2.7%, to end at $36.97.
European markets continued to buzz with news that the
Nasdaq
undefined
accumulated a roughly 15% stake in the London Stock Exchange two weeks after dropping a buyout offer for the company. The Nasdaq labeled the purchase "strategic," but observers say it could fan more takeover speculation for the U.K. exchange. Nasdaq's stock gained $1.37, or 3.4%, to $42.22.
Also overseas,
Google
(GOOG)
CEO Eric Schmidt told
Reuters
Wednesday that he sees a huge potential for growth in China. Schmidt said the Internet company is likely to add 100 software engineers in China this year. Google shares gave up 71 cents, or 0.2%, to $408.95.
Two mid-tier tech companies issued profit warnings Tuesday.
Avid Technology
(AVID)
said it sees adjusted earnings of 35 cents to 38 cents a share on sales of roughly $217 million in the first quarter. Analysts wanted 49 cents a share and $230.23 million. Avid dropped $6.14, or 14.1%, to $37.31.
And
Emulex
(ELX)
predicted third-quarter adjusted earnings of 20 cents or 21 cents a share on sales of $106 million to $108 million. Analysts were looking for 27 cents a share on sales of $107 million. However, Emulex managed to gain $1.47, or 8.8%, to $18.27.
A story in
The Wall Street Journal
Wednesday says class-action lawyers could target another drug in possible lawsuits against
Merck
(MRK)
. Lawyers reportedly have their sights set on Fosamax, an osteoporosis treatment that they claim is linked to a rare jaw disease. Merck says the causal chain is unclear and the disease is probably related to other conditions. Merck was off 21 cents, or 0.6%, to close at $33.85.
Among ratings moves, Bear Stearns upgraded
Motorola
( MOT) to outperform from peer perform, citing the expectations of a gain in market share through 2006 due to increasing demand for its slim handset products. Motorola rose 41 cents, or 1.7%, to $23.98.
Goldman Sachs cut its rating on
Kellogg
(K)
to in-line from outperform, as the firm believes there are few catalysts to drive shares higher. Shares lost 57 cents, or 1.3%, to $43.21.
Overseas markets were lower, with London's FTSE 100 losing 0.3% to 6001 and Germany's Xetra DAX falling 0.1% to 5901. In Asia, Japan's Nikkei fell 1.5% overnight to 17,163, while Hong Kong's Hang Seng lost 1% to 16,311.