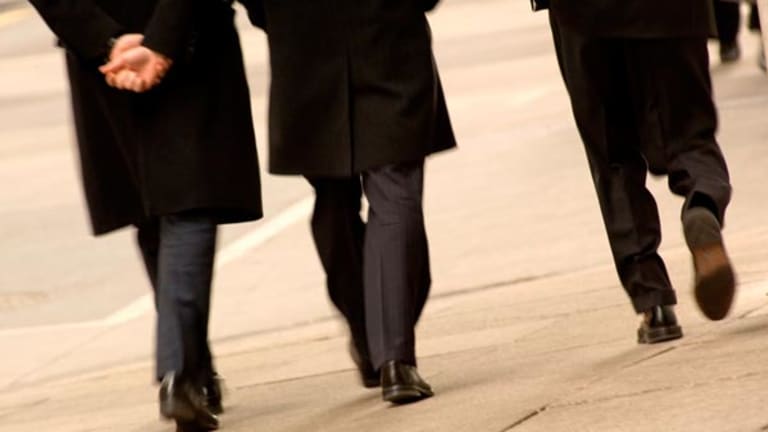 Stocks Pare Early Losses
Stocks are edging higher after sinking on a surprise drop in retail sales and a surprise decline in crude oil inventories.
Updated from 2:55 p.m. EDT
Stocks in New York edged into positive territory Wednesday afternoon after an increase in crude prices and disappointing July retail sales news earlier dealt a double blow to investor sentiment. The
Dow Jones Industrial Average
remained hindered by weak performances in its retail, manufacturing and financial components.
The
added half a point to 1290, and the
Nasdaq
was up 5.5 points at 2436. The Dow was recently down 76 points to 11,566.
Crude-oil inventories for the week ended Aug. 8 decreased by 400,000 barrels, and gasoline supplies dropped by 6.4 million barrels. The price of crude oil jumped $3.27 to $116.28 a barrel following the announcement. Gold rose $16.90 to close at $831.50 an ounce.
On the economic data front, the Census Bureau reported that retail sales decreased 0.1% in July, a result that fell short of economists' projections for a flat reading. Barring automobiles, retail sales increased 0.4%, less than the expectation for a 0.5% increase.
The Bureau of Labor Statistics' import price index rose 1.7% in July. Excluding oil, the price of imported goods increased 0.9%. Export prices, excluding agricultural products, rose 0.8% in July, a smaller increase than 0.9% in June.
Peter Cardillo, chief market economist at Avalon Partners, said that the retail sales data weren't that negative, especially discounting automobile sales. He also said that the U.S. consumer is struggling, but he doesn't foresee an actual drop in spending.
"I think the market is basically ... pulling back from the strong rally, the dollar-oil rally that we had the past week or so," he said. He said that as the market decouples from the trend of a rising dollar and declining oil prices, it may try to retest its July lows.
The sales data "was reported as close to consensus as you can get," said Haseeb Ahmed, U.S. economist for JPMorgan Economics. "Things are slowing down on the consumer-spending front as the rebates are fading, but they're not collapsing." He said that the government's stimulus package did help prop up the consumer during the second quarter. The recent drop in gasoline prices will help, but will not be enough to offset the waning effect of the rebate checks in coming months, he said.
The Census Bureau also announced Wednesday that business inventories rose 0.7% in June, a larger-than-expected jump and a larger one than the 0.4% increase in May.
Traders will also be focusing on the behavior of numerous financial-services stocks, as well as mortgage giants
Fannie Mae
undefined
and
Freddie Mac
undefined
, following Tuesday's expiration of a government regulation banning so-called naked short-selling of their stocks.
On the companies side, semiconductor firm
Nvidia
(NVDA)
said it swung to a quarterly loss because of flawed chips and a failure to anticipate the impact of a new graphics chip from rival
Advanced Micro Devices
(AMD)
. However, the announcement of a share buyback gave the stock an early boost.
Another piece of discouraging news in the semiconductor sphere came from
Applied Materials
(AMAT)
, which said its profit declined 65% for the third quarter owing to the economic slowdown.
In other earnings news, farm-equipment maker
Deere
(DE)
reported third-quarter earnings that rose year over year but fell short of analyst expectations. Dow component and fellow equipment manufacturer
Caterpillar
(CAT)
was trading down on Deere's results. Department-store operator
Macy's
(M)
announced a decline in second-quarter profit and lowered its full-year outlook.
On the corporate merger scene, drug store operator
CVS Caremark
(CVS)
said it would buy
Longs Drug Stores
(LDG)
for roughly $2.6 billion in an effort to expand its presence in the western U.S.
Meanwhile, biotech firm
Genentech
(DNA)
rejected a $43.7 billion buyout offer from Swiss drug developer, which already owns a majority of Genentech shares.
In analyst actions, Citigroup initiated ratings coverage on homebuilders
Toll Brothers
(TOL)
,
Pulte Homes
(PHM)
,
Ryland
(RYL)
,
MDC Holdings
(MDC)
,
Lennar
(LEN)
and
Centex
(CTX)
. Toll and Pulte garnered buy ratings, while the remainder received hold recommendations.
Elsewhere, Merrill Lynch downgraded both
Goldman Sachs
(GS)
and
Lehman Brothers
undefined
to underperform. Merrill also reduced its rating on
Morgan Stanley
(MS)
to neutral from buy.
Away from stocks, U.S. Treasury prices were decreasing. The 10-year note was down 14/32 in price to yield 3.95%, and the 30-year was shedding 20/32 to yield 4.57%. The dollar was trouncing the pound, but weakening vs. the yen and the euro.
Overseas exchanges, including the FTSE in London, the DAX in Frankfurt, the Nikkei in Tokyo and the Hang Seng in Hong Kong, were mostly trading lower.
Get your daily dose of Jim Cramer and all the stocks in his head. Sign up for the free Daily Booyah! newsletter by clicking here.