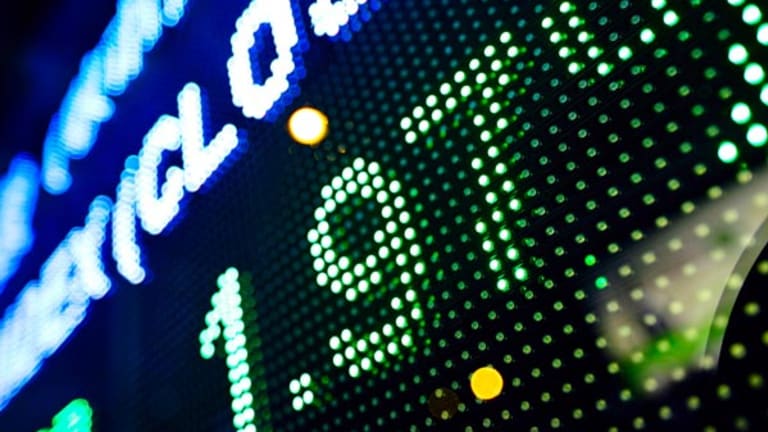 Stocks Finish Close to Flat After Big Europe Plan Rally
The Dow and S&P 500 post slight gains and the Nasdaq dips as Wall Street digests the EU's proposed debt solution.
NEW YORK (
) -- Stocks held close to the flatline throughout Friday's session and the
Dow Jones Industrial Average
nabbed its fifth consecutive week of gains, suggesting that the eurozone debt plan is lending some welcome stability to the market.
The Dow gained 23 points, or 0.2%, to settle at 12,231. The
S&P 500
rose half a point, or 0.04%, to finish at 1285, while the
Nasdaq
closed down by 2 points, or 0.05%, at 2737.
Overall, the Dow surged 3.6% for the week, while both the S&P 500 and Nasdaq advanced 3.8%. The Dow rose more than 524 points in the past three sessions, an increase of 4.5%, and is now sitting at its highest closing level since July 28. So far in October, the blue-chip index has added 12.1%, which has put it up 5.7% year-to-date.
Money managers took some profits with the month of October drawing to a close at the beginning of next week. Commodities prices also took a breather. Gold for December delivery lost 50 cents, or 0.03%, to settle at $1747.20 an ounce. The December crude oil contract gave up 64 cents, or 0.7%, to settle at $93.32 a barrel.
Stocks wavered throughout Friday's session but didn't stray far from where they started, surprising some market watchers who had anticipated a down day after the previous session's rally.
On Thursday, stocks surged some 3% after Europe's leaders agreed on a framework for addressing the region's debt crisis.
The rally came even as skeptics picked apart the eurozone plan, which they said lacked details that may present challenges for the eurozone going forward. Among the key goals laid out were an expanded bailout fund, recapitalization of the region's banks and reduction of Greek debt. While noting that progress was still to be made, U.S. President Barack Obama hailed the recent pact as an "important first step."
London's FTSE lost 0.2% while Germany's DAX finished 0.1% higher. Asian stock markets rose overnight. Japan's Nikkei Average finished 1.4% higher and Hong Kong's Hang Seng jumped 1.7%.
Shares of
MF Global Holdings
(MF)
sunk 16.1% to $1.20, closing a tough week that has seen the brokerage firm lose more than 60% of its market cap. The company reported a surprise quarterly loss on Tuesday and saw its debt rating cut to junk status by two ratings agencies. MF Global is now trying to sell parts of its business.
In Friday's economic news, consumers felt more confident in October than economists expected, giving some hope that consumer spending might help prop up economic growth in the fourth quarter. The University of Michigan's index on consumer sentiment ticked in at 60.9, up from an original read at 59.4. Consensus forecasts had called for a fall in the index to 58.5.
However, a separate report Friday showed that while Americans are spending more, they are doing so by saving less. Personal spending picked up by 0.6% in September, in line with expectations, while incomes edged up by 0.1%. Economists had expected a strong rebound in income after it slipped 0.1% in the prior month.
Investors also got more key quarterly reports amid indications that
earnings season is shaping up nicely
.
Thomson Reuters
said the companies comprising the S&P 500 are now on pace to deliver earnings growth of 16.3% for the calendar quarter, up from 13.1% as of Oct. 3.
Drugmaker
Merck
(MRK) - Get Report
saw its stock rise 2.3% to close at $35.11 after reporting third-quarter earnings of 94 cents a share, beating the average analyst estimate of 91 cents.
Shares of
Whirlpool
(WHR) - Get Report
plummeted 14.3% to $51.80 after the company
and announced 5,000 job cuts to trim costs.
AMD's
(AMD) - Get Report
stock gained 7.2% to $5.94 after the chipmaker swung to a profit in the third quarter, citing strong demand for its mobile processors. The semiconductor company earned $97 million, or 13 cents a share, in the latest quarter,
$118 million in the year-ago quarter. Analysts expected earnings of 10 cents a share.
On the Dow,
Hewlett-Packard
(HPQ) - Get Report
rose 3.5% to $27.94 after the company said Thursday it will
its PC division. The technology giant had been considering a spinoff of its computer business in recent months.
Dow components were split between the positive and negative. HP led the gains while
Alcoa
(AA) - Get Report
and Merck finished close behind. Meanwhile,
Home Depot
(HD) - Get Report
,
JPMorgan Chase
(JPM) - Get Report
,
Wal-Mart
(WMT) - Get Report
and
Microsoft
(MSFT) - Get Report
were the biggest laggards.
Market breadth was also split evenly as 54% of the 4.5 billion shares that traded on the New York Stock Exchange rose while 43% were lost ground. On the Nasdaq, 1.9 billion shares changed hands.
The dollar index, a measure of the dollar's value against a basket of currencies, was flat. The benchmark 10-year Treasury was up 24/32, diluting the yield to 2.317%.
-- Written by Chao Deng and Melinda Peer in New York
.
Disclosure: TheStreet's editorial policy prohibits staff editors and reporters from holding positions in any individual stocks.