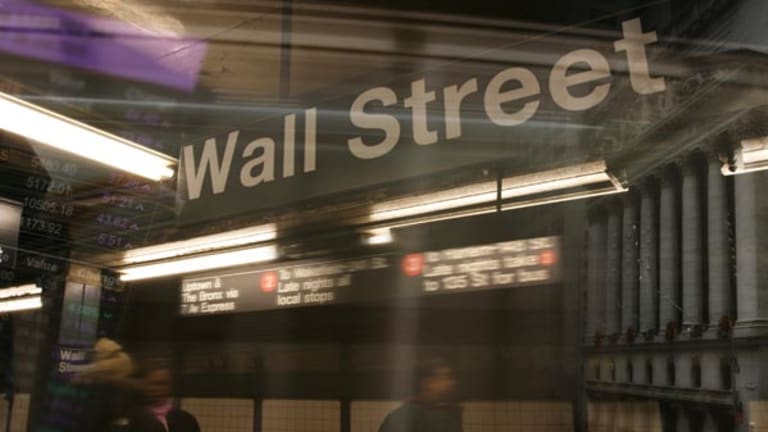 Stocks Drive Higher as Energy Rally Overshadows Weak Jobs Report
Stocks abruptly turned higher Monday after falling at the open on the disappointing March jobs report released Friday.
Stocks abruptly turned higher Monday after falling at the open on the disappointing March jobs report released Friday.
NEW YORK (TheStreet) -- Stocks abruptly turned higher Monday, driven by a rebound in crude oil and an ensuing rally in the energy sector. The sudden move into positive territory came after a negative open on the disappointing March jobs report released Friday.
The S&P 500I:GSPC was up 0.52%, the Dow Jones Industrial AverageI:DJI jumped 0.5%, and the NasdaqI:IXIC added 0.39%.
Crude oil rebounded, reclaiming a level above $50 a barrel after selling off last Thursday. Prices had been under pressure after Iran and six world powers, the U.S. included, reached a tentative nuclear agreement that would lead to the lifting of economic sanctions. Freedom to trade could see Iranian oil flood an already-oversupplied commodity market. West Texas Intermediate was up 3.1% to $50.68 a barrel.
The energy sector was one of the best performers on markets Monday. Major oilers Exxon Mobil (XOM) - Get Report, ConocoPhillips (COP) - Get Report, and Chevron (CVX) - Get Report were all higher, while the Energy Select Sector SPDR ETF (XLE) - Get Report jumped 1.1%. 
U.S. nonfarm payrolls added 126,000 jobs in March, well below economists' expectations of 245,000. This marked the first time in 12 months fewer than 200,000 jobs were added to payrolls. The February and January prints were also downwardly revised.
The latest poor data supports the narrative of slower growth in the first quarter, though New York Federal Reserve President William Dudley questions whether this isn't merely a temporary blip. On Monday, Dudley suggested that a strong U.S. dollar and lower oil prices may be only transitory pressures on domestic growth.
Still, the surprise jobs report raises the question as to whether the Fed will put a rate hike on pause until the U.S. economy shows more solid signs of recovery.
"The Fed has the luxury of waiting for two more payroll reports before making a decision at the June meeting. We continue to look for the Fed to hike rates in September and suspect that the most recent report only stands to lower the already low odds of a June rate hike," said TD Securities' U.S. strategist Gennadiy Goldberg.
Non-manufacturing activity slipped to a three-month low of 56.5 in March from 56.9 in February, according to the ISM Non-Manufacturing Index. Economists had expected an average reading of 56.7.
International markets were quiet with most of Europe, Australia and Canada closed for Easter Monday, and China closed for the Qingming festival.
Greece headed closer to an April 9 deadline for a €458 million ($503 million) repayment to the International Monetary Fund. Greek finance minister Yanis Varoufakis met with IMF Chief Christine Lagarde to assure that the nation will honor all its loans.
Herbalife (HLF) - Get Report plummeted 2.7% on reports federal regulators could launch an investigation into its business practices. Details of any potential investigation were still unclear, reported CNBC.
Hudson City Bancorp (HCBK) tumbled 6% after the Fed informed M&T Bancorp (MBT) - Get Report its purchase of the New Jersey-based bank will be delayed again. Hudson City had previously expected the sale to close on May 1. 
Walt Disney (DIS) - Get Report shares was up 0.27% after the company invested $250 million in Draft Kings, which now values the fantasy sports website at $900 million. In exchange, Draft Kings will spend more than $500 million on advertising on Disney's ESPN.
Shanda Games (GAME) spiked more than 4% after agreeing to be taken private by Capitalhold for $3.55 a share and $7.10 per ADR, or $1.9 billion. The deal values the Chinese Internet gaming company at a 46.5% premium to its 30-day average trading price.
Tesla (TSLA) - Get Report added 8.5% after delivering just over 10,000 vehicles in the first quarter, a record high count. 
Qualcomm (QCOM) - Get Report stumbled 1.1% on reports the latest Samsung Galaxy phone does not contain a Qualcomm LTE modem, according to tech website Chipworks.com. 
Uniqure (QURE) - Get Report rocketed nearly 50% higher after Bristol-Myers Squibb (BMY) - Get Report announced a collaboration deal in which it will acquire a 4.9% stake in the Dutch biotech company.