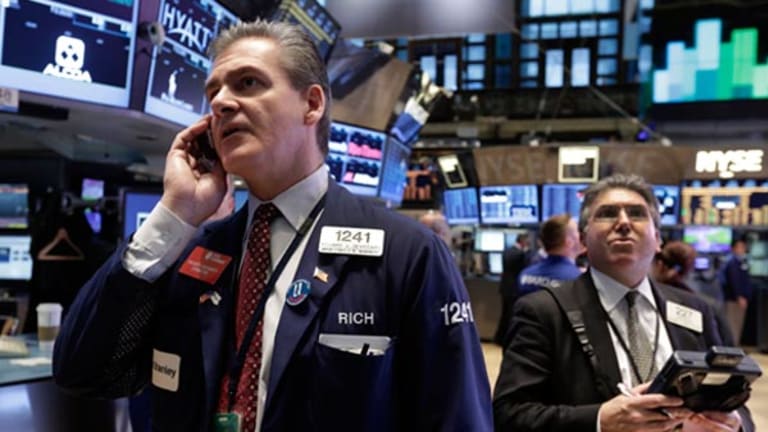 Stocks Close Lower Despite U.S. Credit Upgrade
Major U.S. stock averages were mixed Monday after an early boost from Standard & Poor's improved U.S. credit rating.
Major U.S. stock averages were mixed Monday after an early boost from Standard & Poor's improved U.S. credit rating.
NEW YORK (
) -- Major U.S. stock markets finished lower Monday, dropping from morning highs that followed an upward revision to Japan's gross domestic product figure and Standard & Poor's improved credit rating outlook for the U.S.
The
S&P 500
slipped 0.03% to 1,642.81 while the
Dow Jones Industrial Average
fell 0.06% to 15,238.59. The
Nasdaq
added 0.13% to 3,473.77.
Standard & Poor's on Monday affirmed its "AA+" long-term and "A-1+" short-term credit ratings for the U.S. and raised its long-term rating outlook on the country to "stable" from "negative" on "receding fiscal risks."
Despite S&P's U.S. upgrade, Michael Pento, president of Holmdel, New Jersey-based Pento Portfolio Strategies, cautioned that higher interest rates could hurt state and government budgets at a time when many municipalities and individuals remain in debt. The U.S. economy, he said, carries the same level of debt as it did at the start of the 2008-09 recession: 350% debt to GDP.
"All the supposedly 'good economic news' means that interest rates may start normalizing," Pento said in an e-mail. "A mean reversion with interest rates will reveal the truth that the U.S. economy has not de-leveraged since the start of the Great Recession. And the higher cost of money will reveal the public and private sector's stressed balance sheets."
Apple
(AAPL) - Get Report
opened its Worldwide Developers Conference Monday in San Francisco as the maker of the iPhone and iPad
revealed a completely redesigned look for its phone and tablet operating system, a digital radio service
and a new operating system for its laptops and desktop computers, among other changes. Shares dropped 0.7% to $438.89.
Monsanto
(MON)
gained 4.5% to $106.25 after Argentina's agricultural minister said
China has approved new strains of genetically modified soybeans and corn to be imported
into the country from Argentina, including a Monsanto soybean product. The seed company has been upgraded by
Macquarie
analysts to "outperform" from "neutral," who cited a good entry point for the stock.
McDonald's
(MCD) - Get Report
rose 1.3% to $99.53 after the fast-food chain reported that global sales at restaurants open at least a year grew 2.6% in May, boosted by an extra Friday during that month,
new menu items and value meals.
Lennar
(LEN) - Get Report
lost 3.3% to $37.31 after the homebuilder was cut to "neutral" from "overweight" by
JPMorgan
analysts, citing valuation. They also lowered their price target for the stock to $46.50 from $48.
S&P said the likelihood that it will lower its U.S. credit rating in the near term is less than one in three.
"Under our criteria, the credit strengths of the U.S. include its resilient economy, its monetary credibility, and the U.S. dollar's status as the world's key reserve currency," S&P said. "Similarly, in our view, the U.S.'s credit weaknesses, compared with higher rated sovereigns, include its fiscal performance, its debt burden, and the effectiveness of its fiscal policymaking."
The Nikkei 225 in Japan closed up 4.71% after the country revised its first-quarter gross domestic product higher. The Japanese economy grew by an annualized 4.1% versus the original estimate of 3.5%, according to the country's Cabinet Office.
August gold futures gained $3 to settle at $1,386 an ounce, while July crude oil futures closed off 26 cents to $95.77 a barrel.
Written by Andrea Tse and Joe Deaux in New York
>To contact the writer of this article, click here:
Andrea Tse
.