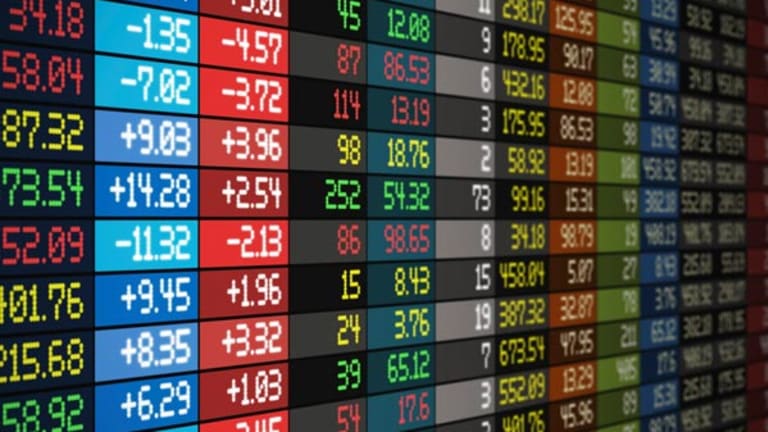 Stocks on Wall Street Start Week With Losses
The market in New York has a sluggish beginning to a holiday-shortened week. Frank Curzio discusses the day in The Real Story video above.
The market in New York has a sluggish beginning to a holiday-shortened week. Frank Curzio discusses the day in The Real Story video above.
Updated from 4:06 p.m. EST
Stocks in New York had a sluggish start to a holiday-shortened week and closed lower Monday, as what little news there was tended to be on the bleak side.
The
Dow Jones Industrial Average
gave back 59.42 points, or 0.7%, to 8519.69, and the
S&P 500
lost 16.25 points, or 1.8%, at 871.63. The
Nasdaq
was off 31.97 points, or 2%, at 1532.35. Volume was on the light side.
More than likely, that will be the case for the rest of the year, says Brian Gendreau, investment strategist at ING Investment Management. Thus, he says, it's hard to tell if moves -- up or down -- are significant. Gendreau predicts a largely "sideways" market from here on out.
Expectations for soft
holiday sales
may have stifled some retail names days before Christmas. The sector has been hurt by slowing spending and this past weekend by a winter storm across the northern part of the country. The
Retail HOLDRs
(RTH) - Get Report
, a trust of 20 retail companies, was down 2.5%.
Among individual chain-store stocks, shares of
Sears Holdings
(SHLD)
gave up 6.7% to $36.50,
Macy's
(M) - Get Report
fell 12.2% to $9.32, and
Kohls
(KSS) - Get Report
lost 4.7% to $33.99.
Shares of Target were off by 4.6% at $32.83, while its discount competitor
Wal-Mart
(WMT) - Get Report
edged up a fraction of a percent to $55.98.
As the new week arrived, the market was greeted with more headlines from the auto sector, this time
Toyota
(TM) - Get Report
, which cut its forecast, sending the stock down 5.4% to $60.92. On Friday, U.S. stocks closed mixed following an early-day rally spurred by news that the government would cast a $17.4 billion lifeline to ailing automakers
GM
(GM) - Get Report
and
Chrysler
.
The domestic manufacturers weren't the focus this time around, as
said it expects to post its first annual operating loss and will barely break even for the year through March, due to the economic downturn and slowing sales in the U.S.
This year has been a rough one for the auto sector, both domestically and abroad. Last week, President Bush said the U.S. government would extend
$13.4 billion in loans to automakers
GM and Chrysler in December and January through the Troubled Asset Relief Program, with another $4 billion available in February. The companies have been charged with the task of showing financial viability by the end of March.
Credit Suisse
downgraded GM
to underperform from neutral and cut its price target for the automaker to $1 from $2, saying the government mandated restructuring will lead to billions of dollars in lost value for the company and possibly the complete elimination of existing equity. Credit Suisse and JPMorgan analysts both expressed worry that a bankruptcy filing could still be on the table.
Shares of General Motors fell 21% to $3.53, and Ford declined 11.9% to $2.60.
Meanwhile, some of the country's biggest property developers are now asking to be part of a new $200 billion loan program created by the government to salvage the market for car loans, student loans and credit-card debt, according to a report in
The Wall Street Journal
.
Last week, Treasury Secretary Henry Paulson argued that Congress should now release the
second half of the $700 billion TARP fund
, which was set up in October to bail out struggling financial institutions.
According to a report Monday by the
Associated Press
, of 21 banks that received at least $1 billion in government money, none would give specific answers as to how much has been spent, what it was spent on, how much is being held in savings, or what the plan is for the rest of the money they've borrowed.
The single biggest bailout in 2008,
AIG
(AIG) - Get Report
, announced a major sale of a business unit, saying it would sell its
to German reinsurer Munich Re for $742 million in cash. Under the terms of the transaction, Munich Re will acquire 100% of the outstanding shares of HSB Group and assume $76 million of outstanding HSB capital securities. Shares of AIG added 3 cents to $1.63.
Also in M&A,
JPMorgan Chase
(JPM) - Get Report
said it would acquire
UBS'
(UBS) - Get Report
Canadian energy and global agricultural businesses. The terms of the deal, which is expected to close in the first quarter of 2009, weren't disclosed. JPMorgan edged down 1.6% to $29.85, while UBS gave up 3.4% to $12.14.
Elsewhere, companies continue to adjust to economic hardships.
Walgreen
(WAG)
fell shy of
first-quarter profit expectations
and said it plans to further scale back organic store growth. Rival drug store company
CVS Caremark
(CVS) - Get Report
said December sales would be weaker but stood by its guidance. Walgreen gave up 4.2% to $24.98, while CVS edged down less than 1% to $26.91.
In
, Deutsche Bank downgraded
U.S. Steel
(X) - Get Report
and cut its estimates on the company to reflect lower volume and price expectations, but upgraded steel stock
Nucor
(NUE) - Get Report
to buy.
The correction in steel prices has been swift and industry players believe steel prices are bottoming, but volume pressures and costs will limit profits in the near term, wrote Deutsche Bank analysts in a report. "Production cuts throughout the industry have been massive and the inventory de-stocking significant, but we expect these trends to continue," they wrote. U.S Steel fell 8.2% to $34.10, and Nucor shed 2.1% to $41.65.
The dollar was stronger against the euro, pound and yen. "We noticed some negativity on the U.S. dollar in the media last week, but this skepticism was prevalent just as the currency was reversing strongly from its 160-day moving average late in the week," wrote Todd Salamone, Senior Vice President of Research at Schaeffer's research, noting that an expected rally in the dollar would be a negative for commodity-related stocks.
Oil-exporting cartel OPEC said last week that it will cut its production target by another 2.2 million barrels a day starting in January. The cut, which could help stabilize oil prices that have fallen with global economic hardships, was slightly more than expected, but didn't solve the demand part of the equation for investors. Crude oil fell $2.45 to settle at $39.91 a barrel.
ConocoPhillips
(COP) - Get Report
fell 2.5% to $49.53,
BP
(BP) - Get Report
ticked down half a percent to $44.90, and
Exxon Mobil
(XOM) - Get Report
edged down 0.2% to $74.91.
In other commodities, gold gained $9.80 to settle at $847.20 an ounce.
Longer-dated U.S. Treasury securities were falling. The 10-year was down 12/32 to yield 2.2%, and the 30-year off by 1-18/32, yielding 2.6%.
As for economic data, this week will see a number of releases, including the University of Michigan consumer sentiment index, the
Washington Post
and
ABC News
consumer comfort index, new-home and existing-home sales, mortgage applications data, personal income, initial jobless claims, retail sales and durable goods figures.
The most important numbers coming out this week are going to be the housing results on Tuesday, says ING's Gendreau. While no one is looking for a rebound, people are going to be hunting for signals that the market is stabilizing, he says. "All we need for a positive market response is some sign that there's a light at the end of the tunnel, that the worst is over."
Looking abroad, China said that it will lower its benchmark deposit and lending rates by 0.27 percentage point to further ease monetary conditions. The central bank also cut the reserves Chinese institutions must hold by 0.5 percentage points to 15.5% of their deposits, increasing the amount of money available for bank lending.
Also,
Japan's Central Bank
cut its key interest rate to 0.1% on Friday after the U.S. Federal Open Market Committee lowered its interest rate target to a range of 0% to 0.25% earlier in the week.
Overseas, European exchanges such as the FTSE in London and the DAX in Frankfurt edged down slightly. In Asia, Japan's Nikkei ended higher, while Hong Kong's Hang Seng fell.