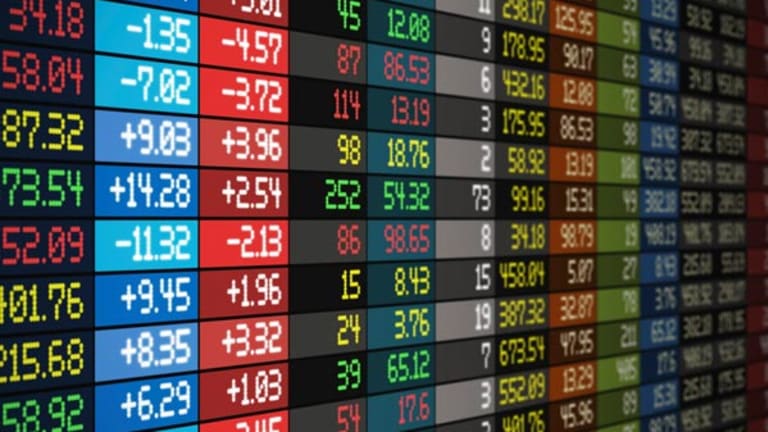 Stocks on Wall Street Rack Up More Big Losses
Thursday's session on Wall Street was volatile again as traders digested more gloomy data and dealt with continuing worries about the future of Detroit's carmakers.
Updated from 3:22 p.m. EST
Stocks on Wall Street had a volatile morning Thursday before selling off sharply late in the session as traders continued to grapple with signs of economic malaise and fret about the fate of the auto industry.
The
Dow Jones Industrial Average
tumbled 444 points, or 5.3%, to 7554. The
S&P 500
slumped 54 points, or 6.7%, to 752, putting it below its 2002 bear market low of 776, and the
Nasdaq
dropped 70 points, or 5.1%, to 1316.
On Wednesday, the market also fell hard, and when the new session arrived another set of grim economic data kept the sellers in control. The Labor Department reported that
jobless claims
for the week ended Nov. 15 had increased by 27,000 to reach 542,000, the highest level since 1992. Economists had anticipated claims numbers to come in at 503,000.
"In past recessions, investors eventually ignored bad employment data, having been numbed to the data by previous data and plentiful evidence of impending doom," Tony Crescenzi, chief bond market strategist for Miller Tabak, wrote on his
RealMoney.com
blog.
Crescenzi said that investors will still have to wait for additional indications of the depth and severity of the downturn before determining that the market has discounted the worst of what is to come. "Data need not get better to spark a rally, they need only stop getting worse," he wrote.
Meanwhile, economists at the University of Michigan said the U.S. is indeed in a
and that the worst won't come until the middle of next year.
A November manufacturing survey from the Philadelphia
Federal Reserve
yielded an index reading of negative 39.3 for November, worse than minus 37.5 the previous month. Economists were anticipating a reading of negative 35.
Still another indicator came from the Conference Board, who said its October leading indicators index fell 0.8%, a greater decline than the 0.6% forecast by analysts.
For a time in the early afternoon, the market went firmly into positive territory following sketchy reports that the Senate had reached a bipartisan deal on a loan package for the
. But the rally faded after legislators held a news conference at which they said they wanted to see more details from the carmakers before they would vote on any monetary help.
Jack Ablin, chief investment officer at Harris Private Bank, said a deal to help the automakers would've added clarity to a highly uncertain market. "I think that's part of the reason we moved from the doldrums early this morning," he said.
Ablin said that a bankruptcy filing by one of the Big Three could have significant impact on the economy. He said that as the companies' debt has had junk-equivalent ratings for more than a year, such an event would not have as large an impact on the capital markets as
Lehman Brothers'
bankruptcy did. However, he said, there are additional risks.
"Flying an airline that is bankrupt, you can hold your nose and do it, but buying a car from a company that's bankrupt, that's a risk I'm not sure a consumer wants to take," said Ablin.
Ablin said that Thursday's volatility was analogous to the market mood when Congress was working on the TARP plan. "I generally don't watch C-SPAN, but these days any equity investor has to be tuned into Capitol Hill," a development he said doesn't inspire confidence.
Robert Pavlik, chief investment officer for Oaktree Asset Management, said that a bankruptcy by the automakers would reverberate throughout the markets. Companies such as
Johnson Controls
(JCI) - Get Johnson Controls International plc Report
, which makes auto interiors,
Goodyear Tire
(GT) - Get The Goodyear Tire & Rubber Company Report
and the technology companies that make cars' computer chips are dependent on the manufacturers. "It's more of an octopus than you can imagine," he said.
Pavlik also said automakers' employees would also suffer if Congress did not intervene. Even so, "You have plenty of other negatives out there for this economy and
an automaker bailout is not going to solve it," he said.
Shares of
GM
(GM) - Get General Motors Company Report
and
Ford
(F) - Get Ford Motor Company Report
pared their gains, but were still up 6% and 14%, respectively.
While the Senate pact trumped other headlines from the auto sector, that didn't stop the group from making news in other regards. The
Financial Times
, citing a person familiar with recent discussions, reported that Chrysler is looking to reinvigorate merger talks with GM as the companies face increasing cash-flow troubles.
Additionally, GM's partly owned financing arm
applied with the
Federal Reserve
to become a bank-holding company, a transformation that would secure it access to funds offered by the Troubled Asset Relief Program.
Traders were also being affected by the fact that the major averages began to violate technical support levels, notably, the S&P 500's Oct. 27 low of 848 and a retest of that area on Nov. 13.
Phil Roth, chief technical market analyst at Miller Tabak, said that the next support areas he's using as benchmarks are the S&P's and Dow's 2002 lows, at 769 and 7200, respectively. On the upside, Roth said there's significant resistance for the S&P at 1000, and that a breakout above 866 would be the first sign that the markets may have turned around.
Roth stressed, however, that those are only benchmarks, and looking for a bottom is a dangerous undertaking.
"Most of the time, a market's final low is going to be at no particular place historically. Widely advertised support levels are broken, and then the market makes a base afterward." Asked if there would be any indication that a rally would come, Roth said, "The market will just do it."
Turning to financial companies,
Citigroup
(C) - Get Citigroup Inc. Report
saw a brief glimmer of hope as Saudi billionaire
, the largest individual shareholder in Citi, announced he would raise his stake in the staggering bank to 5% from 4%.
Alwaleed also endorsed Citi CEO Vikram Pandit, saying management is taking all necessary steps to survive the current climate. Alwaleed's moves weren't sufficient to quell investors' worries, and Citi shares tumbled as much as 20%.
Fellow blue-chip banking titan
JPMorgan Chase
(JPM) - Get JP Morgan Chase & Co. Report
, meanwhile, is getting set to cut about 10% of its workforce, according to a report by
Reuters
.
Also on the Dow,
Boeing
(BA) - Get The Boeing Company Report
said it would lay off 800 workers in a Kansas facility thanks to delays and terminations of various projects.
Bloomberg
reported that industrial conglomerate and Dow stock
(GE) - Get General Electric Company Report
was in talks to secure investments from several Asian sovereign wealth funds.
Among technology companies,
(YHOO)
is still in talks to purchase
Time Warner's
(TWX)
AOL business, according to another report by
Bloomberg
.
Separately,
Microsoft
(MSFT) - Get Microsoft Corporation Report
, whose offer to merge with Yahoo! had earlier been rebuffed by the Internet company, said in a filing with the
Securities and Exchange Commission
that it is planning to issue debt to pay for operating and general expenses.
Moving on to commodities,
crude oil
was losing $2.72 to $50.90 a barrel. For a time, oil went below $50. Gold was up $9.30 to $745.30.
Longer-dated U.S. Treasury securities were soaring in price as investors sought safety from the troubled stock market. The 10-year was up 30/32, yielding 3.21%, and the 30-year was adding 2-12/32 to yield 3.78%. The dollar was strengthening vs. the euro and pound, but plummeting against the yen.
Across the seas, European exchanges such as the FTSE in London and the DAX in Frankfurt were trading lower. In
, Japan's Nikkei and Hong Kong's Hang Seng closed with major losses.