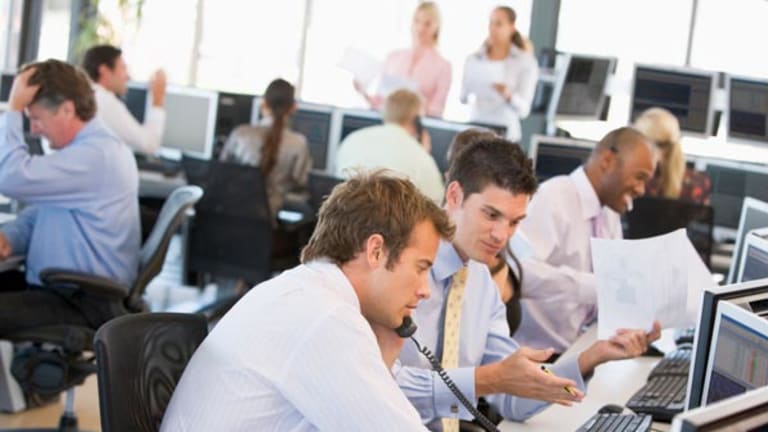 Stocks on Wall Street Finally Rally
The Dow, S&P 500 and Nasdaq all gain Wednesday in New York.
The Dow, S&P 500 and Nasdaq all gain Wednesday in New York.
Updated from 4:15 p.m. EST
Stocks in New York closed higher Wednesday, despite foreboding unemployment numbers in the U.S., as an assist from
lifted the blue-chip indices off of multiyear lows.
The
Dow Jones Industrial Average
rose 149.82 points, or 2.2%, to 6875.84, and the
S&P 500
climbed 16.54 points, or 2.4%, to 712.87. The
Nasdaq
added 32.73 points, or 2.5%, to 1353.74.
Positive sentiment came after reports that the Chinese government will announce further stimulus measures, sending the Shanghai Composite Index higher by 6.1%, and after promising numbers on the Asian nation's economy.
The official purchasing managers' index rose to 49.0 in February from 45.3 in January, according to the China Federation of Logistics and Purchasing. Although the index still indicates contraction, it's approaching the point, 50, of no change and is well above a record low of 38.8 last November.
Following the China news, the U.S. averages and industrial stocks climbed.
Alcoa
(AA) - Get Report
and
Caterpillar
(CAT) - Get Report
were the strongest components on the Dow, rising 12.8% and 13.2%, respectively.
The major indices were able to overlook a disappointing read on the morning's domestic economic data. Nonfarm private employment decreased by another 697,000 in February after declining 614,000 in January, according to estimates from private firm ADP.
That estimate, which exceeded expectations for a 630,000 drop, doesn't bode well for what could be the weakest jobs report of the recession thus far on Friday, says Alan Gayle, senior investment strategist at RidgeWorth. But there were some value shoppers in the market for the day at least after a fairly steep selloff, he says.
Aside from the jobs data, the Institute for Supply Management said its services sector index fell to 41.36 in February from 42.9 in January, but it was roughly in line with expectations.
The
Federal Reserve
also released its
beige book
, a commentary on current economic conditions through the analysis of its 12 regions. The report said that the economy continues to deteriorate. "The deterioration was broad based, with only a few sectors such as basic food production and pharmaceuticals appearing to be exceptions," according to the report.
Consumer spending remained sluggish and travel and tourist activity fell "noticeably" in key destinations, unemployment has risen in all areas and reports on manufacturing activity suggest steep declines.
"Markets for residential real estate remained largely stagnant, with only minimal and scattered signs of stabilization emerging in some areas, while demand for commercial real estate weakened significantly," according to the report. "Looking ahead, contacts from various Districts rate the prospects for near-term improvement in economic conditions as poor, with a significant pickup not expected before late 2009 or early 2010."
Earlier in the day, the Obama administration kicked off the "Making Home Affordable" refinance program, with the Treasury Department releasing the details of the plan, which it says should help up to 9 million homeowners by modifying qualifying mortgages, among other things. The details arrived at the same time as more data on home loans.
The Mortgage Bankers Association reported that its market composite index, a measure of mortgage loan application volume, fell to 649.7 last week, a 12.6% decrease from a week prior. The refinance index also retracted, falling 15.3%.
Meanwhile, interest rates increased. Rates for the 30-year fixed-rate mortgage climbed 0.07% to 5.14%, and those for the 15-year fixed-rate were up 0.02% to 4.73%
"While it's not unexpected to get a relief rally, until we see some stability in jobless claims or a pickup in housing activity -- it doesn't even have to be improvement, just stability -- the markets remain vulnerable," says Gayle.
Pending home sales data offered a bleak picture earlier in the week, but homebuilder
Toll Brothers
(TOL) - Get Report
said its
narrowed despite a sharp drop in revenue as it cut back on expenses.
One stock not catching a break was
General Electric
(GE) - Get Report
, which fell as much as 9% before recovering to a 4.6% loss that left it at $6.69. The company said in a statement that claims that it will have to raise new capital are based on "pure speculation" and are "inaccurate."
Financials turned out to be the laggards of the day, with Dow component
Bank of America
(BAC) - Get Report
off by 1.4% , and
Citigroup
(C) - Get Report
and
JP Morgan Chase
(JPM) - Get Report
down 7.4% and 8.1%, respectively. The KBW Bank index lost 3.3%.
Elsewhere,
Costco Wholesale
(COST) - Get Report
said its fiscal
second-quarter profit
fell 27%, partly on lower nonfood sales and some deeper discounting. But shares edged up 0.3% to $40.81.
In other corporate news, the eleven top executives at Merrill Lynch
of more than $10 million in cash and stock last year, according to a report in
The Wall Street Journal
. Since selling itself to Bank of America, which has received billions in taxpayer aid, Merrill has faced scrutiny for paying bonuses as it lost billions of dollars in 2008 and is now the subject of an investigation by New York Attorney General Andrew Cuomo.
Also,
UBS
(UBS) - Get Report
said Chairman Peter Kurer
and likely will replaced by Kaspar Villiger. UBS was on the rise Wednesday, adding 4.2% to $8.70.
In commodities, oil surged $3.73 to settle at $45.38 a barrel, while gold fell $6.90 to $906.70 an ounce.
The Energy Information Administration offered some good news to oil prices, which have struggled as supply exceeds a dramatic slowdown in demand. U.S. commercial crude oil inventories declined by 700,000 barrels last week, while economists had predicted another increase of about a million barrels.
However, at 350.6 million barrels, U.S. crude oil inventories are still above the upper limit of the average range for this time of year, according to the EIA.
Total motor gasoline inventories increased by 200,000 barrels and distillate fuel inventories rose by 1.7 million barrels. Distillate fuel inventories are above the upper limit of the average range for this time of year, while motor gasoline inventories are in the lower half of the average range.
Longer-dated Treasuries were falling. The 10-year note was losing 29/32 to yield 3%, and the 30-year was lower by 1-10/32, yielding 3.7%. The dollar was recently slightly stronger against the euro, and weaker against the pound and yen.
Stocks overseas were broadly higher. The FTSE in London and the DAX in Frankfurt added 3.8% and 5.4%, respectively, after Hong Kong's Hang Seng and Japan's Nikkei closed in positive territory.