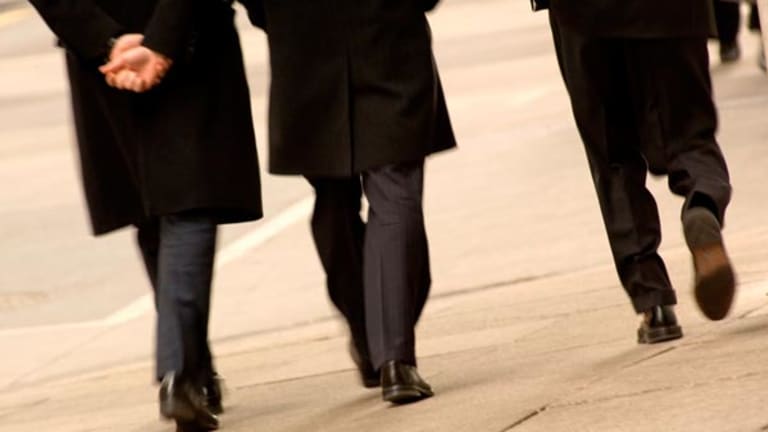 Stocks on Wall Street Fight to Shake Negativity
Stocks remain well off their early gains and trade mixed even as the federal government pledges new aid to help consumers battle the credit crunch.
Updated from 1:26 p.m. EST
Succumbing to the volatility that has lately plagued the market, stocks on Wall Street were losing ground Tuesday, even as the
Federal Reserve
announced $800 billion in new federal programs to help fix frozen credit markets.
The
Dow Jones Industrial Average
, up some 164 points earlier, was lately up 66 points at 8509. The
S&P 500
was gaining 8 points to 859, but the
Nasdaq
was losing 9 points to 1462.
The major averages' opening rally followed the Fed's announcement that it would use $600 billion to buy direct obligations and
tied to the Federal Home Loan Banks and
Fannie Mae
undefined
,
Freddie Mac
undefined
and
Ginnie Mae
.
Brian Bethune, director of financial economics at Global Insight Economics, said that the Fed is trying to reduce spreads on the value of Fannie and Freddie securities relative to Treasuries. Bethune said that reducing those spreads, which are at unusually high levels, would in turn translate to lower mortgage rates.
"The growth of mortgage credit has literally collapsed," said Bethune. Mortgage lenders have been hesitant to originate loans because the prices of homes continue to fall. In addition, he said, Fannie and Freddie themselves reduced the amount of credit they were generating as they ran into capital constraints earlier this year. "It really is a very difficult situation," he said.
The Fed also announced the creation of a $200 billion facility for holders of triple-A rated asset-backed securities tied to loans related to education, autos, credit cards and small businesses.
Speaking at a press conference about the Fed programs and the $700 billion Troubled Asset Relief Program, Treasury Secretary Henry Paulson said that stabilization of the mortgage-backed securities market and stimulation of consumer-lending markets are crucial. He said that Americans need to continue to be able to finance everyday purchases and stressed that no single piece of legislation was likely to resolve the credit crisis.
An early rally on the news of government assistance quickly gave rise to profit-taking, however, as investors remained skittish about the financial crisis' continued impact on the economy.
"Volatility is the norm here and not the exception," said Art Hogan, chief market analyst at Jefferies, of the market's reaction to the new government programs. Hogan said the announcement of the new TARP initiatives were already telegraphed to the market and the previous two-day rally had been in part a reaction to additional intervention. "We may have celebrated this news already," he said.
Bill Stone, chief investment strategist for PNC Wealth Management, said that aid for asset-backed commercial paper is a continuation of recent efforts to unfreeze credit markets. By facilitating the securitization of asset-backed bonds, the government is encouraging additional lending for consumer purchases, he said. When lending is too tight, said Stone, "Even if the deals are good, it doesn't make any difference. Not many of us can pay in cash."
Stone said that the Fed's intervention is bullish for the markets, as it helps stocks price in a time frame for the length of a recession. "The longer the credit crunch goes on, the longer we have to assume the recession goes on," he said.
Hogan of Jefferies said that the government has made a good public-relations move by shifting its focus to the needs of the consumer. Intervention in the mortgage-backed securities market, credit cards, and student loans are all directed at the Main Street as opposed to Wall Street, he said.
As trading got underway, several financial firms appeared to be getting government help as well.
Goldman Sachs
(GS) - Get Goldman Sachs Group Inc. (The) Report
garnered strong interest in a government-backed issuance of $2 billion to $3 billion in bonds, according to a report by
The Wall Street Journal
. The sale is expected to conclude Tuesday, and Citi and
General Electric
(GE) - Get General Electric Company Report
are expected to stage similar government-assisted bond sales.
Meanwhile, staggering insurance firm
American International Group
(AIG) - Get American International Group Inc. Report
announced voluntary restrictions on executive compensation and said that CEO Edward Liddy would receive a base salary $1 a year for 2008 and 2009. AIG has received hundreds of billions of dollars in government investments and aid this year.
As financial firms continued to weave their way through the credit crisis, the
Federal Deposit Insurance Corp.
announced that its count of troubled banks climbed from 117 in the second quarter to 171 in the third quarter. The agency also said that the total assets controlled by problem banks increased from $78.3 billion to $115.6 billion in the same period.
FDIC head Sheila Bair said in a press conference that the increase in the number of problem banks reflects ongoing troubles in the U.S. economy and the seizure in the credit markets.
"I don't think there's any great surprises," said Hogan of Jefferies. "Unfortunately we know that there are a lot of banks that have issues, and a lot of them will be folded into other banks by the end of the year."
In Chicago,
President-elect Barack Obama
announced his selection of Peter Orszag to direct the Office of Management and Budget. Orszag is currently the director of the Congressional Budget Office. Obama also named majority staff director of the House Appropriations Committee Robert Nabors as deputy director of the OBM.
Obama also said that the current financial crisis will warrant careful watchfulness of government spending and targeted initiatives to help stimulate growth.
The day's economic data were less than rosy. The Bureau of Economic Analysis revised its read of the third-quarter
decline in GDP
to 0.5% from 0.3%.
Separately, the Conference Board's November
consumer confidence index
gave a reading of 44.9, up from 38 in October and ahead of economists' forecasts.
The Standard & Poor's Case Shiller home price index, meanwhile, showed a third-quarter decline of 16.6% year over year, the worst decline on record.
In Europe, the
Organization for Economic Cooperation and Development
said that the developed world may face the worst recession it has seen since the early 1980s.
Looking at earnings news, computer systems maker and Dow component
Hewlett-Packard
delivered earnings that beat estimates on the top line but saw profit decline slightly year over year.
In the merger space, mining concern
BHP Billiton
(BHP) - Get BHP Group Limited American Depositary Shares (Each representing two) Report
dropped a hostile takeover bid for
Rio Tinto
(RTP) - Get Reinvent Technology Partners Class A Report
on a sharp decline in commodity prices and tough credit conditions.
Moving on to commodities, crude oil was losing $3.91 to $50.59 a barrel. Gold was down $4.20 to $816.30 an ounce.
Longer-dated U.S. Treasury securities were rising in price. The 10-year was up 2-8/32, yielding 3.06%. The 30-year was gaining 3-11/32 to yield 3.61%. The dollar was falling vs. its major foreign competitors.
Overseas, European exchanges, such as the FTSE in London and the Dax in Frankfurt, were eking out gains. Asian markets, including Japan's Nikkei and Hong Kong's Hang Seng, finished on the upside.