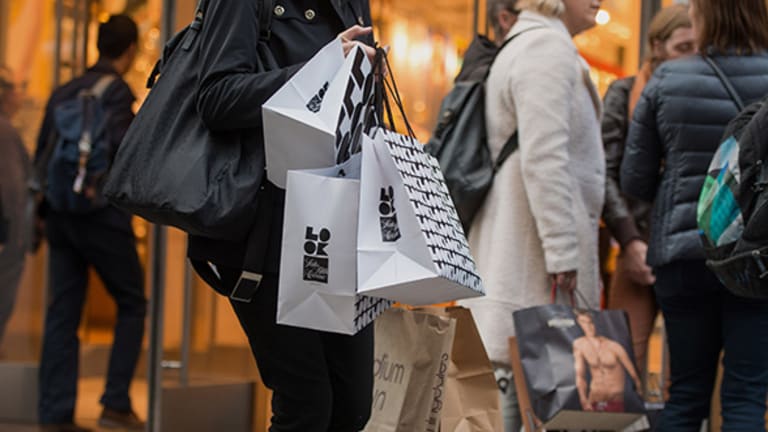 Stocks Are Mixed as Chicago Business Activity Improves
Stocks turn mixed by mid-morning after business activity in Chicago rebounds and consumer sentiment improves.
Stocks turned mixed by mid-morning Friday after business activity in Chicago rebounded and consumer sentiment improved.
The S&P 500 was down 0.11%, the Dow Jones Industrial Average fell 0.03%, and the Nasdaq rose 0.1%.
Chicago PMI bounced back into positive territory in October, climbing to a reading of 56.2 from 48.7 in September. The reading was its highest since January, boosted by gains in new orders and production. 
Consumer sentiment moved higher to a reading of 90 in October from 87.2 in September, according to the University of Michigan, as global market volatility eased and gasoline prices remained low. However, the index wasn't as high as a preliminary reading of 92.1. 
Consumer spending rose in the U.S. in September at the slowest pace this year as consumers spent less on gasoline. Personal spending increased 0.1% over the month, according to the Commerce Department, half the increase economists had expected. Consumers have also become more conservative in recent weeks as the global market looked to be on shakier ground and the U.S. labor market showed signs of weakness. 
U.S. equities are on track to close out with the best monthly gain in four years. Benchmark indexes have rallied in October as China and the European Central Bank committed to do whatever it takes to reinvigorate flagging growth. Markets in the U.S. rallied on Wednesday after the Federal Reserve held rates steady. However, a potential December rate hike was left in play. Investors had hoped the Fed would provide further clarification on how likely a rate hike this year might be.
Drugstore chain CVS Health (CVS) - Get Free Report led S&P 500 decliners after it guided for 2016 earnings no higher than $5.88 a share, below analysts' estimates of $6.02. The company has managed to boost pharmacy sales even as its drugstore business suffers following the decision to cease all tobacco sales.
Colgate-Palmolive (CL) - Get Free Report  was one of the worst performers in the sector after reporting a drop in quarterly sales due to a stronger U.S. dollar. Total revenue fell nearly 9% to $4 billion with the impact of foreign exchange cutting into the top-line by 13 percentage points. Organic sales increased 5% and were up 8% in emerging markets.
Anheuser-Busch (BUD) - Get Free Report shares were on watch after the beer company raised its sales forecast for the year on stronger demand for premium lager. The company is currently planning to buy its rival SABMiller (SBMRY) in what will be a record deal for the beer industry.
Exxon Mobil (XOM) - Get Free Report shares rose 1% after the oil company beat earnings and sales forecasts despite a sharp decline in revenue. Net income of $1.01 a share beat estimates by 12 cents, while revenue of $67.34 billion came in $4 billion above estimates. Sales slumped nearly 40% on tumbling commodity prices.
Industry peer Chevron (CVX) - Get Free Report added 1.5% after committing to cut as many as 7,000 jobs and reduce capital spending by 25% to address slumping profits. Quarterly earnings came in at $2.04 billion compared with $5.6 billion a year earlier. Revenue fell 37% as commodity prices tumbled. 
AbbVie (ABBV) - Get Free Report climbed more than 5% after reporting an 18% jump in total revenue. The drugmaker narrowed its full-year earnings guidance to $4.26 to $4.28 a share from a previous range of $4.10 to $4.30.
Starbucks (SBUX) - Get Free Report shares fell 2% after the coffee chain provided a weaker-than-expected forecast for the holiday season. The company expects earnings in the current quarter of between 44 cents and 45 cents a share, below estimates of 47 cents.
LinkedIn (LNKD) jumped 10% after a better-than-expected third quarter and fourth-quarter projections above estimates. The professional social network reported a 37% increase in sales over its recent quarter after the company gained traction in its expansion in China.
Western Union (WU) - Get Free Report added 3% as the company continued to grow in U.S. outbound money transfers. The company said sales fell 2.9% to $1.4 billion, though climbed 3% when the effect of a stronger U.S. dollar was stripped away.
SolarCity (SCTY) shares slumped more than 18% after losses widened to $234 million over its recent quarter from just $70 million in the year-ago period. An adjusted loss of $2.10 a share was wider than an expected $1.95 loss. Revenue climbed on increased installations of its alternative-energy systems.
Rival First Solar (FSLR) - Get Free Report jumped nearly 12% after reporting a blowout quarter. Adjusted earnings of $3.38 a share came in well above estimates of $1.55. Net sales soared 43%.  
Valeant (VRX) has announced it is cutting ties with specialty pharmacy Philidor after Express Scripts (ESRX) and CVS Health eliminated the partner pharmacy from their network. Valeant has been under pressure since last week when a Citron Research report accused it of using the pharmacy to create fake sales. Philidor has since announced plans to shut down.
Activist investor Bill Ackman said in a conference call that Valeant is undervalued and that he doesn't believe the business model is broken. Ackman is a major stockholder in the company.