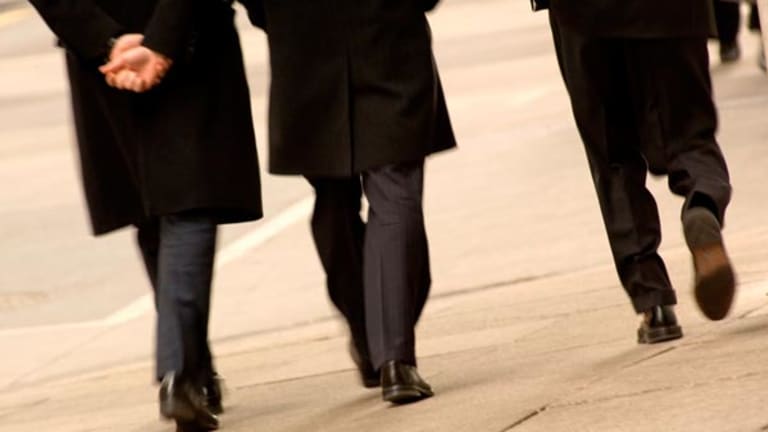 Stocks Extend Highs as Greece Reaches Deal
Global markets cheer after Greece and its European creditors finally seal a debt deal after months of back-and-forth deliberations.
NEW YORK (TheStreet) -- Global markets cheered after Greece and its European creditors sealed a debt deal after months of back-and-forth deliberations. 
U.S. stock markets extended Friday's gains. The S&P 500 rose 0.93%, the Dow Jones Industrial Average gained 1.1%, and the Nasdaq was up 1.2%.
European markets rallied Monday after European leaders agreed to a bailout of 86 billion euros ($95 billion) to ensure Greece remains in the euro. Greece must impose strict spending cuts in exchange for the additional funds. The deal helps prevent Greece from exiting the eurozone, an unprecedented and potentially catastrophic outcome for the region.
Germany's DAX spiked 1.1% on the news, France's CAC 40 added 1.7%, and the FTSE 100 in London gained 0.72%.
The Greek chapter hasn't been closed yet, though, with the country's parliament still to vote on the deal's terms on Wednesday.
"There are still a variety of details to be agreed upon after the fact," wrote CRT Capital's David Ader and Ian Lyngen in a note. "Greek banks are still closed and the July 20 ECB payment of 4.2 billion euros looms ... We're apprehensive that although ostensibly a compromise has been reached, the market remains vulnerable to headlines related to the ultimate completion of the deal."
Talks on a nuclear deal with Iran continued Monday. Iran has been negotiating with six world powers to try to prevent the country from acquiring nuclear weapons in exchange for the easing of sanctions, the latter of which could increase Iranian oil supply on an already oversupplied global markets. Iranian President Hassan Rouhani will hold a press conference early this afternoon. 
West Texas Intermediate crude oil fell 1.4% to $52 a barrel.
"Once a deal has been struck, we should brace ourselves for another round of selloff as the market panics," said Daniel Ang, analyst at Phillip Capital. "A recovery could ensue if Iranian crude would only flow into the markets slowly, however, likely to come only in the longer term."
Remy International (REMY) spiked nearly 42% on Monday after BorgWarner (BWA) - Get BorgWarner Inc. Report agreed to purchase the electrical component manufacturer for $950 million in cash. BorgWarner, an auto parts company, expects the deal to close by the fourth quarter.
Casino stocks with exposure to Macau were rallying alongside Chinese markets and on news Macau's government is considering easing smoking bans on casino floors. The latter action is likely in response to waning tourism at the gambling destination. Las Vegas Sands (LVS) - Get Las Vegas Sands Corp. (LVS) Report, Wynn Resorts (WYNN) - Get Wynn Resorts, Limited (WYNN) Report, Melco Crown (MPEL)  and MGM Resorts (MGM) - Get MGM Resorts International (MGM) Report were trading higher. 
Halliburton (HAL) - Get Halliburton Company (HAL) Report and Baker Hughes (BHI) shares were on watch after the two companies agreed to extend the review period for their merger to the Department of Justice. Halliburton also said it is considering divesting more businesses, potentially easing the government's antitrust concerns.
Comcast (CMCSA) - Get Comcast Corporation Class A Report is jumping into the TV-streaming game after announcing its own service called Stream. The service, which will cost $15 a month, will allow customers to watch 12 channels including HBO on their mobile devices. It will initially launch in Boston by summer's end. 
Appliance company Jarden (JAH) has confirmed it will acquire privately held Waddington Group for around $1.35 billion from investment fund Olympus Partners. The purchase of the disposable kitchenware company is expected to close in the third quarter.
Detroit's major three automakers, General Motors (GM) - Get General Motors Company (GM) Report, Ford (F) - Get Ford Motor Company Report and Fiat Chrysler (FCAU) - Get Fiat Chrysler Automobiles N.V. Report, are set to begin labor talks with the United Auto Workers on Monday. The union is seeking reform in payment structure of veteran and new workers. A new contract must be decided upon before the current agreement expires on Sept. 14.
Apple (AAPL) - Get Apple Inc. (AAPL) Report made a significant grab for total profit in the smartphone industry in the first quarter, according to Canaccord Genuity estimates. The tech giant generated 92% of the operating profit of the top eight smartphone companies over the quarter, up from 65% a year earlier. The increase was largely due to the increasing cost of Apple smartphones compared to competitors.