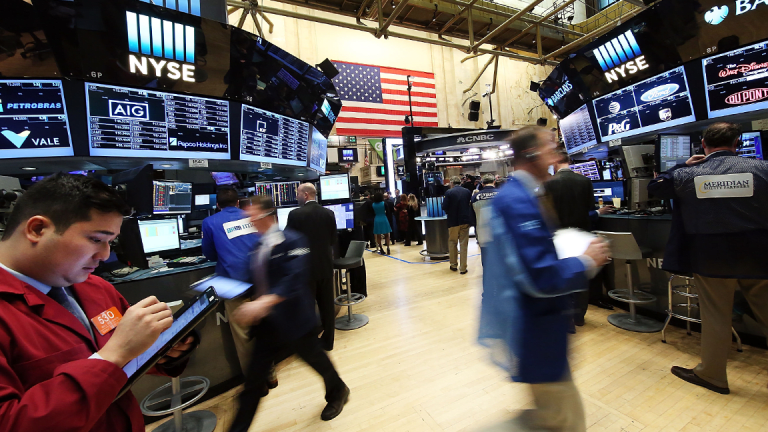 Stocks Slide, Dollar Rises as China Markets, Lira Crisis Keep Investors Cautious
Global stocks traded lower Wednesday, while the dollar surged to a fresh 13-month high against its peers, as investors worried that Turkey's diplomatic spat with the United States could worsen a currency crisis.
The Wednesday Market Minute
Global stocks slide, with Asia slumping on renewed China woes and Europe edging lower amid a weaker single currency and ongoing Turkish tensions.
China shares fall 2%, deeper into bear market territory, as the yuan slides to a fresh 15-month low against the U.S. dollar.
U.S. dollar index hits 14-month high of 96.90 amid safe-haven flows; benchmark 10-year Treasury yields slip to 2.88%.
Global oil prices dip as dollar strength, China weakness offset concern over looming sanctions on Iranian crude.
Wall Street futures extended declines after bigger-than-expected fall in Q2 profit for China's internet giant Tencent and ahead of earnings from Cisco (CSCO) and Macy's (M)  and retail sales data from the month of July.
Market Snapshot
Global stocks traded mixed Wednesday, while the dollar surged to a fresh 13-month high against its peers, as investors worried that Turkey's diplomatic spat with the United States could worsen a currency crisis that is already threatening to spill over into debt-laden emerging markets in other parts of the word.
Investors were also rattled by another sell-off in China stocks, which has taken domestic equities deeper into bear market territory as the economy cools amid escalating U.S. trade tariffs and the yuan tumbles to a 15-month low against the dollar in response.
China's Tencent Holdings Ltd. (TCEHY)  didn't help, either, after it posted much weaker-than-expected second quarter earnings Wednesday as Asia's most-valuable company continues to suffer from concerns over its ability to moentize popular video games.
U.S. equity futures weakened sharply after the Tencent report, with contracts tied to the Dow Jones Industrial Average undefined indicating a 175 point fall at the start of trading later today while those linked to the broader S&P 500 undefined are suggesting a 19 point pullback.
China also hit back at the U.S. overnight via a formal complaint with the World Trade Organization over the Trump Administration's decision to apply tariffs on China-made solar panels earlier this year, a move that suggests the current rift between Washington and Beijing hasn't improved over the past six weeks and that fresh U.S. tariffs on $200 billion worth of goods could be implemented later this autumn.
The MSCI Asia ex-Japan index was marked 0.91% lower near the close of trading, taking the regional benchmark to its lowest level in a year as China's Shanghai and Shenzen composite indices fell 2% each, while Japan's Nikkei 225 shed 0.68% to close at 22,204.22 points.
The U.S. dollar was the main recipient of the market's cautious mood overnight as it rose 0.2% against a basket of six global currencies to trade at a 14-month high of 96.90 amid the safe-have flows. The euro, meanwhile, the second-largest component of the dollar index basket, hit a 14-month low of 1.1312 overnight as investors continued to worry over the region's banking sector exposure to the Turkish economy.
Those concerns were exacerbated Wednesday by a move from President Tayyip Erdogan to double the existing rate of tariffs on U.S.-made goods coming in to Turkey, a decision he said was linked to President Donald Trump's aim to raise tariffs on steel and aluminium imports late last week.
The brewing dispute, which centers on the detention of the evangelical American pastor Andrew Brunson, is showing now signs of abating at the moment, and Turkey's lira is starting to reverse some if its gains in early European trading as a result, falling to 6.4125 against the dollar.
Turkey's BIST 100 index was marked 3% lower by mid-day trading in Ankara and the lira rallied 7.5% to trade back below the 6.0 mark against the U.S dollar before paring that move to around 6.2 as the central bank imposed restrictions on foreign exchange swap transactions for the country's lenders.
Europe's Stoxx 600 index slumped 0.88% lower to 381.71 points by mid-day in Frankfurt as benchmarks in Germany and France drifted into the red following the weaker Tencent earnings.
Britain's FTSE 100 was marked 1.12% lower as investors failed to take advantage of the pound's 14-month low of 1.2698 against the dollar amid notable declines for basic resource stocks, which slumped on the back of weaker China demand and a one-year low of $5,890 per ton for copper futures on the London Metals Exchange, extending it drop for the early June peak to 20%.
Royal Bank of Scotland plc (RBS) shares were an early mover of note, rising 0.3% to 224 pence in London after the government-owned bank agreed a $4.9 billion settlement with the U.S. Department of Justice late Tuesday for its role in mis-selling mortgage backed securities into the peak of the global financial crisis, allowing it to declare its first dividend in a decade.
The stronger U.S. dollar helped pull oil futures lower, with investors also citing the prospect for weaker China demand into the second half of the year as driving the day's bearish narrative, although looming U.S. sanctions on the sale of Iranian crude, set to kick-in in November, are keeping the session's declines in check.
Brent crude contracts for October delivery, the global benchmark, were seen 90 cents lower from their Tuesday close in New York and changing hands at $71.56 in early trading. WTI contracts for September, which are more tightly-linked to U.S. gasoline prices, were marked $ lower at $66.04.