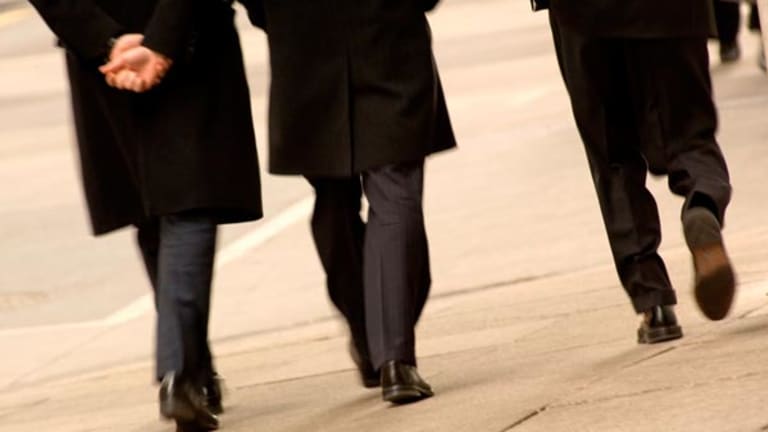 Stocks Slide as Ford and Boeing Declines Weigh on Wall Street
Stocks fall on Thursday as an earnings miss from Ford and worrying production news from Boeing spreads pessimism.
Stocks fell on Thursday as an earnings miss from Ford (F) - Get Report  and worrying production news from Boeing (BA) - Get Report spread pessimism. 
The S&P 500 was down 0.23%, the Dow Jones Industrial Average fell 0.4%, and the Nasdaq was flat.
The earnings season charged ahead with a rush of reports out overnight and Thursday morning that captured investors' attention. The second-quarter season is nearly halfway done. Blended quarterly earnings are expected to decline 3% this quarter. So far, 72% of those companies which have reported have exceeded earnings estimates. 
Ford fell 9% after quarterly earnings missed estimates. The automaker earned an adjusted 52 cents a share, 8 cents short of expectations. Sales rose to $39.49 billion compared to $36.2 billion consensus. Weak North American sales were countered by strength in Europe, the Asia Pacific, Souther America and Middle East and Africa.
Boeing could end production of its 747, the iconic jet it has produced for half a century. The aerospace manufacturer has delivered more than 1,500 units of the 747 since 1970. Boeing reported a quarterly loss Wednesday morning, its first in nearly seven years, as it faced weaker demand for larger aircraft. Shares were nearly 2% lower, weighing heavily on the Dow.
Facebook (FB) - Get Report jumped more than 2% after breezing past second-quarter estimates. The social network earned 97 cents a share, up from 50 cents a share in the year-ago quarter and 16 cents better than forecast. Revenue of $6.4 billion came in $400 million higher than estimated.
Ad sales at Facebook rose 63% to $6.24 billion, accelerating from a 57% rise in the first quarter and fourth quarter. Around 84% of second-quarter ad revenue came from mobile. Facebook warned that ad growth will slow in the third and fourth quarter as it deals with tougher annual comparisons.
"Bottom line: Facebook has mastered how to advertise on mobile and social effectively and profitably while maintaining the incredible user experience," wrote TheStreet's Jim Cramer, portfolio manager of the Action Alerts PLUS Charitable Trust Portfolio, and research director Jack Mohr. (AAP holds Facebook in its portfolio). "The balance is key in this business in order to keep both users and advertisers happy. Facebook has put together a team that can cater to both sides of the spectrum. What a glorious time to be a Facebook shareholder, indeed."
Groupon (GRPN) - Get Report surged 30% despite swinging to a quarterly loss. The coupon site reported a net loss of 10 cents a share, down from 16 cents a share in profit a year earlier. Revenue rose just over 2% to $756 million. Groupon raised its full-year sales forecast to $3 billion to $3.1 billion, up from a previous range of $2.75 billion to $3.05 billion.
GoPro (GPRO) - Get Report  moved 5% higher after reporting a narrower-than-expected quarterly loss. The action camera maker reported an adjusted net loss of 52 cents a share, 6 cents narrower than forecast. Revenue of $220.8 million handily beat estimates of $194.6 million.
Dow Chemical (DOW) - Get Report  slipped early Thursday after reporting a slightly narrower drop in revenue than expected even as currency exchange continued to pressure the quarter. Revenue slid 7.4% to $11.95 billion, dragged on by lower raw material prices. Analysts had expected revenue of $11.24 billion. The company, which is currently working to have a deal with DuPont (DD) - Get Report approved, said it achieved its 15th straight quarter of earnings growth.
Dow Chemical is a holding in Jim Cramer's Action Alerts PLUS Charitable Trust Portfolio. Want to be alerted before Cramer buys or sells DOW? Learn more now.
ConocoPhillips (COP) - Get Report reported a second-quarter loss, compared to its year-ago quarterly profit, as commodities prices remained lower for longer. The oil company posted an adjusted net loss of 79 cents a share, down from profit of 7 cents a share a year earlier. Revenue fell 36% to $5.58 billion.
Whole Foods (WFM) slid 8% after reporting its fourth straight quarterly decline in profit. The supermarket chain reported a 2.6% drop in comparable sales, a faster decrease than an anticipated 2.3% contraction. Whole Foods also said current-quarter comparable sales would likely fall 2.4%.
Oracle (ORCL) - Get Report agreed to acquire NetSuite (N) for $109 a share, or $9.3 billion. The deal will likely close this year and Oracle expects it to be "immediately accretive" to earnings in the year after closing. NetSuite shares rose 18% early Thursday.
Initial jobless claims in the U.S. for the week ended July 23, increased by 14,000 to 266,000, according to the Labor Department, remaining at historically low levels. The number of new claims for unemployment benefits has remained under 300,000 for 73 weeks in a row, its longest stretch since the 1970s.
The U.S. trade gap widened to $63.3 billion in June, the U.S. Census Bureau said on Thursday. The reading was wider than an expected increase to $61.1 billion from $60.6 billion in May. Exports declined 0.2%, while imports increased 1.6%.
The Federal Reserve opted to leave rates unchanged at its July meeting on Wednesday afternoon, as expected. The vote to hold rates as is was nearly unanimous, save for the sole vote from Kansas City Fed President Esther George who voted to raise rates. The likelihood of a move on interest rates in July was low heading into the meeting.
The Fed touted improvements to the economy in a statement following the conclusion of its two-day meeting. Increasing confidence in the economy was taken by some as a signal of the central bank's openness to a possible move on rates in September.