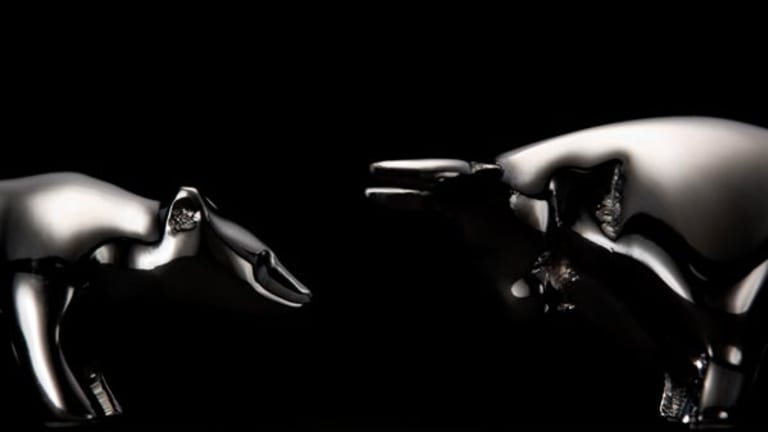 S&P 500 on Track for July Gains as Alphabet, Amazon Climb
The S&P 500 moves higher on Friday, on track to end the month on a high, as Alphabet and Amazon rally on positive earnings.
The S&P 500 moved higher on Friday, on track to end the month on a high, as Alphabet (GOOGL) - Get Report  and Amazon (AMZN) - Get Report rallied on positive earnings. 
The S&P 500 was up 0.11%, the Dow Jones Industrial Average slid 0.18%, and the Nasdaq rose 0.07%. The Dow briefly turned positive around midday. 
Alphabet increased 4.2% as ad revenue drove growth on its top-line. The company reported a 21% increase in revenue, largely thanks to growth in Google's ad business. Adjusted earnings of $8.42 a share beat estimates of $8.04.
"What can we say? This was a fantastic quarter, with core Google's dominance and (Chief Financial Officer) Ruth Porat's capex discipline on full display," said TheStreet's Jim Cramer, manager of the Action Alerts PLUS Charitable Trust Portfolio, and research director Jack Mohr.
Amazon rose 0.8% after reporting another quarter of record profit. The e-commerce giant earned $1.78 a share, handily beating estimates of $1.11 a share. Its Amazon Web Services division, which rents enterprise cloud space and computer power, drove growth with a sales increase of nearly 60%.
Exxon Mobil (XOM) - Get Report dragged on the Dow, declining 2% as lower oil prices continued to ravage its top- and bottom-lines in its recent quarter. The oil company earned 41 cents a share, down from $1 a share a year earlier. Analysts had expected earnings of 64 cents a share. Revenue declined by 22% to $57.69 billion and fell short of expectations. Shares were down 4%.
In more positive earnings news, UPS (UPS) - Get Report said quarterly profit rose on increased average daily shipments in the U.S. The delivery company reported earnings of $1.43 a share, up from $1.35 a share a year earlier. Profit was in-line with expectations.
Merck (MRK) - Get Report increased after exceeding analysts' estimates in its recent quarter thanks to growth in top-selling drug Januvia. Sales of the diabetes treatment rose 2% to $1.63 billion, topping estimates of $1.61 billion. The drugmaker also met consensus with its full-year guidance.
AbbVie (ABBV) - Get Report added 2% after besting quarterly estimates and upping its full-year guidance. The drugmaker earned an adjusted $1.26 a share, 6 cents above estimates. Revenue rose to $6.45 billion, driven by a 17.4% increase in sales of Humira, and exceeded consensus of $6.21 billion. Its full-year adjusted profit outlook of $4.73 to $4.83 a share reflects "expected continued positive trends," the company said.
In disappointing earnings news, Cigna (CI) - Get Report fell after cutting its full-year forecasts and issuing softer second-quarter earnings. The health-insurance provider earned $1.97 a share over the quarter, down from $2.26 a year earlier. Adjusted earnings of $1.98 a share fell short of $2.39 consensus. The company said a headwind in its group disability and life division had pressured overall results.
Xerox (XRX) - Get Report topped profit forecasts in its recent quarter, though failed to improve upon sales estimates. The printing company earned an adjusted 30 cents a share, a nickel better than expected. Revenue slid 4% to $4.4 billion, in-line with consensus. The company also noted it is gaining traction in its plan to split into two publicly-trading companies.
San Francisco Federal Reserve Bank President John Williams waved off worries of a looming recession. Williams noted that the U.S. economy was currently in a "good position" in a speech at a media briefing in Cambridge, Mass.
"I'm not sitting here worried that the risks of a recession is greater next year or the year after, because there is no evidence that is the way the U.S. economy works," Williams said.
Williams also said it was unlikely the Fed would implement negative rates and the next move on monetary policy would be an increase in interest rates, not a reduction.
Second-quarter economic growth in the U.S. fell short of economists' expectations. The U.S. economy grew just 1.2% in the second quarter, according to the Bureau of Economic Analysis, far short of estimates of 2.6% growth. First-quarter growth was also reduced to 0.8% from 1.1%. U.S. exports climbed 1.4% over the quarter, while U.S. imports dropped 0.4%.
Crude oil climbed on Friday afternoon even after a weekly increase in the number of active oil rigs in the U.S. The number of active rigs drilling for crude rise by 3 to 374, according to Baker Hughes data.
West Texas Intermediate settled 1.1% higher at $41.60 a barrel on Friday. The commodity closed down 5.9% for the week and 14% for the month.  
Microsoft (MSFT) - Get Report detailed plans overnight to lay off 2,850 employees, 900 in global sales which have already been completed. The layoffs tie into restructuring of the sales group announced earlier in July. Microsoft expects to complete the remainder of the job cuts by the middle of next year.
SABMiller's (SBMRY) board recommended a sweetened offer of 45 pounds a share from Anheuser-Busch (BUD) - Get Report on Friday. Worries had surfaced earlier in the week that the proposed deal to create the world's largest brewer would fall apart. 
Residual worries over the Brexit vote and economic growth in the U.S. kept consumer sentiment under pressure in July. The final reading of the University of Michigan's index reached 90.0 in July, down from 93.5 in June.
Economic conditions in the Chicago area softened in July, though at a slower-than-expected pace. The Chicago PMI for June fell to 55.8 from 56.8 in June. Consensus was for a reading of 54.
The Bank of Japan made no moves to adjusted interest rates or its current bond-buying program, disappointing those who had hoped for further monetary stimulus. The central bank did announce minor changes to combat deflation, including plans to up the purchase of exchange-traded equity funds from 3.3 trillion yen a year to 6 trillion yen ($57 billion) a year.