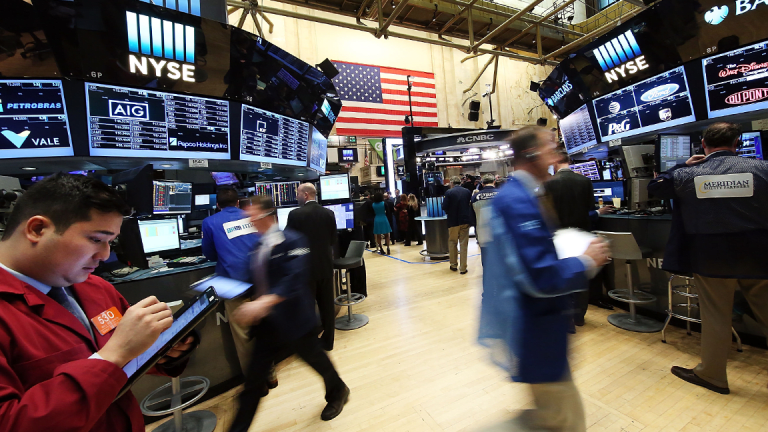 Stocks Mixed as Asia Gets China Trade Boost, Wall Street Rides Earnings Wave
Global stocks were mixed Wednesday, with stronger-than-expected trade data from China, as well as the expectation of further stimulus from Beijing, boosting shares in Asia while softer earnings in Europe held down gains for stocks on the Continent.
The Wednesday Market Minute
Global stocks mixed after solid China trade data, but new U.S. tariffs cap gains in Asia.
China's U.S. trade surplus narrows modestly in July, but year-to-date total well ahead of last year's record pace.
European stocks edge lower even as disappointing earnings offset weaker euro.
Wall Street futures mixed ahead of earnings from CVS, 21st Century Fox and Liberty Global.
Market Snapshot
Global stocks weakened Wednesday, even as stronger-than-expected trade data from China, as well as the expectation of further stimulus from Beijing, boosted shares in Asia while softer earnings in Europe held down gains for stocks on the Continent. 
China's trade surplus with the United States narrowed marginally last month, official customs data indicated Wednesday, as the first of the planned $250 billion in tariffs on China-made goods kicked in. However, the overall figure of $28.09 billion was only marginally lower than June's $28.97 billion and the year-to-date surplus of $161.63 billion is well ahead of the pace set in 2017, suggesting China's willingness to allow the yuan to weaken against the U.S. dollar is softening the impact of White House trade policy.
Speculation that China may unleash further stimulus, beyond the liquidity support announced by the central bank last week, helped lift regional shares, with Japan's Nikkei 225 edging 0.08% higher on the session to 22,644.31 points and the region-wide MSCI Asia ex-Japan index notching its fourth consecutive gain with a 0.32% advancing heading into the final hours of trading.
Gains were limited, however, by news that the U.S. will add a further $16 billion to its list of tariff-eligible goods on August 23, a move that likely means its vow to push for levies on $200 billion worth of products in the fall is well ahead of schedule. China matched that $16 billion with its own set of levies later in the day. A muted response on the first day of trading for China Tower, the world's biggest IPO in two years, was another headwind to equity market sentiment. 
That overhang kept a lid on gains in the early European session, with the Stoxx 600 falling 0.21% in the opening hours of trading as benchmarks around the region slipped in the face of a stronger euro, which rose to 1.1577 against the U.S. dollar, and a series of weaker-than-expected corporate earnings.
Britain's FTSE 100 was the standout gainer, with the benchmark risking 0.68% thanks to the pound's extended declines, which pushed it to a fresh 11-month low against the dollar or 1.2857 amid ongoing concerns that the country could crash out of the EU without a bespoke trade deal next March.
Novo Nordisk (NVO) - Get Report was an early European mover of note as shares fell more than 5% in Copenhagen after the world's biggest maker of insulin narrowly missed Street forecasts for its second quarter earnings and warned that average prices after rebates in the U.S., where the company gets more than half of its revenues, will be lower in 2019 than they were this year.
Ahold Delhaize NV (ADRNY) , which owns the Stop-and-Shop franchise, fell more than 1.9% in Amsterdam after the the Dutch grocery giant said comparable U.S. sales shrank by 0.1%, thanks in part to increased competition from low-cost rivals and the 2017 takeover of Whole Foods Markets by Amazon Inc. (AMZN) - Get Report
Wall Street futures suggest a similarly indecisive response at the start of trading today, with contracts tied to the Dow Jones Industrial Average I:DJI indicating a 23-point gain for the 30-stock average while those linked to the S&P 500 I:GSPC are suggesting 1.25 point slide after the broader benchmark closed at 2,858.45 points last night, putting it just 0.5% from the all-time high it reached it January.
Tesla (TSLA) - Get Report shares edged lower in pre-market trading Wednesday, following the stock's biggest one-day gain in nearly four years, as investors appeared to question founder and CEO Elon Musk's $72 billion vow to take his iconic clean-energy car company private.
Tesla shares were marked 3% lower in pre-market trading in New York Wednesday, indicating an opening bell price of $367.90 each, a move that would leave it around $52 a share -- or around $9 billion -- shy of Musk's $420 target, a figure that would value the group at $72 billion.
With around 71% of the S&P 500 having issued quarterly reports so far this season, earnings are expected to grow by 23.5% over the three months ending in June, a figure that would top the gains recorded over the first quarter and market the best reporting period in eight years.
Around 79.2% of reporting companies have beaten their consensus earnings estimates, according to Thomson Reuters data, well ahead of the 72% average for the past four quarters. Stock buybacks, too, are on the increase, with $135.2 billion announced so far during this reporting period and companies on pace to match the $189.1 billion first quarter record.
Global oil price were active again in overnight trade, although there was a bearish tone to the market as China's trade data showed that, while crude imports for the month of July rose to 8.36 million barrels per day, the figure was still the third-lowest of the year. However, that was partly offset by the American Petroleum Institute's reading of domestic crude stocks, which it said fell by 6.2 million barrels last week to 407.2 million. 
Brent crude contracts for September delivery, the global benchmark, were 57 cents lower from their Tuesday close in New York and trading at $74.02 each while WTI contracts for the same month, which are more tightly-linked to U.S. gas prices, were marked 97 cents lower at $68.20 per barrel.