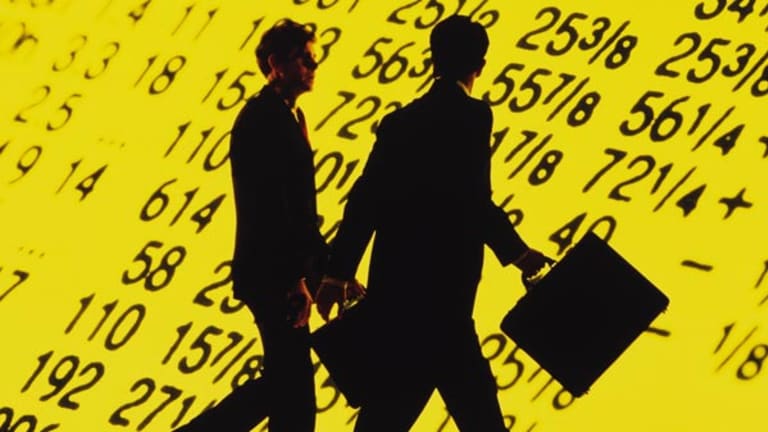 Stocks Mixed Amid Holiday Slowdown
Investors fail to add to the end-of-year rally amid lower oil prices and mixed economic data.
Updated from 4:03 p.m. EST
Stocks closed mixed Thursday, with the
Nasdaq
and
S&P 500
edging to new 3 1/2-year highs, as traders waited in vain for a last big bounce before closing the book on 2004.
The
Dow Jones Industrial Average
lost 28.89 points, or 0.3%, to 10,800.30, after a burst of last-minute selling. The S&P 500 closed up 0.10 point to 1213.55, and the Nasdaq rose 1.34 points to 2178.34. The 10-year Treasury note was up 16/32 in price to yield 4.26%, while the dollar slid against the yen and the euro after disappointing manufacturing data were reported.
For the year, the major indices have recorded gains that are significantly smaller than those of 2003. As of today's close, the Dow was up about 3.2% for 2004, the S&P 500 was up 8.3%, and the Nasdaq had gained 8%.
Volume was light. On the
NYSE
828 million shares changed hands, with decliners beating advancers by a ratio of about 10-to-7. Volume on the Nasdaq was over 1.39 billion shares, with advancers beating decliners by about 8-to-7.
Oil closed lower in Nymex floor trading after a mild rally Wednesday following word of an 800,000-barrel decline in distillate stocks reported by the Energy Department. Crude for February delivery finished down 19 cents to $43.45 a barrel, about 30% higher than where it began the year.
"Today is another day when you're just going through the motions," said Larry Wachtel, senior market analyst for Wachovia Securities. "To ask the market to buck up and continue the rally in a week when no one is playing is asking too much, especially with the volume as light as it is."
Worldwide relief efforts continued to coalesce in Southeast Asia on Thursday as the confirmed death toll in last weekend's tsunami surpassed 116,000. On Wednesday, the U.S. said it, Japan, India and Australia planned to coordinate the aid effort. Supplies reportedly have been landing for days in affected areas, but logistical problems have complicated their distribution.
In economic news, the Labor Department said first-time weekly unemployment claims fell 5,000 to 326,000 for the week ended Dec. 25. Economists had expected the total to be 330,000. In addition, the Chicago purchasing managers index for December came in at 61.2, slightly less than the consensus of 63.1 and well below November's lofty level.
"We're still continuing our light holiday-trading pattern," said Brian Williamson, an equity trader with Boston Company Asset Management. "The Chicago PMI came in disappointing, and since there's not a lot of trading going on, the news fell upon a market that was not awake today. Volumes are anemic."
The Dow fell 25 points Wednesday, partly reflecting a 2.2% swoon in shares of
Boeing
(BA) - Get Report
. Early Thursday, the jetmaker announced a 10-plane order for its new 7E7 jumbo liner from
Continental
(CAL) - Get Report
, the first major order from a U.S. carrier for the model.
The order is worth about $1.3 billion and is scheduled for delivery starting in 2009. Boeing lost 17 cents, or 0.3%, to $51.90.
Meanwhile, demand was brisk last night when
Fannie Mae
(FNM)
hit up institutional investors for $5 billion in new capital via two series of preferred stock. The mortgage giant sold the debt to shore up its capital ratios in the wake of a
Securities and Exchange Commission
order that will force it to erase about $9 billion of previously booked earnings over the last three years. Fannie Mae gained 95 cents, or 1.4%, to $71.33.
Microsoft
(MSFT) - Get Report
reportedly will stop pushing its Passport Internet service after
eBay
(EBAY) - Get Report
indicated it was dropping it in favor of an in-house product. Passport was designed to streamline password and credit card transactions across Web sites, but it had drawn few subscribers and become a public relations headache for the software maker. The decision to stop marketing the service was reported by the
Los Angeles Times
. Microsoft closed down 14 cents, or 0.5%, to $26.76.
Multimedia chipmaker
ESS Technology
(ESST)
slashed its fourth-quarter revenue estimates Thursday, citing slowing demand for DVD players. ESS expects to post $43 million to $45 million on its top line in the period, short of the Thomson First Call estimate of $49.1 million. Sidoti & Co. downgraded the company to neutral on the news. ESS dropped 70 cents, or 9%, to $7.05.
Lehman Brothers cut its earnings estimates for
Alcoa
(AA) - Get Report
, saying it expects higher energy, resin and caustic soda prices, as well as a weaker U.S. dollar, to pressure the metal company's fourth-quarter margins. The firm lowered its fourth-quarter earnings forecast to 42 cents a share from 50 cents a share. It also expects Alcoa's 2005 earnings at $2.30 a share, cut from $2.40. Alcoa was off 44 cents, or 1.4%, to $31.45.
Pfizer
(PFE) - Get Report
shares fell after
The Wall Street Journal
reported that U.S. prescriptions for the company's top-selling pain drug Celebrex fell 56% last week, following the company's disclosure that the drug posed a greater risk of heart attacks in one of two cancer trials. Shares dipped 25 cents, or 0.9%, to $27.01.
Overseas markets closed mixed, with London's FTSE 100 finishing unchanged at 4820 and Germany's Xetra DAX closing up 0.2% to 4256. In Asia, Japan's Nikkei rose 1% overnight to 11,489, while Hong Kong's Hang Seng fell 0.7% to 14,164.