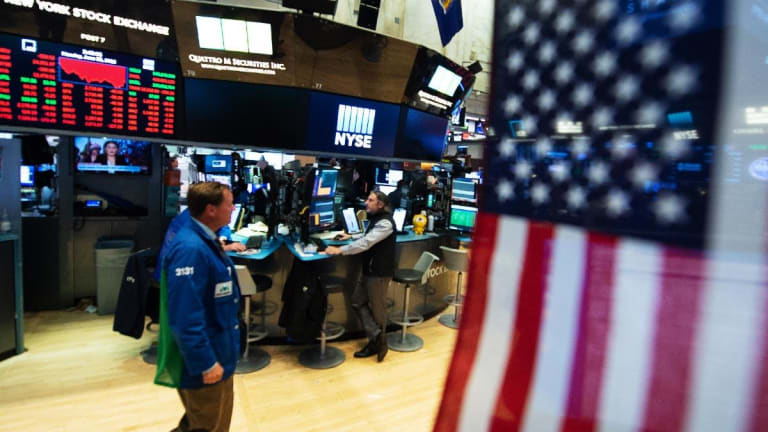 Stocks Mixed Ahead of US-EU Trade Talks; Asia Rides China Spending Boost
Global stocks were mixed Wednesday as investors eyed key U.S.-EU trade talks later today in Washington while markets in Asia caught the tailwind of new government spending plans from China.
The Wednesday Market Minute
Global stocks mixed as China stimulus supports Asia; Europe and Wall Street little-changed.
Oil and commodities get a boost from anticipated China demand, weaker U.S. dollar.
European Commission President Jean-Claude Juncker heads to Washington for trade talks with President Donald Trump
U.S. equity futures point to flat open on Wall Street, with A&T sliding in pre-market trading after second quarter revenue miss.
Active earnings slate topped by Q2 numbers from Dow components Boeing, Visa and Coca-Cola, as well as Ford, GM and AMD. Facebook reports after the bell.
Market Snapshot
Global stocks traded mixed Wednesday, with markets in Asia buoyed by the prospect of billions in new spending stimulus from China while investors elsewhere continued to focus on the strength of the corporate earnings season and a key summit on trade between in Europe and the United States later today in Washington.
China's plan to increase government spending, while expanding tax breaks for smaller firms in the tech sector to companies in various parts of the economy, gave stocks in Asia a modest tailwind Wednesday as investors bet the moves would partially offset the impact of impending U.S. tariffs on China-made goods, which President Donald Trump as said he's "ready" to take to at last $500 billion in an effort to reduce what appears to be another year of record trade deficits with the world's second largest economy.
The China plan also provided support for metals and commodities prices, both of which extended gains Wednesday on the back of an anticipated upswing in demand from Beijing. That allowed the region wide MSCI Asia ex-Japan index, the broadest measure of share prices, was marked 0.23% higher heading into the close of the session while Japan's Nikkei 225 managed to book a solid 0.46% gain to end the trading day at 22,614.25 points.
European stocks, however, were little-changed at the start of trading as investors again sifted through a series of bluechip corporate earnings and eyed developments in the ongoing trade dispute between Washington and Brussels.
Germany's Ifo Institute, which published a closely-tracked survey of business sentiment in Europe's largest economy, said company bosses were growing increasingly concerned with trade relations and were thus holding back investment amid the uncertainty. Its benchmark sentiment index slipped to 101.7 in July from 101.8 in the previous month, Ifo said, while export expectations for the auto sector fell "significantly". 
The region-wide Stoxx 600 index was marked 0.08% lower by mid-morning in Frankfurt while benchmarks in German and Britain drifted modestly into the red despite the varied second quarter earnings reports.
Deutsche Bank (DB) was the biggest of the day's releases, with the German lender reporting a 14% fall in net profit, to €404 million, on revenues of €6.6 billion. Both figures, however, were stronger than the market had expected earlier this month when Deutsche flagged the improvement in a surprise release on July 16. Shares in the bank were marked 1% lower in early Frankfurt trading following the release. 
European Commission President Jean-Claude Juncker will lead a delegation from the 28-member EU as he attempts to broker an impasse with the Trump administration on trade and tariffs that began earlier this year when the White House imposed import levies on steel and aluminium.
Reports have suggested the EU is prepared to expand its own list of tariffs on U.S.-made goods, which has already topped €2.8 billion, if its not able to advance talks with Trump later today in Washington 
Early indications from U.S. equity futures suggest a similarly weak start to the trading session Wednesday, although the pace and tenor of trading will once again be dictated by the hectic earnings calendar, which includes second quarter reports from Dow components Boeing Co.
(BA)
, Visa Inc.
(V)
, Coca-Cola Co.
(KO)
as well as General Motors
(GM)
, Mattel
(MAT)
, Northrup Grumman Corporation
(NOC)
. Social media giant Facebook Inc.
(FB)
will report its second quarter earnings at the close of trading today, as will Advanced Micro Devices
(AMD)
 and Ford Motor Co
(F)
 .
Futures contracts tied to the Dow Jones Industrial Average undefined suggest a 100 point decline for the average while those linked to the S&P 500 undefined are forecasting a 5 point pullback for the broader benchmark. After hitting another record high yesterday, before dipping into the red later in the session, Nasdaq Composite undefined futures are indicating a 5 point dip for the tech-focused benchmark. 
AT&T shares were indicated around 1.17% lower in pre-market trading after the group posted weaker-than-expected second quarter revenues and noted that "cord cutting" customers continued to dump its satellite television offerings in favor of online streaming rivals such as Netflix Inc. (NFLX) and Amazon Inc. (AMZN) .
Global oil prices bounced higher for a second consecutive session Wednesday, with investors focused on both the fresh China stimulus and a report from the American Petroleum Institute yesterday that suggested domestic crude stocks fell by 3.2 million barrels in the week ending July 20. The U.S. Energy Information Administration will publish official figures today at 10:30 am eastern time.
Brent crude contracts for September delivery, the global benchmark for prices, were marked 60 cents higher from their Tuesday close in New York and changing hands at $74.04 per barrel in early European trading. WTI contracts for the same month, which are more tightly linked to U.S. gasoline prices, were seen 8 cents higher at $65.60 per barrel.