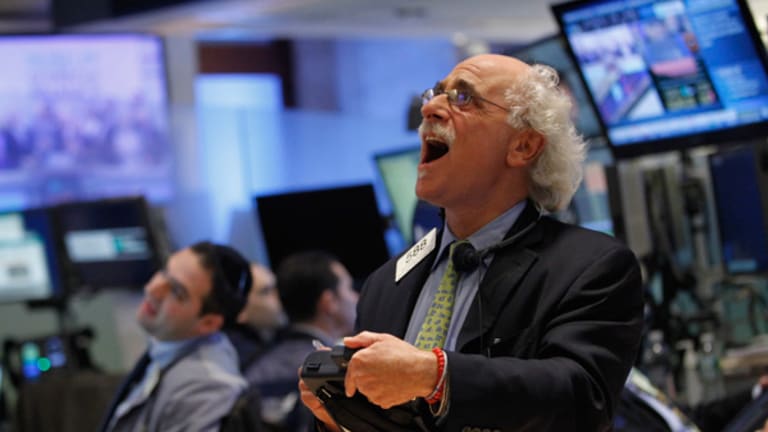 Stocks Slip as Iraq Violence Escalates
U.S. stock indices are lower Monday as investors weigh geopolitical concerns against encouraging economic reports.
NEW YORK (TheStreet) -- U.S. stock indices were dropping Monday as investors weighed geopolitical concerns against encouraging economic reports.
The U.S. and Iran were expected to begin talks this week on how they can help counter the growing threat of the insurgency threat in Iraq, The Wall Street Journalreported. The newspaper reported that radical Sunni militia bragged on Sunday that it had executed hundreds of Shiite Iraqi soldiers. Meanwhile, the Islamic State of Iraq and al-Sham, or ISIS, has reportedly seized control over the town of Tal Afar in northwest Iraq.
In Ukraine, in one of the deadliest events in the country's escalating crisis, a Ukrainian military plane was shot down by pro-Russian separatists over the weekend, killing all 49 people on board.
The Dow Jones Industrial Average was slipping 0.14% to 16,752.96. The S&P 500 was off 0.09% to 1,934.48. The Nasdaq was losing 0.12% to 4,305.33.
Piper Jaffray technical analyst Craig Johnson wrote that looking at the impact of all historical Middle Eastern conflicts since 1970 shows the S&P 500 tends to trade modestly lower at the beginning of these conflicts, but losses ahead of the conflict are typically quickly recaptured and the SPX is generally higher three months later.
The Federal Open Market Committee meeting kicks off on Tuesday, with a rates announcement expected on Wednesday. Officials are widely expected to continue the current pace of tapering to their asset purchases by $10 billion a month. There will also be more scrutiny on the timing and language of the committee's first rate hike plans.
Monday's U.S. economic data overall was stronger than expected. May industrial production rose 0.6% vs. the consensus 0.5%, and April's upwardly revised -0.3%. The June Empire State manufacturing index also exceeded market forecasts, holding onto its May gains as it increased to 19.3. 
Companies making the headlines Monday include Medtronic (MDT) - Get Medtronic Plc Report, Covidien (COV) , Williams Cos. (WMB) - Get Williams Companies, Inc. Report, Access Midstream Partners (ACMP) , General Electric (GE) - Get General Electric Company Report, SanDisk (SNDK) , and Fusion-IO (FIO) .
Fusion-IO was soaring more than 23% after agreeing to be acquired by SanDisk for $1.1 billion, or $11.25 a share, in cash. SanDisk was gaining over 2.5%. Williams Cos., the pipeline operator, reached an agreement to acquire control of Access Midstream Partners for $5.99 billion. Williams Cos. was surging more than 22%. Access Midstream was up 0.43%.
Germany's Siemens (SI) - Get Silvergate Capital Corp. Class A Report and Japan's Mitsubishi Heavy Industries and Hitachi prepared a 3.0 billion euro offer for Alstom's energy business in a challenge to General Electric, according to a Bloomberg report Monday. Medtronic, the U.S. medical device manufacturer, agreed to buy Ireland-based competitor Covidien for $42.9 billion in cash and stock.
Markets rose on Friday but not enough to erase losses sustained over the previous two days. The escalating situation in Iraq hung heavy in investors' minds and so-so U.S. economic data kept Wall Street cautious. The three indices finished the week lower, the first weekly decline in three weeks.
-- By Andrea Tse and Joe Deaux in New York
June 16 Premarket Briefing: 10 Things You Should Know
European Stocks Slide on Escalating Violence in Iraq