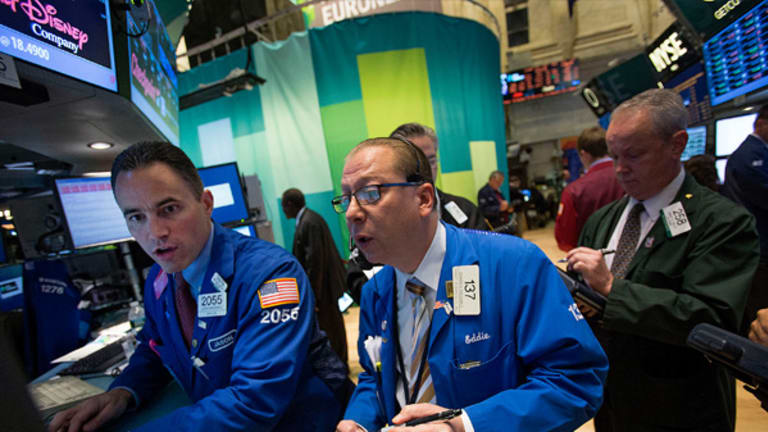 Stocks Turn Higher as New Home Sales, Consumer Confidence Jump
Major U.S. stock markets turn higher Tuesday after stronger-than-expected new home sales and consumer confidence results.
NEW YORK (TheStreet) -- Major U.S. stock markets turned higher Tuesday after stronger-than-expected data on new home sales and consumer confidence.
The Dow Jones Industrial Average was up 0.09% to 16,952.57. The S&P 500 was up 0.1% to 1,964.66.The Nasdaq was up 0.41% to 4,386.69.
Major indices ended mixed on Monday. U.S. stock markets had a quiet beginning to the week, fresh off a multi-day rally to record highs heading into last weekend.
New home sales jumped 18.6% in May to a seasonally adjusted annual rate of 504,000, the fastest pace in six years. Consumer confidence levels rose to a six-year high of 85.2 in June from 82.2 in May, according to the Conference Board.
The upbeat new home sales report was offsetting a cluster of more tepid housing data from earlier. The S&P/Case-Shiller index showed home prices rising at a slower-than-expected 0.2% month over month in April. The FHFA home price index, which was unchanged in April, also presented a downside surprise for many economists.
The housing market reports arrived on the heels of Monday's widely watched existing home sales report, which showed a rise of 4.9% in May to a seasonally adjusted annual rate of 4.89 million homes. Although the monthly gain was the fastest since August 2011, sales were still 5% below the pace in May 2013.
During the past few weeks speculation has increased that the bull market will end soon as the S&P 500 continued to hit successive all-time closing highs. But S&P Capital IQ's managing director of U.S. equity strategy, Sam Stovall, has data that may show otherwise.
He wrote that through June 20, this bull market recorded 67 all-time highs, representing 5% of all trading days. This percentage is slightly more than the average of 4% for cyclical bulls, but substantially less than the average of 9% for secular bulls, and below the average of 7% for all bull markets. This bull market's percentage of all-time highs is tied with the bull of 1970-1973 for sixth place.
"History would suggest, but not guarantee, that this bull market has many more new highs ahead of it before finally running out of steam," Stovall said in a report.
A round of Fed speeches were slated for Tuesday. Speaking before an audience attThe Economic Club of New York, Philadelphia Fed Bank President Charles Plosser said that he thought the economy was poised to grow at a rate above 2.4% for the remainder of this year amid steady jobs growth. New York Fed President William Dudley and San Francisco Fed President John Williams are scheduled for public appearances at 2 p.m. and 6:30 p.m., respectively.

Stocks poised for action Tuesday include Apple (AAPL) - Get Free Report, Amazon.com (AMZN) - Get Free Report, Delta (DAL) - Get Free Report, Micron (MU) - Get Free Report, Monsanto (MON) and Walgreen (WAG) .
Walgreen was sliding 1.42% after the drugstore company missed quarterly earnings expectations by 3 cents at 91 cents a share. Apple suppliers in China will begin mass production of its largest iPhones ever next month, Bloomberg reported, citing people familiar with the plans. Shares were edging up. Amazon.com reversed a halt on preorders of movie discs from Time Warner's TWX Warner Bros. studio as the two sides near a resolution to a pricing dispute, The Wall Street Journal reported, citing people familiar with the matter. Amazon shares were also inching higher.
Delta CEO Richard Anderson is expected to back the Export-Import Bank providing some support for sales of Boeing's BA biggest jets, softening his stance even as the agency's political critics step up a campaign to have it abolished, according to the Journal. Micron said fiscal third-quarter earnings rose to $806 million, or 68 cents a share, from $43 million, or 4 cents a share, a year earlier. Monsanto, the world's largest seed company worth $64 billion, recently explored a $34 billion takeover of Swiss rival Syngenta (SYT) in a transaction that would have allowed the U.S. firm to move its tax location to Switzerland, Bloomberg reported.
European stock indices were mixed on Tuesday after eurozone markets pared losses triggered by disappointing business climate data from Germany. The data followed a largely positive day in Asia, where indices were buoyed by declining oil prices.
-- By Andrea Tse in New York
June 24 Premarket Briefing: 10 Things You Should Know
European Stocks Mixed on Fall in German Ifo Index
U.S. Markets' Six-Day Rally Ends Not With a Bang, but a Whimper