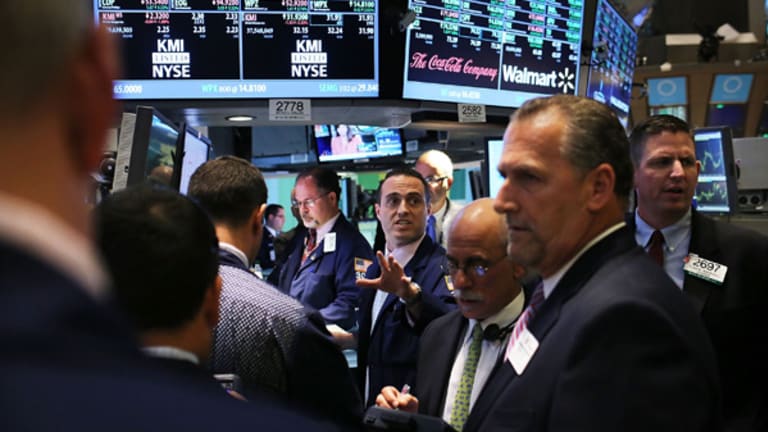 Stocks Manage Modest Gains
The indices eked out a small rally as Greenspan's testimony approaches.
Updated from 4:08 p.m. EST
Stocks posted moderate gains Tuesday helped by a small late-day rally and despite OPEC saying it will cut oil production later this year. Investors also were preparing for
Federal Reserve
Chairman Alan Greenspan's testimony before Congress on Wednesday, which analysts largely expect will hint at no near-term movement in interest rates.
The
Dow Jones Industrial Average
closed up 34.82 points, or 0.3%, at 10,613.85, while the
Nasdaq
was up 14.76 points, or 0.7%, to 2066.88. The
was up 5.73 points, or 0.5%, to 1145.54.
Volume was 1.4 billion trades on the
New York Stock Exchange
while 1.7 billion trades exchanged hands on the Nasdaq. Advancers beat decliners by a margin of 2 to 1 on both indices.
The 10-year Treasury note was down 12/32 to 101 6/32, yielding 4.10%. The dollar continued its slide against the euro, with one euro lately worth about $1.2715. The greenback was also down vs. the Japanese yen, lately fetching 105.50 yen.
The Organization of Petroleum Exporting Countries cut excess crude production Tuesday and said it will reduce output quotas by 1 million barrels a day effective April 1, according to reports. The cuts are an attempt to keep oil prices stable when the weather gets warmer.
Oil prices and oil stocks rose on the news as did the
Philadelphia Oil Services
index, which closed up 2.3 points, or 2.3%, at 104.47. Dow component
Exxon Mobile
(XOM)
closed the day up 36 cents, or 0.9%, at $41.09, while
Amerada Hess
(APC)
was up $1.43, or 2.5%, at $59.93.
Ultra Petroleum
undefined
shares surged $4.05, or 17.7%, to $27.
Overall Lackluster Market Movement
There has been a lot of daytrading in the last couple sessions, said David Briggs, head trader at Federated Investments, as a reason for why stock movement is somewhat lackluster today. "No one has any conviction in this short-term trading world," he said, noting that this has contributed to the minor rallies and subsequent selloffs that have characterized trading this week.
Briggs also thinks the market "could be halfway through some sort of correction," which he believes could have started around Jan. 16, the last major up day for the market. "I would like to see a pullback to bring valuations down," he noted.
But Briggs is generally negative on the whole week. Regarding Greenspan's testimony, which starts at 11 a.m. EST on Wednesday, he said: "I think everyone afterward will say: 'We waited for that?'"
David Rosenburg, an economist at Merrill Lynch, expects the contents of Greenspan's speech to move the 10-year Treasury yield upward, as it did in January when the Fed removed its "considerable period" phrase referring to interest rates from its January statement on monetary policy.
"Mr. Greenspan would have to basically either signal that the Fed sees inflation and deflation risks as fully balanced; that it views the Household survey with equal credence as the Nonfarm survey; or that 'removing policy accommodation' means that the Fed can actually stay accommodative even as it raises rates," Rosenburg said. "Any or all of these three items would be 'bombshells' for Treasuries."
The analyst also noted that the Dow tends to lose ground after Greenspan's semiannual testimonies to Congress. As a result, it "could be an excuse to take profits" in Wednesday trading, he said.
Additionally, Briggs believes the Treasury refundings on Wednesday and Thursday will be interesting, if only to see if foreign investors are participating. "If they are, everyone will be breathing a sigh of relief," he noted. Though combined with an expected December international trade deficit and the dollar's weakness, he thinks that "sooner or later, foreign investors will shy away from our market, which will have a negative impact."
Meanwhile, Daniel Morgan, an analyst at Noble Financial Group, thinks the market is simply taking a breather because earnings season has mostly passed, and because of a lack of major economic reports. He believes Friday's weaker-than-expected unemployment data might still be having a "hangover effect" on the market as well.
"People are now switching gears and looking at
the presidential election in November," Morgan added. "People are looking to the primaries on a daily basis." Democratic primaries are taking place in Tennessee and Virginia today. The analyst believes the market is staring to react to what the potential impact could be of a Democrat winning the race for president.
Corporate News
Vodafone Group
(VOD)
might be looking to acquire
Verizon Communications
(VZ)
in a deal that could cost $150 billion, the
Wall Street Journal
reported Tuesday. Shares of Vodafone closed down 26 cents, or 1 %, at $25.28, while shares of Verizon were up 65 cents, or 1.8%, at $37.60.
In earnings reports,
Viacom
(VIA.B)
said it earned 36 cents a share in the fourth quarter, excluding items, which was in line with analysts' estimates. Revenue rose 11%. The media giant also announced plans to spin off its
Blockbuster
(BBI)
unit. Shares of Viacom ended up 96 cents, or 2.4%, at $41.35.
Meanwhile, Blockbuster reported fourth-quarter earnings of 32 cents a share, excluding items, surpassing Wall Street's consensus for 30 cents a share. But the company had a loss of $6.57 a share, including items, and reduced its 2004 outlook. Sales in the quarter increased 2.2%. Shares of the company closed down 21 cents, or 1.3%, at $16.20.
Clorox
(CLX)
reported quarterly earnings of 52 cents a share, beating analysts' consensus for 49 cents a share. Revenue rose 2.3%. The stock was down $2.63, or 5.2%, at $47.52.
And
BP
(BP)
announced fourth-quarter earnings of 72 cents a share, excluding items, missing analysts' consensus for a profit of 84 cents a share. Shares of BP were down 85 cents, or 1.8%, at $47.55.
In research, W.R. Hambrecht downgraded shares of
Sharper Image
undefined
to hold from buy, and Prudential upgraded
Juniper Networks
(JNPR)
to overweight from neutral. Shares of Sharper Image ended down $3.08, or 8%, at $35.42, while shares of Juniper were up $1.18, or 4.5%, at $27.36.
Markets overseas closed mostly down; London's FTSE 100 was down 0.7% at 4404.9 while Germany's Xetra DAX was up 0.3% at 4110.8. In Asia, Hong Kong's Hang Seng was down 0.5% at 13,515.7, and Japan's Nikkei was off 0.4% at 10,365.4.