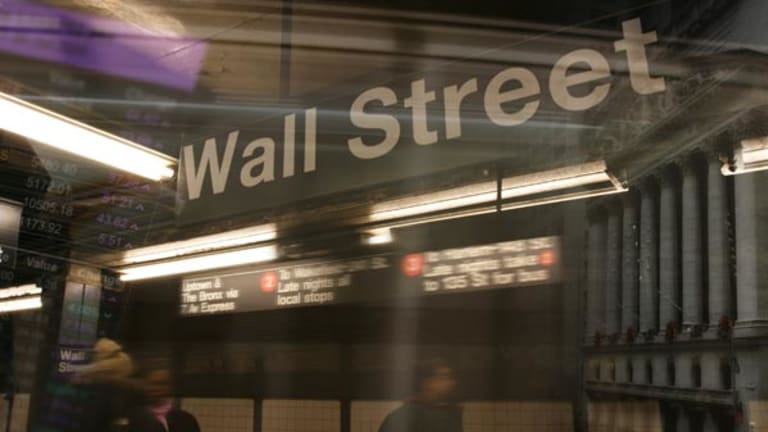 Stocks Manage Minor Gains
Blue-chips and tech stocks barely budge after data paint a mixed picture of the economy.
Updated from 4:10 p.m. EDT
Stocks closed moderately higher Friday as a host of disparate stimuli could do little to shake investors from their end-of-the-week funk.
The
Dow Jones Industrial Average
rose 15.92 points, or 0.15%, to 10,568.70. The
S&P 500
added 1.13 points, or 0.9%, to 1228.81. The
Nasdaq Composite
rose 10.47 points, or 0.49%, to 2151.69. For the week, the Dow added 149 points, or 1.4%; the S&P 500 added 14 points, or 1.2%; and the Nasdaq added 35 points, or 1.7%.
"The market is acting extremely well considering what it's had to overcome," said Al Goldman, chief market strategist with A.G. Edwards. "Despite hurricanes, gas prices going up,
Fed
rate hikes and the continuing war in Iraq, the internals of the market are positive."
The Dow added 87 points, or 0.8%, for September, and 293 points, or 2.9%, for the third quarter. For the S&P 500, the gain was 9 points, or 0.7%, for September, and 38 points, or 3.2%, for the quarter. The Nasdaq was unchanged in September and up 95 points, or 4.6%, for the quarter.
In other markets, the 10-year Treasury bond fell 8/32 in price to yield 4.33%, while the dollar rose against the yen and euro.
Friday was the quarter's last trading day, sometimes an occasion for "window dressing" in which mutual fund managers gravitate to recently hot stocks. This time, the phenomenon failed to materialize.
"The sentiment has turned somewhat negative over the last few days, with little hopes of a rally. Again, we're headed to the higher level of our trading range. We'll take what we can get," said Barry Hyman, an equity market strategist with Ehrenkrantz King Nussbaum.
The University of Michigan revised its September consumer sentiment index to 76.9 after pegging it at 89.1 for August. Economists expected a weak number of around 78 after a separate report on consumer confidence came in well below expectations on Tuesday.
"It's a market that's now concentrating on the consumer," said Peter Cardillo, chief market analyst with S.W. Bach & Co. "We'll probably again stay stuck in our range."
Meanwhile, the Commerce Department said personal income fell 0.1% in August while spending was down 0.5%, the largest drop since November 2001. Excluding the impact of Hurricane Katrina, income would have climbed 0.2%. Economists had expected income to increase by 0.3% and for spending to fall 0.2%.
The Chicago purchasing managers index rose sharply to 60.5 in September from a reading of 49.2 in August. Economists were expecting a slight rise to 51.5.
Energy prices fell, with crude for November delivery settling down 55 cents to $66.24 a barrel and unleaded gasoline futures down 11 cents to $2.15 a gallon. Front-month crude is up about 2% since Tuesday amid a rally in heating oil and natural gas contracts.
Stocks have shown spotty resilience this week as the post-Rita relief rally was tempered by the difficult conditions faced by many Gulf of Mexico oil producers. Since last Friday, the Dow Jones Industrial Average is up 1.2%, while the S&P 500 is up 1.1% and the Nasdaq Composite has risen 1.3%.
Michael Sheldon, chief market strategist with Spencer Clarke LLC, said that on the positive side, "the market's resilience in the face of adversity is very impressive, which indicates there's still an underlying demand for stocks that hasn't gone away. We've also gotten through September, which has been historically difficult for the market."
Among companies, shares of
Micron
(MU) - Get Micron Technology Inc. Report
rose after the chipmaker said fourth-quarter earnings narrowed to $43 million, or 7 cents a share, but came in much better than Wall Street forecasts for a loss of 8 cents a share. Micron closed up 9% to $13.30.
National Semiconductor
(NSM)
said Friday that it will raise its quarterly dividend by 50% to 3 cents. The move sent the stock up 67 cents, or 2.6%, to $26.20.
Gains in both Micron and National Semiconductor boosted the Philadelphia Stock Exchange Semiconductor Sector Index, which closed up 1.9%.
Boeing
(BA) - Get The Boeing Company Report
added 0.5% after its machinists union approved a new three-year contract, ending a month of inactivity. The stock closed higher by 67 cents to $67.95.
Wal-Mart
(WMT) - Get Walmart Inc. Report
was lower after the company announced it will raise its stake in Japanese supermarket company
Seiyu
to 50% from 42.4%. The stock was down 4 cents to $43.82.
Altria
(MO) - Get Altria Group Inc. Report
rebounded from a lower open after
Dow Jones
reported that Canada's Surpreme Court ruled that it is constitutional to sue tobacco companies in order to recover health care costs. Similar legistration could spread throughout Canada and end up holding cigarette makers liable for billions in costs related to illnesses stemming from smoking. Altria was up 6 cents to $73.71.
Tommy Hilfiger
( TOM) reported more progress in getting its financial house in order after deciding last month that it needed to restate several years because of tax issues. The clothes maker reported preliminary earnings of $86 million, or 93 cents a share, in the 12 months to last march and said it expects to file
SEC
reports for several recent quarters "in the near future." Tommy Hilfiger was recently up 10 cents to $17.35.
Late Thursday,
VeriSign
(VRSN) - Get VeriSign Inc. Report
said third-quarter revenue would be about $410 million, which trails the company's previous forecast of $435 million to $440 million. VeriSign said that, excluding items, EPS will be 27 cents, unchanged from its previous forecasts. Analysts expect the company to earn 27 cents a share on revenue of $438 million. VeriSign was recently higher by 66 cents, or 3.1%, to $21.32.
SafeNet
( SFNT) was climbing more than 21% after the company said it has won a $150 million contract from the Department of Defense for its new KIV-7M link encryptor. The contract is the largest in the company's history. SafeNet also reaffirmed its 2005 full-year forecast. The stock was up $6.49 to $36.19.
In ratings moves, Deutsche Bank downgraded
Kimberly-Clark
(KMB) - Get Kimberly-Clark Corporation Report
to hold from buy, citing concerns of higher raw material costs and the loss of fuel tax benefits. Shares were falling 34 cents, or 0.6%, to $59.50.
Overseas markets were mixed, with London's FTSE 100 recently down 0.1% at 5470 while Germany's Xetra DAX added 0.5% to 5046. In Asia, Japan's Nikkei fell 0.3% overnight to 13,574, while Hong Kong's Hang Seng was unchanged at 15,429.
To view Gregg Greenberg's video take on today's market, click here
.