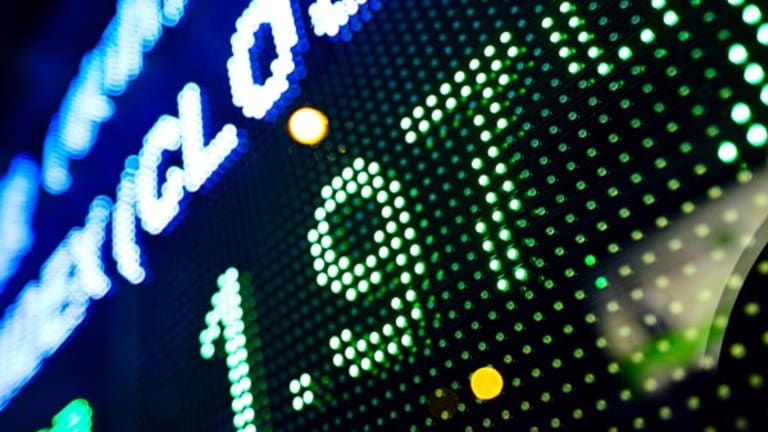 Stocks Manage a Rebound
Investors sift through mixed economic data, earnings and the Fed chairman's speech on oil prices.
Investors sift through mixed economic data, earnings and the Fed chairman's speech on oil prices.
Updated from 4:02 p.m. EDT
Stocks posted a modest recovery Friday, amid mixed economic news, flat oil prices and new developments in the insurance industry scandal.
The
Dow
added 38.93 points, or 0.39%, to 9933.38 from a two-month low set Thursday; the
S&P 500
rose 4.91 points, or 0.45%, to 1108.20, while the
Nasdaq
added almost 8.48 points, or 0.45%, to 1911.50. All the major indices trimmed gains as oil prices reversed course and closed higher.
For the week, the Dow and S&P both fell by 1.2%, extending losses to a second consecutive week. The Nasdaq fell a half-percent for the week, after a drop of 2.6% in the prior week. The Nasdaq is also down for a second consecutive week.
Volume was relatively high at the
New York Stock Exchange
where just under 1.7 billion shares changed hands with advancers ahead of decliners 2 to 1. On the Nasdaq, 1.6 billion shares traded and advancers beat decliners 3 to 2.
What struck Bill Livesey, senior market analyst at CyberTrader, about the trading day was that the S&P 500 "got right down to its September lows and bounced right off of it," which in his view is "a good sign."
"The retail sales number was surprisingly positive," said Barry Hyman, equity market strategist at Ehrenkrantz King Nussbaum. "Yet at the same time, the industrial production and the capacity utilization numbers continue to show an economy slowing down."
Hyman called the mix of economic news "a wash in terms of market behavior." With the election as tight as it is and an economy that's showing signs of slowing down, "trading behavior today is going to be somewhat tentative to pick up gains."
Crude oil prices closed 17 cents higher at a new record high of $54.93 on the Nymex, having erased early losses. Friday marked the beginning of higher margins on oil contracts at the Nymex. Some believe that higher margins will discourage speculative influences, which are helping to drive the commodity higher. Analysts say there's a $7-to-$10-a-barrel speculative premium currently in the price of crude.
In other markets, gold prices were up, while the dollar was mixed against the major currencies. The Treasury's 10-year note was down 7/32 to yield 4.05%.
The major indices fell sharply Thursday amid mixed earnings news, surging oil prices and a selloff in insurance shares after New York Attorney General Eliot Spitzer filed fraud charges in what is alleged to be a major price-fixing and kickback scheme.
"I think the important story today is that we have another sector being devastated by allegations of mistrust," Hyman said. "When you're talking about the insurance sector, it's as important as what happened in the brokerage sector.
"It's hard for me not to overemphasize how the market should be concerned about the insurance story," Hyman added.
Insurance stocks, including
AIG
(AIG) - Get Report
and
Marsh & McLennan
(MMC) - Get Report
, remained under pressure after steep declines Thursday.
AIG on Friday said no top executives were involved with, or knew of, any fraudulent activity. Chairman and CEO Maurice "Hank" Greenberg also said the scandal would have a limited financial impact on the company.
Shares slipped further Friday, with AIG losing $2.15, or 3.6%, to $57.85, and Marsh & McLennan closing lower by $5.65, or 16.2%, to $29.20.
On the economic front,
Fed
Chairman Alan Greenspan discussed the spike in oil prices
in a speech to the National Italian American Foundation on Capitol Hill, but refrained from making any specific statements on its impact on growth and inflation. He did say the negative impact was less than it was two or three decades ago, but his comments were arguably less precise then what the central bank has said in its recent statements accompanying interest rate decisions.
"Some of the comments he made seemed to suggest that higher oil prices are going to be around for a long time," said Livesey.
Greenspan said a "liability of supply" based on rising geopolitical concerns, unusually strong global demand and a shortage of refining capacity had contributed to the "current turmoil in the oil markets."
"This is more a demand-side thing than a supply interruption," said Livesay, adding that there are always problems on the supply side but what's changed is that demand has risen substantially.
Greenspan said that part of the recent run-up in spot prices will "wash out" once U.S. production in the Gulf of Mexico returns to normal after its disruption from the series of hurricanes.
The government said the September producer price index rose 0.1%, in line with economists' estimates, while the core producer price index, excluding food and energy, rose 0.3%, slightly higher than the consensus expectation of 0.2%.
Also on the economic front, the government announced that retail sales in September jumped 1.5%, well ahead of analysts' expectations of a 0.7% gain. Excluding automobiles, retail sales rose 0.6%, also ahead of Wall Street expectations of 0.3%. In the prior month, retail sales fell 0.3%.
In addition, September industrial production rose 0.1%, below the consensus estimate of 0.3%, while capacity utilization dropped from 77.3% to 77.2%. Experts had forecast a rise to 77.5% in September.
The New York Empire State Index, released Friday, dropped significantly to 17.43 from a revised 28.3. Economists had forecast a slight decline to 25. The index tracks manufacturing activity in New York state, giving some guidance into the broader trends in manufacturing nationwide.
Finally, the University of Michigan's consumer sentiment index fell to 87.5 in October, well below the consensus forecast for a reading of 94. The index was at 94.2 in September.
In earnings news,
Wachovia
(WB) - Get Report
reported that third-quarter earnings rose 14%, fueled by strength in investment banking and wealth management. On an adjusted basis, the company said it had earnings of $1.32 billion, or $1 a share, beating Wall Street estimates by a penny. Wachovia stock rose $1.16 to $48.45.
Delta Air Lines
(DAL) - Get Report
said Friday that third-quarter losses would be larger than expected. The Atlanta-based airline said that due to higher energy and certain one-time charges, the company expects a net loss of $625 million to $675 million, or $4.99 to $5.39 a share. Analysts surveyed by Thomson First Call had expected a loss of $3.79. Shares fell 79 cents, or 18.76%, to $3.42.
Genuine Parts
(GPC) - Get Report
reported third-quarter earnings Friday, citing gains across all business segments. The automotive parts distributor posted profits of $97.9 million, or 56 cents a share, up 11% from the prior year, and in line with analysts' estimates. Shares climbed $3.09 to $39.80.
Shares of
Netflix
(NFLX) - Get Report
plunged more than 40% Friday amid a slew of downgrades, after the company warned that they expected "minimal profits" in 2005. Eight banks, including UBS, Jeffries and CSFB, downgraded their recommendations mostly from buy to hold ratings. Netflix plummeted $7.13, or 41%, to $10.30.
Amid speculation of inflated stock prices, shares of
Google
(GOOG) - Get Report
rose even higher in Friday's session after Schwab Soundview initiated coverage on the global search engine with an outperform rating. Google stock rose $2.11 to $144.11.
Overseas, stock markets were lower. London's FTSE close down 0.1% to 4622.70, and Germany's Xetra DAX fell 0.5% to 3922.11. Japan's Nikkei closed 0.5% lower at 10,982.95.