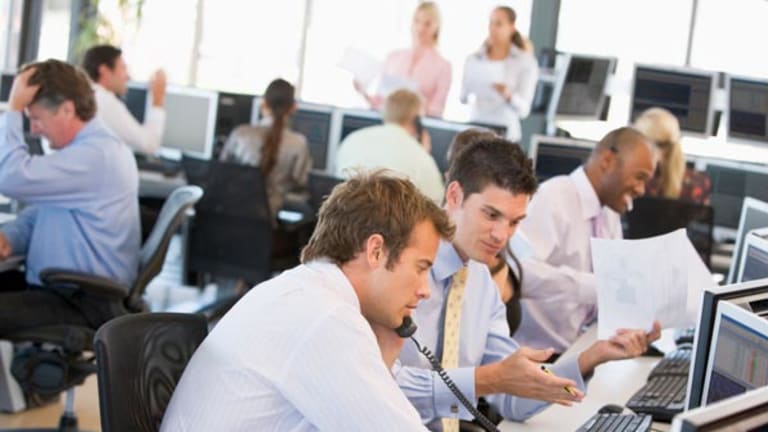 Stocks Make It Two Straight
The indices post their first back-to-back gains in a month.
Updated from 4:06 p.m. EDT
Stocks closed higher for a second straight session Tuesday, buoyed by another decline in oil prices, a rising dollar and a round of bargain-hunting.
The
Dow Jones Industrial Average
rose 37.32 points, or 0.36%, to 10,458.46; the
S&P 500
added 5.27 points, or 0.45%, to 1181.39; and the
Nasdaq
gained 8.25 points, or 0.41%, to 1999.32, having briefly regained the 2000 level earlier in the session. These are the first back-to-back up sessions for the major indices since March 3 and March 4.
"We had an unpleasant March, but yesterday we might have seen the possible reversal to the upside," said Al Goldman, chief market strategist with A.G. Edwards. "It meant that the market was oversold enough to attract buyers. We had enough of a correction, and sideline money did some bottom-fishing."
Trading volume on the
New York Stock Exchange
was 1.85 billion shares, with advancers beating decliners by a 9-to-7 margin. Volume on the Nasdaq was 1.65 billion shares, with advancers outpacing decliners by an 8-to-7 spread.
In other markets, the 10-year Treasury note fell 2/32 in price to yield 4.47%, while the dollar gained against the yen and euro for a second straight session. The dollar is now trading at a five-month high against the yen.
Oil fell, continuing the slide begun around midday Monday, as an International Monetary Fund laid the recent run-up in prices on perceptions of supply shortages rather than any underlying reality. The May crude contract finished down 97 cents to $56.04 a barrel.
Fed
Chairman Alan Greenspan took on the subject of high energy prices in a speech to an industry trade group Tuesday, reiterating his view that market dynamics eventually will cause demand for oil to moderate.
"Prices of spot crude oil and natural gas have risen sharply over the past year in the face of constrained supply and the firming of overall demand," Greenspan said. "But if history is any guide, should higher prices persist, energy use will over time continue to decline, relative to GDP. Long-term demand elasticities have proved noticeably higher than those that are evident short term. ... If sustained, these market technicals could encourage enough of an inventory buffer to damp the current price frenzy."
The speech comes ahead of closely watched weekly inventory data from the Energy Department on Wednesday morning.
"It's surprising to see oil dropping with the recent concern over gasoline supplies, but it's a catalyst for the market right now," said Robert Pavlik, portfolio manager with Oaktree Asset Management. "I think it takes a little concern away from the Fed increasing by 50 basis points at their next meeting, at least in the short term."
Stronger sectors Tuesday included biotech, drug, health care and financials. Weaker sectors were software and materials.
In corporate news,
Pfizer
(PFE)
gave weak 2005 guidance, calling it "a transition year," while also presenting deep cost-cutting moves. Pfizer said it expects to earn $2 a share for the full year, down from $2.12 a year ago. Analysts expect EPS of $2.13 and revenue of $51.81 billion for the year, according to Thomson First Call. The company is also looking to cut some $4 billion in costs. Shares were up 97 cents, or 3.7%, to finish at $26.90.
General Motors
(GM)
finished lower after Moody's Investors Service cut the automaker's long-term debt rating to Baa3, its lowest investment-grade level. Shares was down 1 cent, or 0.03%, to $29.04, having been up more than 2% earlier in the session.
A slew of stocks fell on the heels of profit warnings issued before the first-quarter earnings season. Among them was
RSA Security
undefined
, which cut first-quarter guidance to 8 cents to 10 cents a share from 13 cents to 15 cents;
SeeBeyond Technologies
undefined
, which previewed an unexpected loss; and
Polycom
(PLCM)
, which shaved 2 cents from its first-quarter earnings estimate to 17 cents a share.
RSA Security was down $4.55, or 28.7%, to $11.32; Polycom was off 47 cents, or 2.9%, to $15.91; SeeBeyond lost 24 cents, or 7.8%, to $2.83.
Morgan Stanley
undefined
fell after news that its board had authorized a spinoff of the company's Discover credit card business. The move comes as a group of former investment-banking employees agitate for the removal of CEO Philip Purcell, who built Discover before merging it with the current parent. Morgan Stanley dropped $1.85, or 3.2%, to $56.45.
Google
(GOOG)
rose after Lehman Brothers raised the shares to overweight from equal-weight, citing strong business conditions in the paid-search space. Lehman, which also cited overseas penetration, said the current price of about $190 represents an attractive entry point for the stock. Google was up $3.28, or 1.8%, to close at $188.57.
Boston Scientific
(BSX)
gained Tuesday after the Food and Drug Administration said patients implanted with the drug-eluting Taxus Express2 and the bare metal Express2 stents could now undergo magnetic resonance imaging immediately after surgery. It's the first such approval and represents something of an advantage over rival
Johnson & Johnson
(JNJ)
. Shares of Boston Scientific rose $1.42, or 4.8%, to $30.71.
American Greetings
(AM)
reported fourth-quarter earnings of $21.4 million, or 28 cents a share, down from $48.3 million, or 62 cents a share, a year ago. Analysts had expected EPS of 47 cents for the quarter. Sales fell to $490.9 million from $518.2 million, lower than forecasts of $514.6 million. The company also said it would start a $200 million share repurchase program and increase its quarterly dividend by 33% to 8 cents a share. American Greetings was down 10 cents, or 0.4%, to close at $25.00.
OSI Pharmaceuticals
(OSIP)
rose after the company said
Genentech
(DNA)
, its partner in the oncology drug, Tarceva, has increased prices for the drug to wholesalers as of today. OSI Pharmaceuticals announced the increase in a filing with the
Securities and Exchange Commission
. Shares of OSI added $3.03, or 7.6%, to $42.84. Genentech gained $1.25, or 2.2%, to $57.15.
Napster
undefined
also rose after saying fourth-quarter revenue is going to top Wall Street forecasts thanks to solid subscriber growth. The online music company sees quarterly revenue of $16.5 million to $17.5 million, surpassing the Thomson First Call consensus of $14.6 million. Shares were up 57 cents, or 9.2%, to finish at $6.74.
Nokia
(NOK)
said Tuesday it will sell its mobile radio business to
European Aeronautic Defense & Space Company
in a deal valued at more than $116 million. The deal, expected to be completed by the end of the year, will help Finland-based EADS better its position in homeland security systems and secure wireless communications solutions. Shares of Nokia dipped 6 cents, or 0.4%, to $15.22.
Research In Motion
(RIMM)
will report earnings after the bell Tuesday, with analysts expecting earnings of 65 cents a share, according to Thomson First Call. RIM lost 75 cents, or 1%, to $74.40 during Tuesday's session.
In brokerage action, both Merrill Lynch and Wells Fargo Securities downgraded
Mentor Graphics
(MENT)
to neutral and hold, respectively, after the software company said it would miss previous first-quarter revenue and profit forecasts. Mentor now expects to post a loss of 5 cents a share, from its previous estimate of a profit of 1 cent to 6 cents a share. Shares fell $3.61, or 26.4%, to $10.04.
Overseas markets were higher, with London's FTSE 100 ending up 0.9% to 4942 and Germany's Xetra DAX adding 0.5% to 4362. In Asia, Japan's Nikkei gained 0.9% overnight to 11,774, while Hong Kong markets were closed for a holiday.