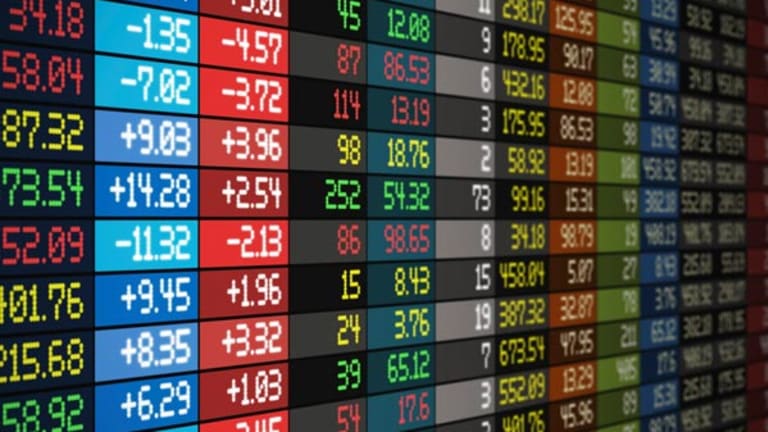 Stocks Make Final-Minute Push in Quieter Session Before Easter
Crude again dictates the direction of stocks in a quieter session ahead of the long Easter weekend.
Crude again dictated the direction of stocks in a quieter session preceding the long Easter weekend.
The S&P 500 and Dow pared losses in the final hour of trading, though remained negative for the week, snapping a five-week winning streak. Both are now back in negative territory for the year. 
The S&P 500 was down 0.04% at Thursday's close. The Dow Jones Industrial Average turned positive in the final minutes of the session, adding 0.08%, while the Nasdaq gained 0.1%.
Most investors and traders apparently packed up and left their desks early: Volume on the S&P 500 was around 578 million, well below the three-month average daily volume of 724 million. Markets will be closed on Good Friday, reopening as usual on Easter Monday. Banks will remain open on Friday.
Crude oil pared losses, though remained in the red, after weekly data showed the number of active U.S. oil rigs fell by 15 to 372. Worries over a surplus continued, however, prompted by a weekly read on domestic crude oil inventories that showed a far steeper increase than anticipated.
Oil recently hit its highest level of the year on hopes of an output freeze among major producing countries, though negotiations are on hold until an April meeting. West Texas Intermediate crude oil fell 0.8% to $39.46 a barrel on Thursday. Crude is down 4.1% for the week. 
The chance of an April rate hike also kept investors wary after comments from St. Louis Federal Reserve President James Bullard increased the odds.
"The next rate increase may not be far off, provided that the economy evolves as expected,"  Bullard said in prepared remarks Thursday morning.
The comments back up Bullard's remarks on Wednesday that the central bank should consider another hike at its April meeting as the economic forecasts appear unchanged and inflation and unemployment march toward their targets. The chances of an April rate hike climbed to 14% from 7% following Bullard's comments, according to CME's FedWatch futures.
U.S. durable goods orders fell 2.8% in February, a slightly slower pace than an estimated 3% decline. A decline in civilian aircraft orders was one of the biggest drags, while excessive inventory also pressured the headline number. Core durable goods orders, excluding transportation, fell 1.8%.
The number of new claims for unemployment benefits remained flat at 265,000 in the past week, below an estimated uptick to 268,000. The less-volatile four-week average showed jobless claims climbing by 250 to 259,750.
Yahoo! (YHOO)  inched higher after activist investor Starboard Value confirmed reports it is calling for an overhaul of the entire nine-member board. Starboard will likely name its suggestions for replacements on Thursday morning.
In earnings news, PVH (PVH) climbed 8% after besting earnings estimates in its recent quarter. The fashion brand forecast slightly weaker full-year results tied to a strong U.S. dollar, increased promotions, and a thrifty consumer.