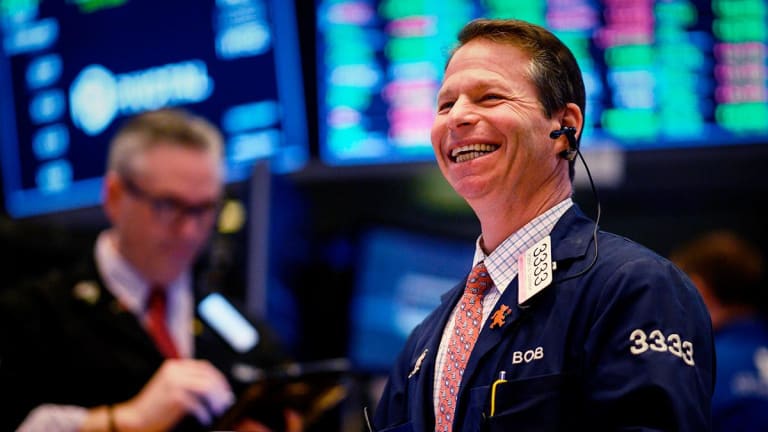 S&P Logs Record Close as Markets Shrug Off U.S.-EU Trade Dispute Worries
Stocks surge into close with the Dow Jones Industrial Average ending slightly higher and the S&P 500 at a new record amid a fresh U.S.-EU tariff dispute.
Here Are 3 Hot Things to Know About Stocks Right Now
The S&P 500 posted a record closing high even as investors worried about a fresh U.S.-EU tariff dispute.
Anheuser-Busch InBev (BUD)  rose on news that the world's biggest brewing company and maker of Budweiser beer is planning a Hong Kong listing of its Asian business that could raise around $10 billion.
Wall Street Overview
Stocks ended slightly higher Tuesday as bank stocks led the declines and a potential U.S.-EU trade dispute dented optimism over the detente between the U.S. and China.
The S&P 500 rose 0.29% to 2,973.01, its second record closing high in as many days. The Nasdaq was up 0.22%. The Dow Jones Industrial Average rose 69 points, or 0.26%, to 26,786.68.
Bank stocks were among the day's laggards, with such companies as Citigroup (C) , Bank of America (BAC)  and Wells Fargo (WFC) all losing ground. The SPDR S&P Bank ETF  (KBE) was down 1.37%.
Stocks were helped earlier in the session after White House trade adviser Peter Navarro said U.S. trade talks with China were "headed in a very good direction." 
This followed President Donald Trump's statement Monday that trade negotiations had "essentially" begun between the U.S. and China after he reached a deal to re-start talks with Chinese President Xi Jinping at the G-20 summit in Osaka, Japan over the weekend. He said any final agreement would need to be "somewhat titled" to the advantage of the United States.
Stocks started Tuesday's session in the red after the U.S. Trade Representative's office proposed to increase the value of European-made goods targeted for potential import tariffs by $4 billion -- to $25 billion -- amid a long-running dispute between Washington and Brussels over government subsidies to aircraft makers Airbus (EADSY) and Boeing (BA) . Shares of both companies were off slightly.
"An announcement that the U.S. may expand tariffs on European goods reminded markets that the Trump administration will continue to use tariff threats, and implementation if needed, as a favorite policy tool," LPL Financial said in a blog post, "potentially extracting concessions but also creating a more volatile policy environment for U.S. businesses along the way."
Oil prices were down even though the Organization of the Petroleum Exporting Countries and other producers such as Russia, a group known as OPEC+, agreed to extend oil supply cuts until March 2020.
Brent crude contracts for August delivery, the global benchmark, were down 3.9% to $62.55 per barrel. West Texas Intermediate contracts for the same month, which are more tightly linked to U.S. gas prices, were down 4.7% at $56.33 per barrel.
LPL Financial said that after the worst fourth quarter since the financial crisis and worst December since the Great Depression, stocks have come roaring back, with the S&P 500 gaining 17.4% during the first half of the year for its best start to a year since 1997 and eighth-best start since 1950.
"In the go-go 1990s, big starts to a year only led to further strong gains; the problem is, if you go back further in time, weakness is quite normal," said Ryan Detrick, LPL senior market strategist.  
Beverage company Constellation Brands (STZ)   is Real Money's Stock of the Day. The owner of Corona Extra and other brands saw its share price target increased by several analysts as the summer season begins. Shares were up 1.4% to $198.75.
Anheuser-Busch InBev (BUD)  shares climbed 2.5% to $90.66 on news that the world's biggest brewing company and maker of Budweiser beer is planning a Hong Kong listing of its Asian business that could raise around $10 billion. 
Nike (NKE) shares fell slightly to $84.94 after the sportswear company said it was pulling a planned sneaker release following a reported intervention from one of its key brand ambassadors. In response, Arizona Gov. Doug Ducey said via Twitter that he will order the state's commerce authority to withdraw all financial incentive dollars for Nike to locate in the state.
Nike had been planning to build a manufacturing plant on metro Phoenix's west side, according to the Arizona Republic, and the city had agreed to waive up to nearly $1 million in fees and reimburse up to $1 million for the jobs it will create.
Amarin (AMRN) surged after the pharmaceutical company boosted its revenue guidance amid strong demand for its Vascepa treatment for chronic cardiovascular disease. American depositary receipts of Amarin climbed 16.3% to $22.37.
Citigroup is a holding in Jim Cramer's Action Alerts PLUS member club. Want to be alerted before Jim Cramer buys or sells C? Learn more now.