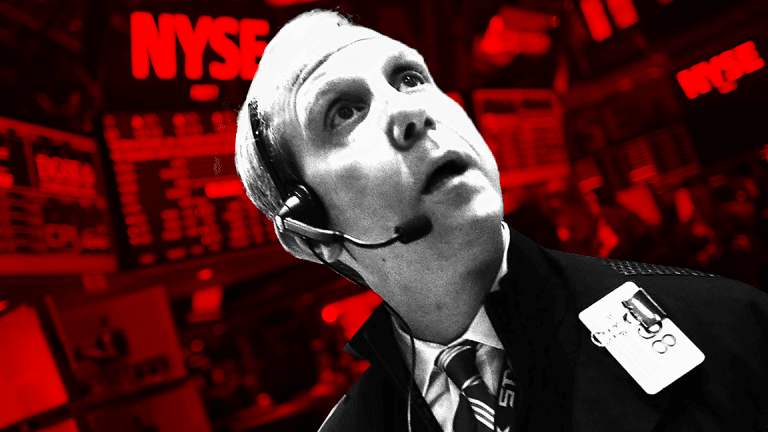 Dow Dives 1,032 Points as Volatility Spikes, Bond Yields Rise
Stocks traded sharply lower as the Dow plunged again on Thursday, suggesting that investors aren't ready to return to equities following three days of intense volatility and rising bond yields.
Here are 3 Hot Things to Know About Stocks Right Now
Sectors leading the sharp declines Thursday included industrials, financials and technology.
The Dow finished lower for the fourth time in five days, and is down more than 2,700 points from its record high of 26,616.71 on Jan. 26.
The Nasdaq finished lower for the ninth time in 11 sessions; the S&P 500 has fallen for the seventh time in the last nine trading days.
Wall Street Overview
Stocks finished sharply lower on Thursday, Feb. 8, suggesting that investors weren't quite ready to return to equities following three days of intense volatility and rising bond yields.
The Dow Jones Industrial Average finished down 1,032 points, or 4.15%, to 23,860. The S&P 500 declined 3.75%, while the Nasdaq slid 3.90%.
As with previous sessions this week, the elevated levels of the Cboe's Volatility index, which closed at 27.19 on Wednesday, Feb. 7, could mean significant swings throughout the trading day. On Thursday the VIX was at 34.86, up 25%. 
Like last week, bond yields were trading near multi-year highs. The U.S. 10-year Treasury bond was yielding 2.849% on Thursday; the yield's four-year high is 2.885%.
New York Federal Reserve President William Dudley called the decline in stocks "small potatoes" in an interview with Bloomberg, and reiterated that three rate hikes in 2018 remained a reasonable forecast.
Tesla Inc. (TSLA) - Get Tesla Inc Report reported a quarterly loss of $3.04 a share on an adjusted basis, narrower than analysts' expectations. However, the GAAP loss in the fourth quarter was $675 million, or $4.01 a share, the largest loss the electric carmaker has ever posted as it struggles to overcome delays with production of the mass-market Model 3 sedan.
The stock fell 8%.
Tesla reiterated its production targets for the relatively cheap Model 3, saying that it aims for a 2,500-vehicle weekly production rate by the end of the first quarter, and a 5,000-vehicle rate by the end of the second quarter. Tesla had at one time wanted to get to 5,000 units per week by the end of the fourth quarter but gradually pushed back its goal in response to battery module production issues.
Twitter Inc. (TWTR) - Get Twitter, Inc. Report  was up 12% on Thursday after the company posted its first profitable quarter since going public in November 2013. Fourth-quarter profit was $91.1 million vs. a year-earlier loss of $167.1 million.
Twenty-First Century Fox Inc. (FOXA) - Get Fox Corporation Class A Report said adjusted profit of 42 cents a share in its fiscal second quarter topped analysts' forecasts, and revenue rose to $8.04 billion from $7.68 billion a year earlier. Revenue at Fox's cable TV division rose 10%. Shares fell 4%.
T-Mobile US Inc. (TMUS) - Get T-Mobile US, Inc. Report said fourth-quarter earnings came in above analysts' forecasts. The company received a $2.2 billion benefit from the new U.S. tax law. The stock declined 5%.
CVS Health Corp.'s (CVS) - Get CVS Health Corporation Reportfourth-quarter earnings beat forecasts after the pharmacy retailer reported earnings of $1.92 a share, excluding a $1.5 billion benefit from the new U.S. tax law. Analysts had projected $1.88. CVS fell 5% on Thursday.
Dunkin' Brands Group Inc.  (DNKN) - Get Dunkin' Brands Group, Inc. Report   was down 0.5% after announcing Thursday an ambitious three-year plan aimed at sustainable growth. Dunkin's new strategy aims to grow revenue by low- to mid-single digit percentages and to grow operating income by mid- to high-single digit percentages over the next three years.
GrubHub Inc. (GRUB) - Get Grubhub, Inc. Report  jumped 27% after Yum! Brands Inc. (YUM) - Get Yum! Brands, Inc. Report announced a partnership with the online food delivery service. Yum! plans to acquire $200 million of GrubHub stock, which GrubHub will use to expand its delivery capacity. 
Watch all of Jim Cramer's full NYSE live shows right here: