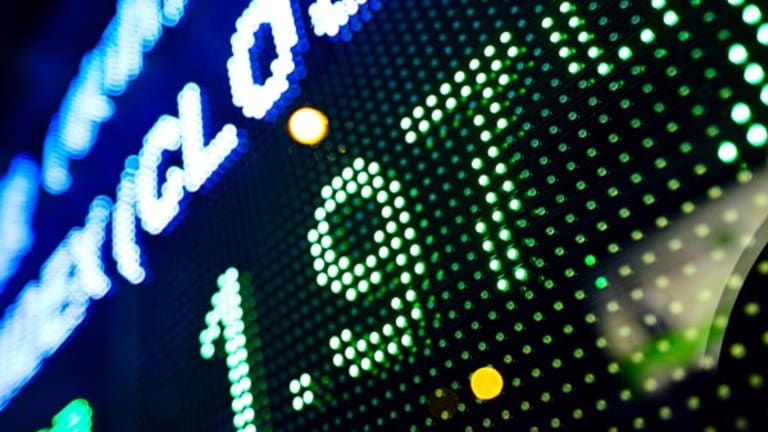 Stocks Look Flat Early
Monday's rally fizzles and Tuesday looks subdued as well.
Stocks looked at a flattish open Tuesday a day after Monday's merger-fueled rally evaporated.
The S&P 500 futures were up 0.30 points and the Nasdaq futures were up by 6. Oil dropped 32 cents to $66.42 a barrel, a day ahead of U.S. data on crude inventories.
The dollar fell against the yen and euro after a senior Chinese official said China should trim its holdings of U.S. debt,
Reuters
reported. The comments come ahead of a visit by President Hu Jintao to Washington this month.
The remarks come amid some nervousness in the bond market. Rising bond yields sapped the market's momentum in the closing days of the first quarter. At current levels, the yield on the 10-year Treasury note is at its highest point since June 2004, as traders have fretted that strong economic data will prevent the Federal Reserve from halting its rate-tightening campaign. The 10-year Treasury bond was yielding 4.86%.
Stocks were mostly lower overseas. In Europe, the British FTSE dropped 0.3% to 6004, the German DAX slid 0.2% to 6010 and the French CAC dipped 0.6% to 5225. In Asia, Japan's Nikkei dropped 0.2% to 17,293 but Hong Kong's Hang Seng rose 0.2% to 16,100.
Monday night,
Check Point Software
(CHKP)
cut full-year guidance and said that first-quarter revenue will also be lower than expected. For the first quarter ended March 31, the Internet security software maker said it now anticipates revenue of $133 million to $134 million. That falls short of previous estimates of $145 million to $155 million and a poll of Thomson First Call analysts that pegged the company to hit $155 million in sales.
On Monday, stocks started the day sharply higher on the back of the big
Lucent
-
Alcatel
tie-up and a major asset sale by
GM
, but gains dried up in the afternoon and the big indexes ended mixed. the Dow Jones Industrial Average gained 35.62 points, or 0.32%, to 11,144.94, and the S&P 500 added 2.99 points, or 0.23%, at 1297.81. The Nasdaq Composite slipped 3.05 points, or 0.13%, to 2336.74.
To view David Peltier's video take on today's premarket action, click here
.
At the end of the day, the Dow finished more than 100 points below its high, and the Nasdaq closed 21 points under its best level.