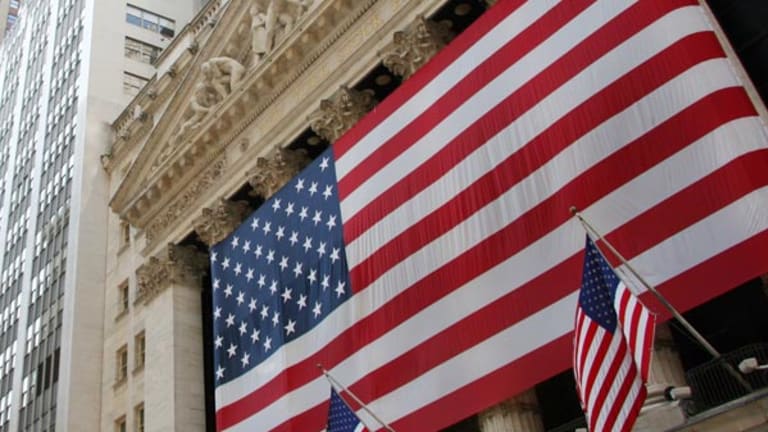 Stocks Keep Streak Alive
The Dow adds 29 points for its fourth straight up day.
Updated from 4:11 p.m. EDT
Falling oil and mixed economic data combined for another up day in the stock market Thursday, although the size of the advance was the smallest of the week.
The
Dow Jones Industrial Average
, which started the session up 330 points on the week, added another 28.74 points, or 0.27%, to 10493.19. The
rose 5.52 points, or 0.47%, to 1991.08, while the
Nasdaq Composite
, which has led the recent runup, rose 11.93 points, or 0.59%, to 2042.58. The Dow and S&P 500 have risen in four straight sessions while the Nasdaq has gained in five.
"I'm surprised, as I thought we were going to give some gains back," said Dave Briggs, head of equity trading with Federated. "We have a tendency on expiration week to migrate toward areas of large open interest. It looks like we're going to end up with a pretty good week, though. If we get some cash behind this move, we may have this rally for a little while longer. We're at the top of a trading range right now, so we'll see if it goes higher from here."
Trading volume on the
New York Stock Exchange
was 1.78 billion shares, with advancers beating decliners by a 5-to-3 margin. Volume on the Nasdaq was 1.70 billion shares, with advancers outpacing decliners 4 to 3.
The 10-year Treasury was down 6/32 in price to yield 4.11%, while the dollar edged up against the yen and euro after falling Wednesday on a reassuring report on U.S. inflation.
"There's still a lot of skepticism that remains about the sustainability of the rally," said Michael Sheldon, chief investment strategist with Spencer Clarke. "Investors are also still questioning the growth rate of the economy. Unfortunately, neither will be answered definitively anytime soon. Investors have moved back into the market, though, which is a positive."
Oil, whose nearly 3% plunge Wednesday helped underpin a 133-point rally on the Dow, closed below $47 a barrel for the first time in three months Thursday. The June crude contract finished 33 cents lower at $46.92. Despite the decline,
Exxon Mobil
(XOM)
gained $1.18, or 2.2%, to $54.83.
In economic news, first-time jobless claims fell by 20,000 last week to 321,000, the lowest level in four weeks. Economists had been expecting a print of 330,000.
Also, the Conference Board said Thursday that the index of leading economic indicators fell 0.2% in April as expected, the fourth straight month of declines. The March reading was revised to a 0.6% decline.
"The LEI now stands 0.8% lower than a year ago," said Ian Shepardson, chief economist at High Frequency Economics. "If this rate of decline were to persist, it would signal GDP growth slowing to between zero and 1% on a year-over-year basis. The oil damage is not over yet."
In the week's last bit of economic data, the Philadelphia Fed index fell to 7.3 in May from 25.3 the previous month, well below the consensus 18 and a 23-month low for the index. The report follows a similarly weak New York Empire State survey, released earlier this week.
Stronger areas of the stock market Thursday included technology, retail and telecom services. Areas such as casinos, networking, REITs, Internet and software were considerably stronger. Materials, biotech and health care were among the weaker sectors.
Computer, software, steel and auto stocks all were factors in Wednesday's runup, capping a three-day surge better than any since President Bush was re-elected in November. The Nasdaq managed to decisively clear both 2000 and its oft-mentioned 200-day moving average of about 2003, driven higher by
Google
(GOOG)
,
Research In Motion
(RIMM)
and
JDS Uniphase
(JDSU)
.
A handful of tech stocks continued to climb Thursday, including
Motorola
(MOT)
, which authorized a $4 billion stock buyback;
Salesforce
(CRM)
, which reported a better-than-expected second quarter; and
BEA Systems
undefined
, which had a solid first quarter and guided sales higher in the current period.
One of Thursday's big stories was
Netflix
(NFLX)
, which added 4.1% after
Wal-Mart
(WMT)
bowed out of the online DVD rental business and steered existing subscribers toward its former rival. Netflix says the agreement isn't immediately material to its financial position, but the shares rose 63 cents to close at $16.13.
DuPont
(DD)
said Thursday that it has received a supboena from the Environmental Crimes Section of the Justice Department, seeking information on the company's production and use of perfluorooctanoic acid, or PFOA, and its salts. DuPont said it will be fully responsive. Shares of DuPont finished down 43 cents, or 0.9%, to $47.61.
Morgan Stanley
undefined
was higher after the trial jury in Ron Perelman's fraud suit ordered the bank to pony up $850 million in punitive damages for its role brokering the sale of Sunbeam seven years ago. The judgment is on top of a $600 million verdict returned against Morgan Stanley last week in the same case. Morgan Stanley was up $1.23, or 2.5%, to close at $50.15.
This week's rally has occurred amid a raft of generally positive quarterly reports from U.S. chain stores, including solid earnings earlier in the week from
Home Depot
(HD)
and
Lowe's
(LOW)
.
Hot Topic
(HOTT)
got into the act after the bell Wednesday, reporting first-quarter earnings that matched Wall Street estimates and guiding its second quarter in line. Hot Topic was higher by 43 cents, or 2%, to $21.93.
Thursday morning,
Claire's Stores
undefined
said first-quarter earnings rose 7% from a year ago to $29.7 million, or 30 cents a share, on an 8% jump in revenue to $302.7 million. Analysts had been forecasting earnings of 28 cents a share on sales of $302.3 million. The teen retailer guided down for the second quarter but said full-year results should match forecasts. Claire's added 27 cents, or 1.2%, to $23.25.
AnnTaylor
(ANN)
posted first-quarter earnings of $17 million, or 24 cents a share, down from $31.7 million, or 43 cents a share, a year ago. Results matched the Thomson First Call average consensus. Quarterly revenue rose to $476.4 million from $433.2 million a year ago. Shares rose 62 cents, or 2.4%, to $25.95.
Companies due to report quarterly earnings after the bell Thursday include
Gap
(GPS)
,
Autodesk
(ADSK)
,
Marvell Technology
(MRVL)
and
Aeropostale
undefined
.
Moody's cut
Delphi's
undefined
credit rating deeper into junk, to B2 from Ba2. Moody's said Delphi carries a negative outlook, citing lower production at
General Motors
, its top customer, as well as its pension burden. Delphi jumped 54 cents, or 14.2%, to $4.35.
Meanwhile,
Ford
(F)
spinoff
Visteon
(VC)
was up more than 32.5% after KeyBanc Capital upgraded the stock to buy from hold, citing the addition of Donald Stebbins as the company's chief operating officer. Visteon added $1.24 to close at $5.06.
In M&A activity,
US Airways
undefined
and
America West Airlines
undefined
were close to finalizing a merger agreement that could be announced as early as Thursday, according to
The Wall Street Journal
. The deal, which first was reported in late April, would create the nation's sixth-largest airline, helping to bring US Airways out of bankruptcy protection. US Airways surged higher by 47 cents, or 61%, to $1.24 while America West gained 38 cents, or 8.6%, to finish at $4.81.
Gateway's
undefined
co-founder Ted Waitt announced his resignation as chairman and a director after 20 years with the computer maker. Waitt will leave the company's board Thursday following the company's annual stockholders' meeting. Succeeding Waitt will be Richard D. Snyder, a director since 1991 and a former Gateway president. Shares added 2 cents, or 0.6%, to $3.23.
Bear Stearns downgraded
Yum! Brands
(YUM)
to peer perform from outperform, citing concerns of weak China sales. The company reported a 5% fall in China sales Wednesday, and the brokerage believes the company's May sales outlook shows severe weakness. Bear Stearns also believes that should Yum meet expectations, the quality and valuation of earnings may be lower. Shares lost $1.05, or 2%, to $50.41.
To view Aaron Task's video take on today's market, click here
.