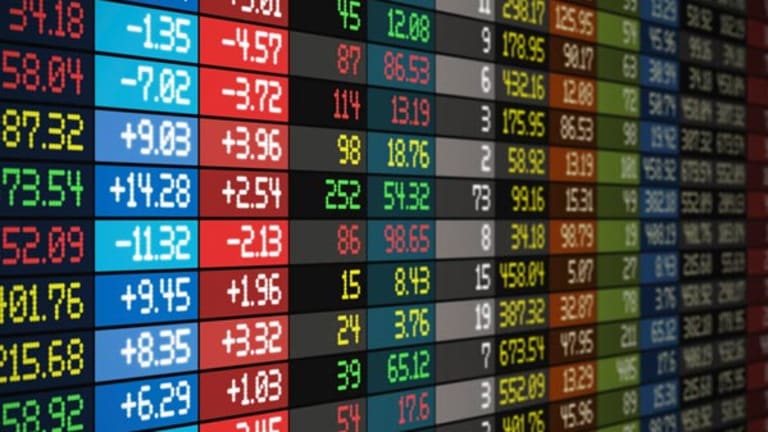 Stocks Trade Mixed Amid Soft Jobs Numbers
Stocks trade mixed Thursday after the U.S. adds 230,000 jobs in June.
NEW YORK ( TheStreet) -- Stocks turned mixed Thursday after the U.S. added 223,000 jobs in June, a number that could give the Federal Reserve pause on whether to raise interest rates in September.
Economists were expecting about 230,000 jobs to be added to payrolls.
The S&P 500 added 0.01%, the  Dow Jones Industrial Average lost 0.03%, while the  Nasdaq lost 0.15%.
The unemployment rate dropped to 5.3% from 5.5% in May. Average hourly wages remained unchanged during the month and are higher by 2% over the past year.
"The slower growth in average hourly earnings reflects the fact some 55% of the new private sector jobs were in lower paying sectors -- temp, retail, health, and restaurants," wrote ITG Chief Economist Steve Blitz. "The economy to service those who can afford leisure and those aging into higher health care needs continues to expand."
The jobs numbers for May were revised downward to 254,000 from a previously reported 280,000. April's figures were also lowered to 187,000 from 221,000.
U.S. weekly jobless claims rose 10,000 to 281,000 for the week ended June 27. The consensus was 270,000. Meanwhile, U.S. factory orders fell 1% in May, while analysts were looking for a 0.3% decrease.
Crude oil rose 1.5% to  $57.81 a barrel. For the week ended June 26, natural gas in storage increased by 69 billion cubic feet, according to the Energy Information Administration. 
BP (BP) - Get BP p.l.c. Sponsored ADR Report agreed to pay $18.7 billion in claims stemming from its 2010 Deepwater Horizon oil spill. The amount is payable over 18 years. Shares rose 5%. 
Xoom (XOOM) shares rose 23% after eBay's (EBAY) - Get eBay Inc. ReportPayPal unit agreed to buy the online money-transfer company for $890 million in cash.
Health Net (HNT) agreed to be acquired by Centene (CNC) - Get Centene Corporation Report in a cash-and-stock deal valued $6.3 billion. Shares of Health Net rose 12%, while Centene shares rose 5.2%.
Automaker Tesla (TSLA) - Get Tesla Inc Report delivered 11,507 Model S vehicles in the second quarter, good for a 52% jump from the same quarter last year. Shares increased 2.7%.
Investors were also grappling with developments in Greece. No negotiations between the debt-laden nation and its creditors will be held until after the Sunday referendum in which citizens will vote on whether or not to accept austerity measures. Polls from euro2day.gr show 47% of respondents voting "yes" while 43% voting "no."
"I think the market is probably underestimating the chance of a 'no' vote," Michael Ingram, a market analyst with BGC Partners, told TheStreet TV. "The vote on Sunday almost doesn't matter because it's essentially between a recession via a 'Grexit' or a depression by signing up for further austerity."
The euro gained 0.35% against the dollar. London's FTSE 100 rose 0.4%, while Frankfurt's DAX rose lost 0.7%.
Stocks in China closed lower, as the Shanghai Composite ended Thursday's trading day down 3.48%. Hong Kong's Hang Seng rose 0.12%. Tokyo's Nikkei 225 added 0.95%.