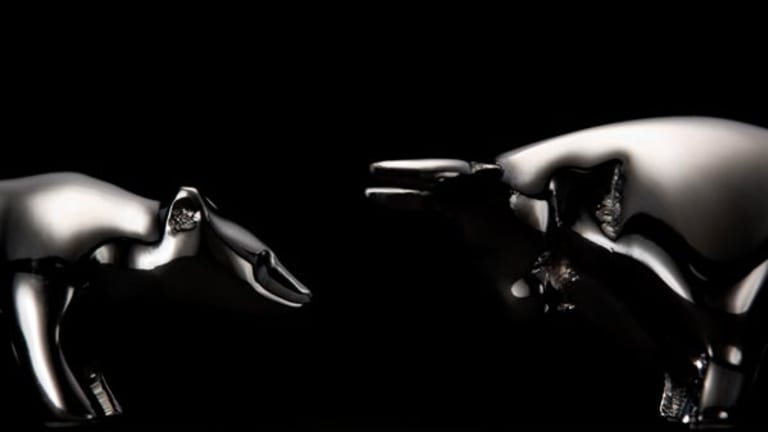 Publish date:
Stocks Are Flat as Pending Home Sales Cool
Stocks hover around the flatline on Monday in a cautious start to the week after activity in the usually strong housing sector worries investors.
Stocks hover around the flatline on Monday in a cautious start to the week after activity in the usually strong housing sector worries investors.
Stocks hovered around the flatline on Monday in a cautious start to the week after activity in the usually strong housing sector worried investors. 
The S&P 500 was up just 0.03%, the Dow Jones Industrial Average slid 0.03%, and the Nasdaq added 0.25%. 
The U.S. housing sector cooled in January with pending home sales falling 2.5% to an index reading of 106. The slowdown was likely tied to the fallout from January blizzards and colder winter weather. The index tracks the number of home sales deals in which a contract has been entered but not yet finalized.
Economic activity in the Chicago area fell into contraction in February, dragged on by slowing production and fewer new orders in the manufacturing sector. The employment index also fell to its worst level since 2009.
Crude oil added to gains on Monday morning after Saudi Arabia voiced its support for cooperaton among members of the Organization of Petroleum Exporting Countries to stabilize prices. Key OPEC members and Russia have engaged in negotiations over a production cap in recent weeks.
"The kingdom (of Saudi Arabia) seeks to achieve stability in the oil markets and will always remain in contact with all main producers in an attempt to limit volatility and it welcomes any cooperative action," the Saudi Arabian cabinet wrote in a statement.
Crude prices have seen volatile swings as talk among the countries' oil ministers fueled hope and skepticism a production cap agreement could be reached. West Texas Intermediate crude was up 1.1% to $33.14 a barrel on Monday morning.
A prolonged period of lower oil prices was hurting a number of oil producers. Both NRG Energy (NRG) - Get Report and Consol Energy (CNX) - Get Report announced cuts to their dividend payouts on Monday, following in major oiler BHP Billiton's (BHP) - Get Report footsteps. BHP cut its dividend for the first time in 15 years last week. 
The market's mood was also more optimistic after China's central bank made more moves to support its economy. China cut the amount banks are required to hold on reserve in an attempt to inject more money into its slowing economy. The People's Bank of China cut the reserve requirement by half a percentage point. This marks the fifth time it has cut its reserve requirement in a year.
A weekend meeting of G20 leaders failed to result in any meaningful action to encourage global growth. G20 finance ministers met in Shanghai over the weekend and agreed to use "all policy tools -- monetary, fiscal and structural -- individually and collectively." However, no concrete plans were made to address slowing economic growth in the global economy, particularly in China. China's GDP fell to a 25-year low last year, growing at 6.9% from 7.3% growth in 2014. 
Taser International (TASR) shares surged 15% after besting analysts' estimates in its recent quarter. The body-cam manufacturer earned 9 cents a share, a dime better than expected, while revenue jumped 20% to $56 million. 
Sysco (SYY) - Get Report edged higher after announcing plans to cut 1,200 jobs in the next 15 months, roughly 2% of its workforce. The food distributor said the layoffs would largely be in administrative roles. Sysco expects to book charges related to severance costs between $25 million and $30 million. 
American Express (AXP) - Get Report climbed after agreeing to sell its Costco U.S. co-brand portfolio to Citigroup (C) - Get Report . The credit-card company expects to generate roughly $1 billion on the sale.
Valeant Pharmaceuticals (VRX) fell 5% after retracting its financial guidance and announcing plans to reschedule its fourth-quarter earnings report. The drug company has been under intense pressure over investigations into its pricing structure and resulting accounting problems. 
Alibaba (BABA) - Get Report shares were slightly lower after Chairman Jack Ma and Vice Chairman Joe Tsai agreed to buy back a total $500 million. The buyback is part of a broader $4 billion repurchase program unveiled in August. The Chinese e-commerce site has struggled recently with weaker growth, particularly out of its key Chinese market.
Lumber Liquidators (LL) - Get Report  fell after swinging to a fourth-quarter loss on the back of slumping growth tied to concerns over the safety of its products. The flooring retailer reported a loss of 73 cents a share, far wider than an expected loss of 23 cents.
Boeing (BA) - Get Report shares were on watch on reports it is considering layoffs of airplane engineers as it assesses a plan to reorganize or consolidate its engineering teams. The aerospace manufacturer is reportedly considering making voluntary layoffs available to workers.