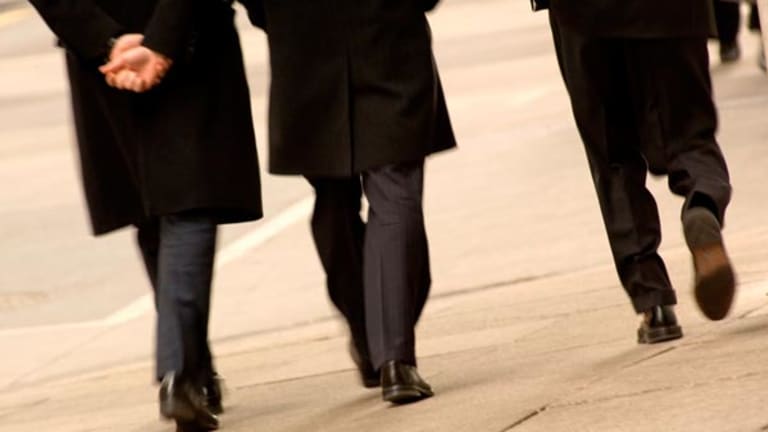 Stocks Implode to Close Way Off
Selling accelerates in the last half hour. The Dow loses 200 points, and the Nasdaq falls 3.3%.
Updated from 4:22 p.m. EDT
A bad day on the major averages turned ugly in the session's final minutes as stocks fell through lows set in mid-May and kept dropping into the close.
The averages spent most of the day lower, knocked down by continuing worries about the credibility of corporate America and a downgrade of software stocks.
The
Dow Jones Industrial Average finished with a loss of 215.46 points, or 2.2%, to 9709.79. The
Nasdaq lost 53.17 points, or 3.3%, to 1562.56, and the
S&P 500 was off 26.46 points, or 2.5%, to 1040.68.
Selling picked up speed in the final half hour when the
Philadelphia Semiconductor Index
pierced its May 7 intraday low of 455.27 and the Dow subsequently fell through its May low of 9807.
The biggest corporate story of the day was
the ouster of
Tyco International
(TYC)
, Chairman and Chief Executive Dennis Kozlowski. Kozlowski submitted his resignation after word surfaced that he is being investigated in New York for sales tax evasion. John Fort, a former CEO and current lead director of the board, will assume primary executive responsibilities until a permanent replacement can be found.
Tyco reaffirmed its commitment to spinning off its financial services arm
CIT Group
, but investors focused on the potential trauma to the company's business plans. Shares of Tyco fell 27% to $16.05.
Another company that has been reeling in recent months,
Knight Trading
(NITE)
, plunged in the premarket amid rumors it might be the subject of a federal probe. Knight attributed the decline to a software problem that sent a large number of sell orders in Knight's own stock. It said there were no corporate developments to warrant the unusual trading.
Knight closed at $6.35 Friday but traded below a dollar at one point in the premarket session. The stock opened around midday and closed down 7% to $5.92.
Energy trader and gas company
El Paso
(EP) - Get Free Report
said Senior Vice President and Treasurer Charles Dana Rice is dead after what is
believed to be a suicide. The news sent the stock down 14% to $21.95. Meanwhile,
Williams
(WMB) - Get Free Report
sold off after a former employee said the company tried to corner California's natural gas market in December 2000, when the state was having its power crisis. The stock ended lower by 23% to $10.95.
The continuing string of troubling news from the corporate side once again drew investors' attention away from the mostly better-than-expected economic reports.
The Institute for Supply Management's most recent survey revealed the manufacturing sector of the economy grew for the fourth consecutive month and reached its highest level since February 2000. The ISM's manufacturing index rose to 55.7 in May from 53.9 in April and came in ahead of analysts' expectations.
Separately,
construction spending for April rose 0.2%, ahead of the consensus estimate of a 0.1% decline, but the prior month's results were revised down.
Barry Diller's
USA Interactive
(USAI) - Get Free Report
is prepared to offer $4.5 billion in stock for portions of its publicly traded units,
Expedia
(EXPE) - Get Free Report
,
Ticketmaster
undefined
, and
Hotels.com
(ROOM)
, that it doesn't already own. Diller is offering shareholders of the units a 7.5% premium over Friday's closing price. USA's shares lost 13% to $24.90, while its subsidiaries moved higher.
A couple of research notes from analysts also affected trading. Lehman Brothers issued a downgrade of several enterprise software stocks after attending a conference last week. The general tone of the conference was that the software industry is still facing challenges and that a near-term rebound doesn't appear likely.
"We heard from multiple sources that there are likely to be significant employee reductions in the U.S. at both
SAP
(SAP) - Get Free Report
and
Oracle
(ORCL) - Get Free Report
within the next several weeks, which would signify a continuing tough environment," analyst Neal Herman wrote in a research note.
Among the stocks downgraded were
Advent Software
(ADVS)
,
BEA Systems
undefined
,
Iona Technologies
(IONA)
,
Mercury Interactive
undefined
,
Veritas
(VRTS) - Get Free Report
and
Micromuse
undefined
. All closed lower.
Another impact call came from Goldman Sachs, which lowered its investment rating on
Comverse Technology
(CMVT)
to market perform from market outperform and trimmed its earnings estimates for 2002 and 2003. The move sent shares of Comverse tumbling 11% to $10.52.
Elsewhere, telecommunications equipment maker
Lucent Technologies
(LU) - Get Free Report
was lower by 4% to $3.64 after completing its spinoff of
Agere Systems
undefined
over the weekend. Agere was up 1% at $3.16.
Qualcomm
(QCOM) - Get Free Report
lost 1.5% to $31.17 despite receiving some positive ink in the latest issue of
Barron's
. The article cheered Qualcomm's BREW software, which enables cell phone users to listen to streaming music and watch videos, giving it a supposed edge over rival
Nokia
(NOK) - Get Free Report
.
U.S. Treasuries were higher in afternoon trading. Around 4 p.m. EDT, the 10-year note was gaining 11/32 at 99 2/32, yielding 5%. Short-term notes and the long bond were also stronger.
European markets were lower across the board. London's market was closed for a holiday, but Germany's Xetra DAX lost 1.5% to 4748. In Asia, Japan's Nikkei 225 climbed 1.2% to 11,901, while Hong Kong's Hang Seng added 0.5% to 11,360.