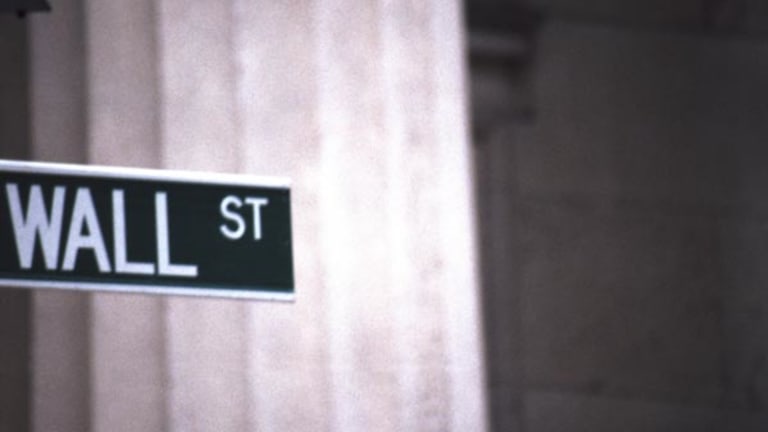 Stocks Hover in Neutral Territory
After a skittish start following some disappointing earnings reports, the major market indices have bounced up to the baseline as oil slides and the dollar rallies.
After a skittish start following some disappointing earnings reports, the major market indices have bounced up to the baseline as oil slides and the dollar rallies.
Updated from 10:33 a.m. EDT
After disappointing earnings from technology and financial firms prompted a skittish start for U.S. stocks Tuesday, the major indices bounced up to skip along the baseline as a slide in oil prices and a rally in the dollar helped to reduce investor pessimism.
The
Dow Jones Industrial Average
was up 36 points at 11,503, and the
S&P 500
rose half a point to 1261. The
Nasdaq
was 4 points lower at 2275.
After Monday's close,
Apple
(AAPL) - Get Report
third-quarter earnings that exceeded expectations, but it guided below the targets for the current quarter. Shares were recently down 7.8%.
Texas Instruments
(TXN) - Get Report
missed on profits and provided a
. Its shares were sinking nearly 16%.
Investors had been anticipating that relief from the government stimulus package and action by the
Federal Reserve
would prop up cyclical and technology companies, said Matthew Smith, vice president and portfolio manager for Smith Affiliated Capital. "That just hasn't transpired."
"If you take technology, it's a pulse of the market going forward. It's basically suggesting that you're still in the early stages of a recession," said Smith.
Putting pressure on both financials and the Dow was credit card company
American Express
(AXP) - Get Report
, which
and offered cautious guidance for 2008. Its stock was lately down 8.8%.
Fellow Dow member
Merck
(MRK) - Get Report
delivered an earnings beat, but
didn't offer forward projections
after discouraging test results emerged for the cholesterol drug Vytorin, a joint venture between Merck and
Schering-Plough
(SGP)
.
As the new day dawned, several more companies reported quarterly results. In financial services,
Wachovia
(WB) - Get Report
dropped an $8.9 billion second-quarter loss on shareholders,
. The bank also said it would be cutting 6,350 jobs, reducing its dividend and abandoning its wholesale mortgage business. After a sharp morning selloff, shares were recently up 7%.
Despite also showing credit-related pain in their earnings statements, regional banks
Fifth Third
(FITB) - Get Report
,
KeyCorp
(KEY) - Get Report
and
SunTrust
(STI) - Get Report
were trading higher, as well.
"You're in a bear-market rally now," Smith said. He said that recent consolidation after last week's rally probably will be followed by another leg down.
"The question for Wachovia is ... how bad can it get," said Smith. He said that on a macroeconomic level, the company faces headwinds from Fed governors that are ready to raise rates based on backward-looking inflation indicators, whereas tough earnings are looking three months ahead.
Of the broader turmoil in the sector, Smith said there's a distinction must be made between large-cap banks and the regionals, which some investors believe aren't as capable of dealing with the ongoing financial crisis as their bigger counterparts.
Speaking in Washington, D.C., on the state of the financial markets, Treasury Secretary Henry Paulson said mortgage companies
Fannie Mae
and
Freddie Mac
are crucial to the effort to recover from credit crunch-related woes. He also said he was confident that Congress would approve his relief plan for the shaky government-sponsored entities.
Earlier, the Office of Federal Housing Enterprise Oversight had said that Fannie and Freddie will have to write down more assets thanks to their exposure to subprime and alt-A mortgages.
Also out were statements from industrial leaders and Dow stocks
Caterpillar
(CAT) - Get Report
and
DuPont
(DD) - Get Report
, both of which exceeded expectations.
Meanwhile, shipping firm
UPS
(UPS) - Get Report
fell short of analyst estimates, and airlines
UAL
(UAUA)
and
US Airways
(LCC)
delivered losses. All three firms have been hampered by rising fuel costs.
UAL said its airline, United, had extended an agreement with partners Chase Bank and Paymentech that would enhance its liquidity level by about $1.2 billion. Shares of the company were skyrocketing 47%. US Airways and UPS were also trading higher.
On the other side of the energy boom,
Baker Hughes
(BHI)
trumped forecasts, while fellow energy-patch denizen
Halliburton
(HAL) - Get Report
delivered in-line earnings on record revenue and offered a rosy outlook.
XTO
(XTO)
likewise exceeded expectations. Baker Hughes rose, but Halliburton and XTO were trading lower as oil prices declined.
Wireless telecom
Vodafone
(VOD) - Get Report
was slumping after it met earnings expectations but
warned that revenue would be weak
because of the slowing economy.
UnitedHealth
(UNH) - Get Report
reported a 73% year-over-year decline in second-quarter income. Excluding charges, however, the company topped analyst estimates. Shares were up 10%.
In commodities, crude oil was losing $4.38 at $126.66 a barrel, and gold was falling $14.90 at $948.80. Hurricane Dolly, which was causing concerns of supply disruptions off the Gulf Coast Monday, looked as though its path would cut just south of the majority of the drilling area.
Of the broader economy,
Bloomberg
reported this morning that economists at Merrill Lynch reduced their forecasts for U.S. growth. The new figures, described as "adjusting for the new reality," foretell growth of 0.5% in 2009, down from a previous look of 1.5% growth.
Meanwhile, Charles Plosser, president of the Philadelphia Fed, said in a speech this morning that the central bank should reverse its rate-cutting ways, for the moment sparking a reversal in the bond market.
As for Treasuries, the 10-year note was slipping 12/32 to yield 4.09%, and the 30-year was down 16/32, yielding 4.65%. The dollar was rising against the euro, the pound and the yen.
Overseas markets were mixed, with London's FTSE slipping and Frankfurt's DAX climbing. The Nikkei in Japan rose, and the Hang Seng in Hong Kong was down fractionally.