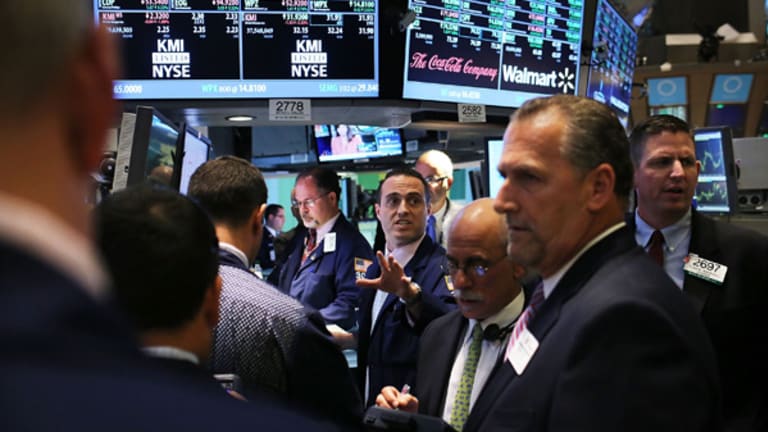 Stocks Holding to Hard-Won Gains
Traders appear uncertain as financial firms pick up funding and Bernanke is back before Congress.
Updated from 1:07 p.m. EDT
Stocks in the U.S. traded choppily following an upside open Wednesday as investors monitored the government's bailout of the banking industry and more commentary from
Federal Reserve
Chairman Ben Bernanke.
The
Dow Jones Industrial Average
was recently up 46 points to 10,900, and the
was adding 6.8 points to 1195. The
Nasdaq
gained 23 points to 2176.
On Tuesday, stocks finished with losses after traders listened to Bernanke and Treasury Secretary Henry outline for Congress their $700 billion bailout package for financial-services firms.
"I think investors are sitting back and waiting to see what Congress does," said Fred Dickson, director of private client research and chief market strategist for DA Davidson. "Hopefully, we'll see something by the end of the week." While uncertainty remains, the market will trade with a great deal of volatility, he said.
After the close of Tuesday's trading, several financial firms signed deals to raise capital. Insurance giant
AIG
(AIG)
agreed to an
with the Fed.
Warren Buffett's Berkshire Hathaway
(BRK.A)
inked a deal to buy as much as a $10 billion stake in
Goldman Sachs
(GS)
. Goldman, along with rival
Morgan Stanley
(MS)
, on Sunday agreed to become a bank holding company instead of an investment bank.
Dickson said he was surprised the market didn't bounce higher off the news of Berkshire's investment in Goldman, especially after a sizeable drop in the major indices during the last hour of Monday's trading.
Berkshire wasn't the only firm that may grab a piece of Goldman.
Japanese bank Sumitomo Mitsui Financial
may invest between 100 billion and 300 billion yen in the company, although there are conflicting reports about a potential deal.
Meanwhile, the
Associated Press
reports that the FBI is spearheading a
fraud investigation
into AIG, bankrupt brokerage
Lehman Brothers
,
Fannie Mae
undefined
and
Freddie Mac
undefined
. The four companies are at the center of the crisis leading to the government's $700 billion bailout package.
The Fed also went ahead with development of $30 billion in
swap facilities with foreign banks
to provide liquidity to overseas markets.
A series of analyst downgrades of regional banks could offer a drag on financial stocks. Robert W. Baird downgraded
IberiaBank
(IBKC)
, and
SunTrust
(STI)
to neutral from outperform and
M&T Bank
(MTB)
to underperform from neutral. Citigroup took
Regions Financial
(RF)
to sell from hold and dropped
Zions Bancorp
(ZION)
to hold from buy.
Ratings agency Standard & Poor's also cut its counterparty credit rating on
Washington Mutual
(WM)
to triple-C with a negative outlook on worries that the bank may be broken up or sold.
Outside the financial sector, home retailer
Lowe's
(LOW)
forecast 2008 earnings of $1.48 to $1.56 a share on modest sales growth. Analysts expect profit to fall within the forecasted range.
In the technology space,
Yahoo!
(YHOO)
and
Time Warner
(TWX)
were prepping for discussions about
, according to a report in the
Financial Times
.
As for economic data, the National Association of Realtors' look at August existing-home sales came in at an annual rate of 4.91 million units, slightly below economists' estimates and down from 5.02 million in July.
"
The NAR estimates that 35-to-40% of all sales are of distressed property, so underlying private activity is weaker than the headlines and there is little sign of imminent improvement," wrote Ian Shepherdson, chief U.S. economist for High Frequency Economics. Although inventories appear to be improving, they are "still way too high," he wrote.
The Energy Information Administration reported that crude-oil inventories declined by 1.5 million barrels in the week ended Sept. 20.
The price of crude oil was declining 26 cents to $106.35 a barrel, and gold was gaining $4.10 to $895.30 an ounce.
Longer-dated U.S. Treasury securities were rising in price. The 10-year note flat in price, yielding 3.8%, and the 30-year also flat, yielding 4.38%. The dollar was gaining on its major foreign competitors.
Abroad, the FTSE in London and the Dax in Frankfurt were trading lower. Japan's Nikkei and Hong Kong's Hang Seng finished in the green.