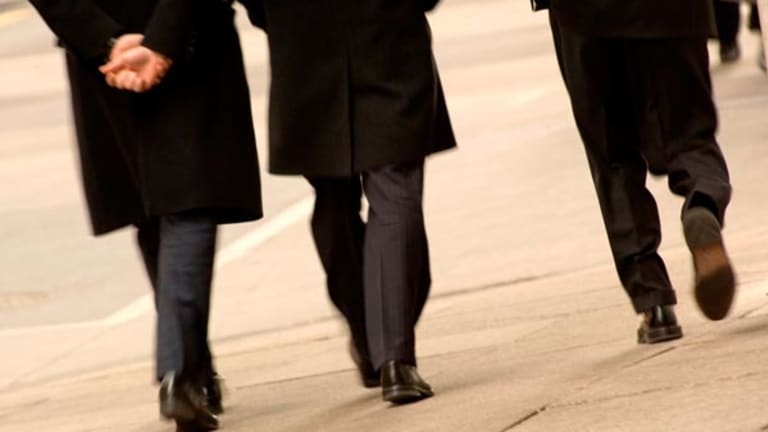 Stocks Hit Records as Fed Gives Clearer Guidance on Rate Hike Timeline
The S&P 500 and the Dow hit new highs on Tuesday after Janet Yellen hinted the central bank is close to dropping its 'patient' phrasing in reference to raising rates.
NEW YORK (TheStreet) -- Wall Street loves an open and transparent Federal Reserve. That was clear on Tuesday as stocks hit new records even as Fed Chair Janet Yellen gave hints a rate hike could come sooner than later. What was more important was a glimpse inside the Fed's current line of thinking.
"The Fed has done a fantastic job of tempering people's expectations and keeping the market under control," said Kevin Guth, managing director and partner at Snowden Lane Partners. "Remember the days of [Former Chair] Greenspan and the vagueness that he would use to talk to the market. Today's Fed is communicating more clearly, they're getting a lot more information out and it's working."
Speaking to the Senate banking committee on Tuesday, Yellen reiterated that dropping the word "patient" would not automatically mean a rate hike would occur over the next two central bank meetings and that an increase in rates would depend on continuing strength in the labor market and confidence that inflation was moving back to a 2% target.
The S&P 500 closed 0.28% higher to a record 2,115, while the Dow Jones Industrial Average jumped 0.51%, or 92 points, to 18,209. The Nasdaq added 0.14% and ended at a 15-year high. 
Also boosting sentiment, Greece's eurozone creditors approved a list of economic reforms, allowing the debt-riddled nation a four-month extension to its bailout package. The deal helps Greece to avoid potential bankruptcy as the country would not have had the means to repay its debts once its bailout expired at the end of February. The Athens Stock Exchange jumped 9.8%.
Shares of the world's largest home improvement chain, Home Depot (HD) , climbed 4% and pushed the Dow to new heights. The company beat profit estimates with a 36% earnings increase to $1.38 billion, or $1.05 a share. The retailer also said it would buy back $18 billion of shares.
U.S. home prices rose more than expected in December, up 4.46% compared to estimates for a 4.3% gain, according to the latest Case-Shiller home price index. New home sales data to be released Wednesday is expected to retain levels at six-month highs given the current environment of lower mortgage rates and strong job growth.
Consumer confidence retreated from an eight-year high in February. The Conference Board said Tuesday a reading of confidence fell to 96.4 from an upwardly revised 103.8 a month earlier.
West Texas Intermediate was down 0.7% to $49.07 barrel. Oil saw a brief rally on Monday after the Financial Times reported the Organization of the Petroleum Exporting Countries could hold an emergency meeting which could lead to a cut in production. The oil cartel isn't scheduled to meet until June.
"Today's rally is being encouraged by complications (in the form of power cuts) at fields in Libya and murmurs, hopes, and denials of a potential emergency OPEC meeting -- although in reality prices are just looking for an excuse to bounce amid the current highly volatile environment," said Matt Smith, commodity analyst at Schneider Electric.
Chipmaker Micron (MU) tumbled 2% after The Korea Times reported Samsung (SSNLF) has sealed deals with Apple (AAPL) and LG to provide memory chips for new phones. Micron has been a major supplier of DRAM for iPhones.
Windstream (WIN) tanked more than 8% after missing top-line estimates for the quarter. The data communications company reported fourth-quarter sales of $1.44 billion, down 3.4% year over year and $10 million below forecasts. Management guides for a drop in service revenue as deep as 4% for the full year.
Shares of casinos with ties to Macau were lower after Barron's reported China is considering putting a cap on the number of mainland visitors, a prominent source of traffic, to avoid overcrowding. Melco Crownundefined , Las Vegas Sands (LVS) , MGM Resorts (MGM) and Wynn Resorts (WYNN) were lower.
Shares of both SunPower (SPWR) and First Solar (FSLR) jumped more than 10% after the companies announced plans for a joint "yieldco" to which they will contribute solar generation assets from their existing portfolio. The joint portfolio would then likely be publicly listed.
Comcast (CMCSA) was 1.7% higher despite narrowly missing forecasts on its bottom line. The cable giant earned 77 cents over its fourth quarter, short by a penny, though revenue surged nearly 5% to $17.73 billion. Macy's (M) fell 3.9% after sales fell short of estimates. The department store retailer reported an increase in revenue of 1.8% to $9.37 billion, $30 million below expectations. Comparable-store sales increased 1.4%.
Toll Brothers (TOL) surged 3.9% after beating profit estimates, reporting a 32% gain in revenue, and boosting guidance. The homebuilder expects 5,200 home deliveries over the year at the low-end of guidance, 200 above previous estimates.
BHP Billiton (BHP) jumped nearly 6% despite a 47% drop in profit over the latter half of 2014. The oil giant reported profit of $4.27 billion over the six months to December, nearly half a year earlier but exceeding analysts' estimates of $3.59 billion.
-- Written by Keris Alison Lahiff in New York.