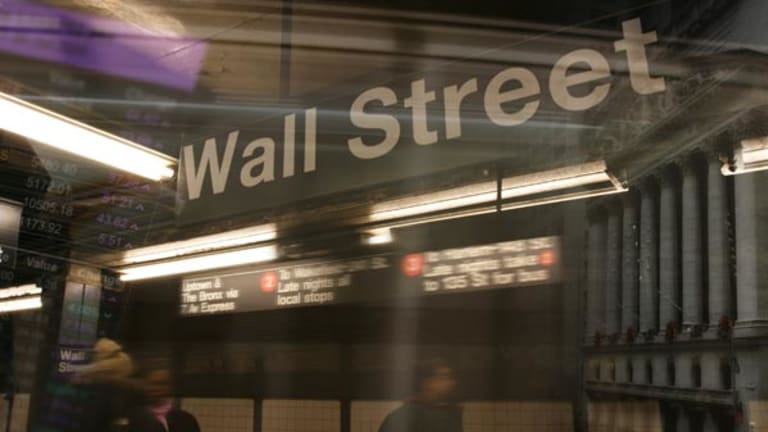 Stocks Hit Midday Sinkhole
All three major indices dive deeper into the red as another oil rally counters bullish developemnts in the financial sector.
Updated from 11:50 a.m. EDT
U.S. stocks entered a tough midday slump Tuesday, as another rally in oil prices countered the effects of bullish analyst calls on the financial sector and stronger-than expected manufacturing data.
The
Dow Jones Industrial Average
was recently down 132 points at 11,218, and the
S&P 500
was off 14 points at 1266. The
Nasdaq
was down 31 points at 2262.
Crude oil continued to weigh on stocks. Recently, oil was up $2.32 to $142.32 a barrel on concern that Israel would bomb Iran over its nuclear program, a move that would cause supply disruptions and potentially stoke a regional conflict in the Middle East. Gold was adding $16.80 to $945.10.
Kenny Landgraf, president and founder of Kenjol Capital Management, said that the run-up in oil and a selloff in overseas markets hurt sentiment. "It's a pretty negative tone coming into the day. You know, 'Why buy stocks?'"
On the corporate front, several financial firms were working to improve or eliminate their exposure to the housing market.
Wachovia
(WB) - Get Report
said it would stop offering its controversial Pick-A-Payment mortgages.
Meanwhile,
CIT Group
(CIT) - Get Report
announced it would be selling its home lending business to Lone Star Funds for $1.5 billion in cash and $4.4 billion in debt. The company said it will also get rid of its manufactured housing portfolio to Vanderbilt Mortgage and Finance. CIT said it was seeking to eliminate uncertainty caused by exposure to the housing market.
In response to its own credit crunch-related woes, Swiss bank
UBS
(UBS) - Get Report
announced
the resignation of four directors and new corporate governance
. The new structure will draw a clearer line between the responsibilities of the board and those of senior management.
Some analysts saw bright spots for the troubled financial sector. UBS upgraded
Capital One
(COF) - Get Report
,
American Express
(AXP) - Get Report
and
Discover Financial
(DFS) - Get Report
to neutral from sell, and Morgan Stanley initiated coverage on
Lehman Brothers
(LEH)
and
Goldman Sachs
(GS) - Get Report
with overweight ratings.
Lehman stood out on Monday by dropping 11% on speculation that the brokerage may have to sell itself at a discount.
Of the raised ratings for the financials, Landgraf said people begin to see value in the sector at these depressed price levels. "Anybody that's trying to go into that area, you're wading into the waters where there's a lot of selling pressure from the hedge funds. ... We continue to avoid
the sector because there's so many bombs there."
He also pointed out that even analysts can't figure out the financial space. "A lot of guys have tried to find the bottom only to get their hands mashed and bloody," he said. He's waiting for an end to the writedowns and signs that institutional money is going into the space before he gets involved, he said.
A cloud of negativity persisted for other names in the space, as
JPMorgan Chase
(JPM) - Get Report
suffered a Fox Pitt downgrade to in line from outperform. Jefferies and Friedman Billings both cut their price targets for
Legg Mason
(LM) - Get Report
.
Elsewhere, Citigroup initiated bullish coverage on the oil services sector, slapping a hold sticker on
Baker Hughes
(BHI)
and
Smith International
(SII)
, and putting a buy rating on
Schlumberger
(SLB) - Get Report
,
National Oilwell Varco
(NOV) - Get Report
and
Halliburton
(HAL) - Get Report
.
JPMorgan analysts offered positive predictions for media plays, assigning overweight status to
Outdoor Channel
(OUTD)
,
Cablevision
(CVC)
and
Comcast
(CMCSA) - Get Report
as well as neutral ratings on
EarthLink
(ELNK)
and
Charter Communications
(CHTR) - Get Report
.
News business
New York Times
(NYT) - Get Report
also caught a Deutsche Bank upgrade to hold from sell. Meanwhile, by-mail DVD rental
Netflix
(NFLX) - Get Report
got bumped to hold from underperform by Needham.
In the retail and health space,
MedcoHealth
(MHS)
,
CVS Caremark
(CVS) - Get Report
and
Express Scripts
(ESRX)
are merging their prescription network with a group of retailers, including
Wal-Mart
(WMT) - Get Report
. Parties to the deal expect the move to accelerate the transfer to electronic prescriptions from paper.
Barring gold companies, the mining sector was taking some knocks as merger activity continued to hum.
ArcelorMittal
(MT) - Get Report
was down 5% after the company acquired
Astralloy Products
, a subsidiary of
IMS International Metal Service
.
Rio Tinto
(RTP)
was down 6% after ramping up during Monday trading.
Dow component
Alcoa
(AA) - Get Report
led the index in its decline, losing 4.9%.
The transportation sector also saw some profit-taking. The Dow Jones Transportation Average lost 3% to 4802.
In technology, telephone company
AT&T
(T) - Get Report
said that, for a $400 fee, it would offer
Apple's
(AAPL) - Get Report
new iPhone
without making customers sign up for AT&T service
.
In the realm of economic data, the June ISM index, which offers nationwide insight into the health of the manufacturing sector, rose to 50.2 from 49.6 in May. Analysts were expecting a reading of 48.6.
"As soon as they came out with that number, all of the indexes kind of jumped back up. That was the main catalyst," Landgraf said. Before the open, it looked like 'Oh no, we're going to get pounded again.'"
The revised number for May construction spending was unchanged at a decline of 0.4%, slightly better than the consensus estimate for a dropoff of 0.6%.
Ford
(F) - Get Report
announced that June auto sales were down an unadjusted 28%, largely due to slumping truck sales. Shares dropped 6% on the news.
Treasury prices were higher. The 10-year note was tacking on 5/32, yielding 3.95%, and the 30-year was up 4/32 to yield 4.52%. The dollar was weaker against the euro, the yen and the pound.
Abroad, markets were taking a hit. All the major European exchanges, including London's FTSE, Frankfurt's Dax and the Paris Cac were down. In Asia, Japan's Nikkei was off slightly, while Hong Kong's Hang Seng was ticking higher.