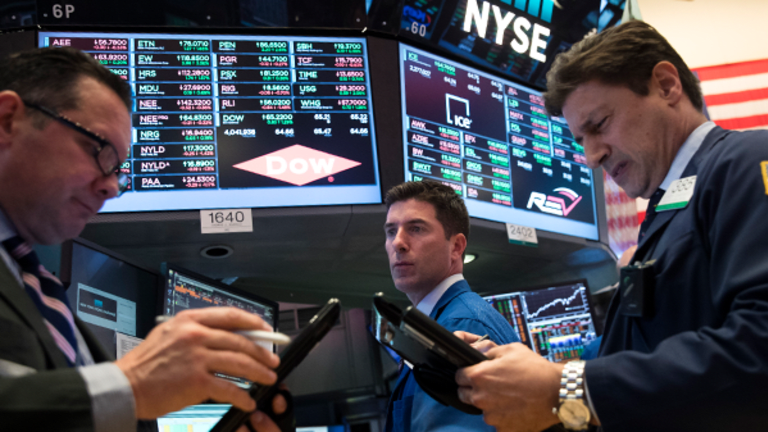 Dow, S&P 500 on Track for Best Day in 6 Months as Irma Worries Ease
The Dow is up more than 250 points.
Stocks rose sharply on Monday, Sept. 11, as Hurricane Irma's preliminary damage wasn't as devastating as some had predicted and North Korea didn't perform any nuclear tests over the weekend.
The Dow Jones Industrial Average was up more than 260 points, or 1.2%, and traded above 22,000 for the first time since Sept. 1. The S&P 500 rose 1.1% and the Nasdaq jumped 1.1%.
The S&P 500 Index and the Dow are both on track for their largest gains in six months, according to data from FactSet. At 2,487.56, the S&P is slightly under its intraday record of 2,490.91 points set last month. The Dow is also less than one percentage point under its all-time high.
Hurricane Irma lost some of its steam over the weekend and was downgraded to a tropical storm early Monday as it moved along the Florida coastline and into the southeastern U.S. The National Hurricane Center said that although Irma is no longer classified as a hurricane, it is still producing wind gusts that are nearing hurricane-force.
Irma's strong gusts and powerful storm surge still caused life-threatening conditions, but maximum sustained wind speeds fell to 65 mph from Irma's peak wind speed of 185 mph late last week. The threshold for a storm to become a hurricane is 74 miles per hour.
Irma is expected to continue to weaken as it moves further inland. The storm will reach the Florida panhandle Monday afternoon and move into Georgia and Alabama Monday night and into Tuesday. The National Hurricane Center said the storm will likely become a tropical depression by Tuesday as continued slow weakening is predicted.
Still, the hurricane swamped much of downtown Miami and toppled at least three constructions cranes -- two over downtown Miami and one in Fort Lauderdale, the Associated Press reported.
The latest reports said close to 7 million homes and businesses in several states lost power, with the majority of outages in Florida, the Associated Press reported. Utility officials said it could take weeks to restore electricity to everyone. About 70% of Miami is without power Monday.
Two tornadoes reportedly touched down in Brevard County, Florida, destroying mobile homes. No injuries have yet been reported as a result of the cyclones.
At least one person was found dead in Orange County, Florida, as a result of a traffic accident during the storm, police said, according to CNN.
AIR Worldwide, a risk modeling software company, projected that Irma will create combined insured losses of $20 billion to $65 billion. Before Irma made landfall, Barclays forecasters predicted damages in line with Hurricane Katrina in 2005, which cost about $50 billion in insured damages.
Enki Research analyst Chuck Watson cut his damage estimates for Irma to about $49 billion. Watson had previously said on Sunday, Sept. 10, that Irma's current cost looked "pretty grim," and estimated as much as $172 billion in total U.S. damage, according to CNN Money.
JPMorgan analysts said Irma won't be the costliest storm in U.S. history as some had feared. It will probably rank in the top five, but Hurricane Katrina is expected to hold on to the title, according to analysts at the bank.
Moody's analysts said damages from Hurricanes Harvey and Irma could fall in between $150 billion and $200 billion. That led Moody's to shave off a half of a point for its third quarter gross domestic product estimates, putting the forecast at 2.5% growth.
More than 12,000 flights across the globe were grounded as a result of Irma. Florida's largest airport, Miami International, sustained "significant water damage" that has suspended flights, according the the airport's CEO.
Irma is also projected to hit Atlanta late Monday and early Tuesday, which could ground thousands of Delta Air Lines Inc. (DAL) flights at the company's hub and the world's busiest airport. American Airlines Group Inc. (AAL) said it plans to resume flights from its Miami hub Tuesday.
New York Federal Reserve President William Dudley said on Friday, Sept. 8, that it's too soon to judge the timing of a Fed rate hike, due in part to the fact that Hurricanes Harvey and Irma might result in a negative impact on the economy in the short term.
Investors were concerned last week that insurers with heavy exposure to Florida would falter as the storm took a toll. But Universal Insurance Holdings Inc. (UVE) stock jumped 13.7% and Travelers Cos. (TRV) rose 2.5% in midday trading on Monday. Federated National Holdings Co. (FNHC) was higher 12.5% and Allstate Corp. (ALL) rose 1.4%.
Exchange-traded funds that track insurance stocks also snagged gains midday Monday. The SPDR S&P Insurance ETF (KIE) gained 2.3% and the iShares U.S. Insurance ETF (IAK) was up 2.1%. The PowerShares KBW Property & Casualty Insurance Portfolio (KBWP) was up 3.3% to mark its largest one-day gain since November of 2011.
At the same time, geopolitical concerns quieted some as North Korea didn't launch any missiles during its Foundation Day celebration Saturday, Sept. 9. The country carried out a nuclear test on the public holiday last year, prompting investors to prepare for similar action this weekend.
Foundation Day celebrated the rogue nation's 69th founding anniversary this year and is one of the most important holidays in North Korea. Celebrations came and went with no test, as Pyongyang instead held gala party for the scientists involved in creating the intercontinental ballistic missiles North Korea has been testing.
As major risk concerns abated some over the weekend, gold prices dropped 1%, or $14.10, to $1,337.10 per pound.
Apple Inc. (AAPL) pushed the Dow higher, with shares were climbing 1.8% in midday trading on Monday amid multiple media reports the tech giant's new anniversary iPhone will carry a $1,000 price tag.
The reports suggested a so-called Anniversary iPhone will be unveiled by Apple on Tuesday, Sept. 12, in Cupertino, California, along with two new iPhone products, an Apple Watch and an upgraded version of Apple TV that is expected to support ultra high definition 4K software.
The new premium iPhone is likely to steal the market's attention, given both the dominance of iPhone revenue to Apple's top line and its reported $999 price tag, which could prove to be a significant test of customer loyalty amid so-called upgrade fatigue and intense challenges from rivals such as Samsung Electronics and HTC.
The new iPhone celebrates the 10th anniversary of the company's best-selling product.
Apple is a holding in Jim Cramer's Action Alerts PLUS Charitable Trust Portfolio. Want to be alerted before Cramer buys or sells AAPL? Learn more now.
Tesla Inc. (TSLA) stock rose 5.3% Monday after the car company extended the battery life of certain models for drivers in Florida so they could evacuate from Hurricane Irma.
Tesla performed an automatic update on Model S/X60/60D vehicles that unlocked the full capacity of the 75kWh battery, according to a report from Electrek. The update allowed for an extra 30 to 40 miles of driving.
Tesla used to offer the option to buy a Model S or Model X with a 75 kWh battery pack software-locked at a capacity of 60 kWh. Customers could then pay between $4,500 and $9,000 to unlock the extra 20%, depending on the model and time of the upgrade.
Tesla confirmed that it had given the extra mileage to drivers in the path of Hurricane Irma until Sept. 16, after a Model S driver contacted the company saying he would need around another 30 miles of range to evacuate in traffic.
About 5.6 million people were ordered to evacuate in Florida as Hurricane Irma barreled down on the state.
Shares of drugmaker AstraZeneca PLC (AZN) rose 1.7% Monday after the company said a study of its key lung cancer treatment showed stronger-than-expected results in patients who had not progressed following chemotherapy.
AstraZeneca's Imfinzi (durvalumab) oncology drug, which treats locally-advanced, unresectable non-small cell lung cancer, improves the progression-free survival rate of patients by more than 11 months. The research was presented to the European Society of Medical Oncology Congress in Madrid.
Generic drugmaker Teva Pharmaceutical Industries Ltd. (TEVA) was also moving higher by 18% midday Monday after the company named Kare Schultz as president and CEO. The announcement ended months of speculation about who would replace former head Erez Vigodman, who left the company in February for undisclosed reasons.
Schultz will replace Yitzhak Peterburg who has been interim CEO since February. Schultz has been president and CEO of H. Lundbeck A/S since 2015, which he joined as the company was facing the loss of critical patents. He also worked as chief operating officer of Novo Nordisk A/S.
The Israel-listed generic pharmaceutical maker on Aug. 3 cut its full-year guidance and slashed its dividend 75% owing to weaker U.S. markets and the ongoing political turmoil in Venezuela. Peterburg at the times said in the earnings release that Teva experienced accelerated price erosion and lower volume in its U.S. generics business due to "customer consolidation, greater competition as a result of an increase in generic drug approvals by the U.S. Food and Drug Administration, and some new product launches that were either delayed or subjected to more competition."
Shares of Achillion Pharmaceuticals Inc. (ACHN) tanked nearly 22% Monday after Johnson & Johnson's (JNJ) Janssen Pharmaceuticals Inc. terminated its license and collaboration pact with the New Haven, Conn.-based firm on a hepatitis C project.
Janssen Sciences Ireland UC announced Monday it has decided not to continue development of investigational hepatitis C treatment regimen JNJ-4178, pointing to the "increasing availability of a number of highly effective therapies addressing the medical need in hepatitis C." Shares of Johnson & Johnson were trading up 1.5%.
Achillion President and CEO Milind Deshpande expressed disappointment with Janssen's decision to discontinue hepatitis C development "given the positive data presented in phase 2a with JNJ-41781, demonstrating a 100% cure rate after only six weeks of therapy."
No economic data is scheduled to be released on Monday.
Updated from 12:56 P.M. ET.
Jim Cramer Reveals What Stocks to Watch Following Hurricane Irma:
More of What's Trending on TheStreet: