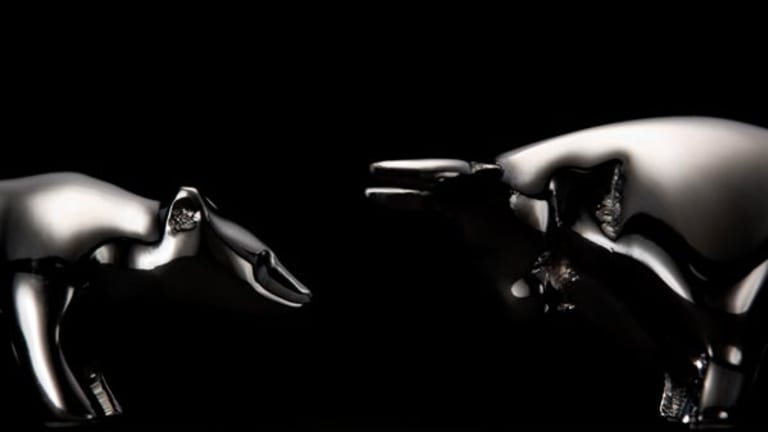 Stocks Higher as Market Looks to Extend Gains
Tuesday's rally was trying to carry over into Wednesday, as the market shot higher out of the gate.
Tuesday's rally was trying to carry over into Wednesday, as the market shot higher out of the gate.
Stocks in New York were modestly higher after searching for direction out of the gate Wednesday, losing some of the oomph of Tuesday's rally.
The
Dow Jones Industrial Average
was rising 23 points to 6949, and the
S&P 500
higher by 3 points to 723. The
Nasdaq
was rising 5 points to 1364.
Investors are watching to see if stocks can lock in back-to-back days of gains, which hasn't happened for roughly a month. Stocks rallied on Tuesday after
Citigroup
(C) - Get Report
chief Vikram Pandit
to investors and the market, saying the bank has had a profitable start to 2009.
The Dow and S&P 500 rose 5.8% and 6.4%, respectively, and the Nasdaq surged 7.1%. Banks in particular shot higher, with the KBW banking index rising 15.6%.
While Tuesday's movement was "a breath of fresh air," it's too early to say this is a bottom, said Peter Cardillo, chief market economist at Avalon Partners.
In banking news Wednesday,
UBS
(UBS) - Get Report
for 2008, widening it to $17.9 billion because of costs to settle a U.S. tax investigation and writedowns. The Swiss bank said in its annual report on Wednesday that the costs negatively impacted its 2008 earnings by 1.19 billion francs.
Wall Street is still keeping an ear out for more details on the Obama Administration's next-step bank relief plan. Treasury Secretary Timothy Geithner said Tuesday that the plan to deal with toxic assets that have been plaguing banks' balance sheets will be fleshed out more in the next few weeks.
It's no secret that many companies, not just banks, are struggling to weather the economic storm. Offering its take on who might be on the brink, Moody's Investment Services published
a list of speculative-grade companies
with the greatest risk of defaulting --
The Bottom Rung
.
In addition to funding all of the bailouts, the government also has to allocate funds for itself. Late Tuesday Congress cleared a $410 billion measure, originally meant to be completed last year, to
fund government
. The mega bill includes significant increases in food aid for the poor, energy research and other programs, and wraps together nine spending bills to fund foreign aid and the annual operating budgets of every Cabinet department except for Defense, Homeland Security and Veterans Affairs, according to an
AP
report.
President Obama is expected to sign the measure, which has be denounced by Republicans as reckless spending, on Wednesday.
The recession hasn't stopped innovation. Apple introduced its "iPod shuffle" early Wednesday.
is half of the size of the previous model and has a feature to speak song titles, artists and playlist names.
In commodities, oil lost $1.21 to $44.50 a barrel, and gold added $4.30 to $900.20 an ounce.
Longer-dated Treasuries were falling. The 10-year note was losing 1-06/32 to yield 3%, and the 30-year was giving up 2-27/32, yielding 3.7%. The dollar was recently weaker against the euro, pound, and yen.
Stocks overseas were largely higher. The FTSE in London was down 0.2%, while the DAX in Frankfurt was rising 1.6%, respectively. In Asia, Hong Kong's Hang Seng and Japan's Nikkei ended higher by 4.6% and 2%, respectively.