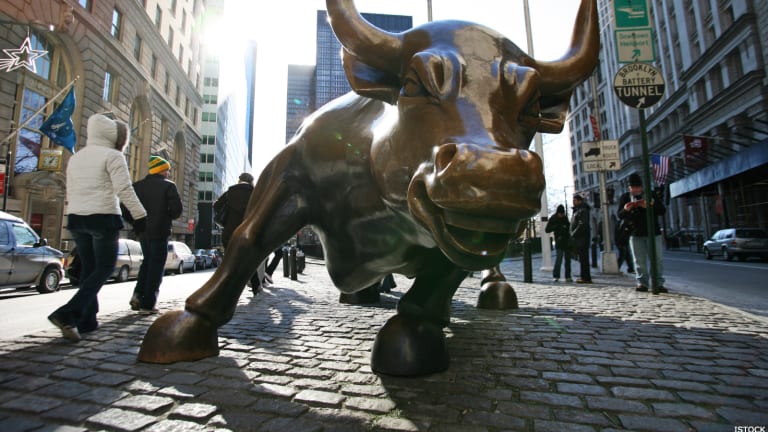 'Stocks Held Up Well Today,' CNBC's Bob Pisani Says
CNBC's Bob Pisani joined this afternoon's 'Closing Bell' to break down Monday's market drivers.
NEW YORK (TheStreet) --CNBC's Bob Pisani joined CNBC anchor Wilfred Frost from the floor of the New York Stock Exchange to break down Monday's market drivers on "Closing Bell."
Pisani referenced normalized trends and behaviors investors have come to expect, that today acted the opposite, namely within oil and financial stocks.
WTI crude closed lower on Monday, however oil stocks closed higher.
"Normally on a day when oil is down, oil stocks will typically be under some type of pressure. They really haven't been except for early in the day, so all of your big names, your Exxon Mobil (XOM), are on the upside, stocks that are very sensitive to the price of oil like Denbury Resources (DNR), or Newfield Exploration (NFX), are all on the upside," Pisani explained.
He then pointed to the other anomaly impacting the markets in relation to the financial sector.
"Normally on a day when you 10-year yield, when you have the whole yield complex to the downside, and treasuries to the downside banks normally don't be very well. Yet, not only are banks doing well, but even, for example, insurance companies are doing well today," Pisani noted.
Pisani concluded by observing that people were aggressively buying stocks today. He attributed that to investors concluding the economy is in good shape, risks don't seem to be as daunting, and a renewed sense of investor confidence in the economy's ability to absorb a rate hike.
"Stocks are held up really well today," Pisani concluded.
The Dow, NASDAQ, and S&P 500 all closed higher on Monday.