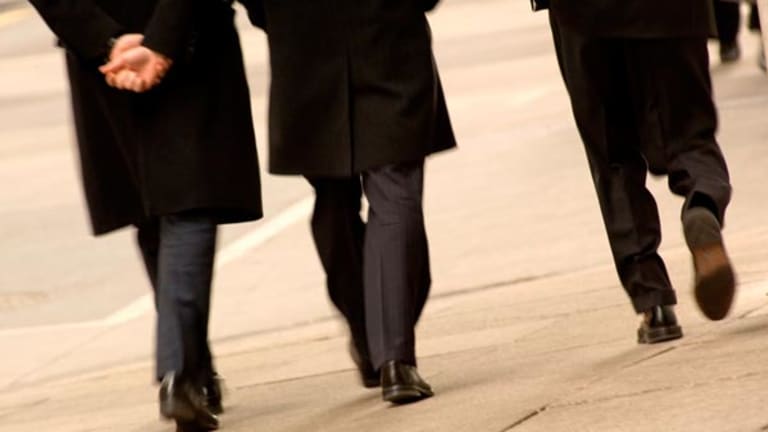 Stocks Hang on for Higher Close
Investors get a handful of economic reports, along with earnings from Target.
Updated from 3:08 p.m. EDT
Stocks closed higher Thursday, as some encouraging economic news and another rise in long-term interest rates competed for investors' attention througout the session.
Preliminary closing numbers showed the
Dow Jones Industrial Average
with a gain of 36 points, or 0.4%, at 9308, while the
S&P 500
added 6 points, or 0.6%, at 990. The
Nasdaq
rose 13 points, or 0.8%, to 1699.
Treasuries declined once again Thursday, sending the yield on the 10-year note up to 4.6% after several economic reports showed that the economy might be on the mend.
"I think the market's certainly looking for direction," said Louis Parks, senior managing director at Raymond James.
Parks said investors are nervous about the recent backup in interest rates, which will make it more difficult for firms to raise cash. "But overall I think people are fairly confident" about the economy, he said.
Sean Martin, head trader at A. Gary Shilling & Co. said the fact that stocks have held up so well in the face of higher bond yields is a "major accomplishment."
Weekly jobless claims rose to 398,000 in the week ended Aug. 6, from a revised 396,000 in the prior week. Although economists had expected 393,000 claims, the number of filings remained below the critical 400,000 mark for the fourth consecutive week.
A bigger than expected rise in core producer prices was also greeted warmly by some investors. Rising inflation allows companies to raise their prices, which can help fuel profits. The core PPI, which excludes food and energy, rose 0.2%, above estimates for a 0.1% rise and the biggest increase since a 0.7% rise in March. The overall PPI rose 0.1% in July, in line with estimates, but below the previous 0.5% increase.
Meanwhile, June trade balance figures unexpectedly fell to $39.5 billion from a revised $41.5 billion, while the market expected $42 billion.
Despite the good data recently, CS First Boston cut its weighting on the technology sector to market weight from overweight, saying the big jump in long-term interest rates would hurt the group. "Our core investment strategy since late last year has centered on an expectation that tech stocks would lead the market," said CS First Boston's Paddy Jilek. But we are obliged to reassess this outlook in light of higher discount rates and greater optimism imbedded in market expectations."
Analyst downgrades on a couple of Dow components was also adding some pressure. Wachovia analyst Jeffrey Omohundro cut his rating on
McDonald's
(MCD)
to market perform from outperform, saying the stock is "near-fully valued" at about 16 times his 2004 earnings estimate. Shares fell 1.3%, or 30 cents, at $22.87.
Smith Barney analyst Jeffrey Sprague lowered his rating on
3M
(MMM)
to in-line from outperform, saying the stock will likely be "constrained by the current valuation." Shares fell 1.7%, or $2.5, to $142.02.
What is probably the day's most anticipated earnings report comes after the closing bell, when PC maker
Dell
(DELL)
releases its results. Dell is expected to post an increase in earnings to 24 cents a share. The company had a profit of 19 cents a year earlier. Dell was down 0.4%, or 14 cents, at $31.22.
Among stocks to watch,
Brocade
(BRCD)
said Wednesday that fiscal third-quarter revenue fell almost 12% and profits dropped more than 85% on a per-share basis. The storage-platform vendor also offered conservative sales guidance for the fourth quarter. Shares of Brocade were up 13 cents, or 2.3%, at $5.64.
ImClone
(IMCL)
said it has submitted its cancer drug Erbitux for FDA approval. In late 2001, the FDA refused to review Imclone's original marketing application, citing poor trial data. The firm's chief executive Sam Waksal is now in prison for trading on this information before it was released to the public. Shares rose 2.5%, or 98 cents, to $40.72.
The retail sector was in focus again. Results from
Target
(TGT)
showed that the company had improved second-quarter earnings, but the results missed Wall Street's consensus estimate by a penny.
Kohl's
(KSS)
will report after the close. Target fell 4%, or $1.75, to $38.20. Kohl's shed 1%, or 71 cents, at $60.79.
Clothing retailer
Urban Outfitters
(URBN)
was down $1.65, or 3.5%, at $44.79 even though the company reported higher quarterly profits on strong sales.
In analyst actions, SoundView upgraded
Texas Instruments
(TXN)
to outperform from neutral on expectations of a firm recovery of the semiconductor sector and the belief that the company is the area's best proxy. SoundView also raised the stock's price target to $24 from $18. Shares were up 53 cents, or 2.7%, at $19.85.
UBS analysts made negative comments on
Ford
(F)
, saying the automaker will probably miss 2004 earnings forecasts because of competitive pricing. They also reiterated a reduce rating on the stock. Shares slid 1%, or 13 cents, to $10.68.
General Electric
(GE)
said it won a contract worth $600 million from China Airlines, Taiwan's largest carrier, according to media reports. Shares rose 42 cents, or 1.5%, at $28.44.
R.J. Reynolds
undefined
has refused to turn over documents requested by securities regulators as part of an investigation of the company's expense accounting,
The Wall Street Journal
reported. RJR was down 1.5%, or 49 cents, at $31.70.
Among the other government data released Thursday were the minutes of the June Federal Open Market Committee meeting. The minutes showed most members of the committee favored a quarter-point rate cut, saying a larger cut might be seen as a sign that the easing cycle is almost over. One member favored no rate cut but didn't oppose the reduction in rates to 1% from 1.25%. The FOMC also talked of nontraditional moves but said the probability of such actions was low over the near term.
Overseas markets were higher. London's FTSE 100 was up 1.4% at 4237, and Germany's Xetra DAX was gaining 1.6% to 3452. In Asia, Japan's Nikkei closed 1.7% higher at 9913, while Hong Kong's Hang Seng rose 0.7% to 10,374.
Crude oil prices for future delivery rose in New York. The dollar was stronger against the yen and the euro.
On Wednesday the Dow ended down 38 points, or 0.4%, at 9271, while the S&P 500 fell 6 points, or 0.6%, to 984. The Nasdaq lost less than a point to 1686.