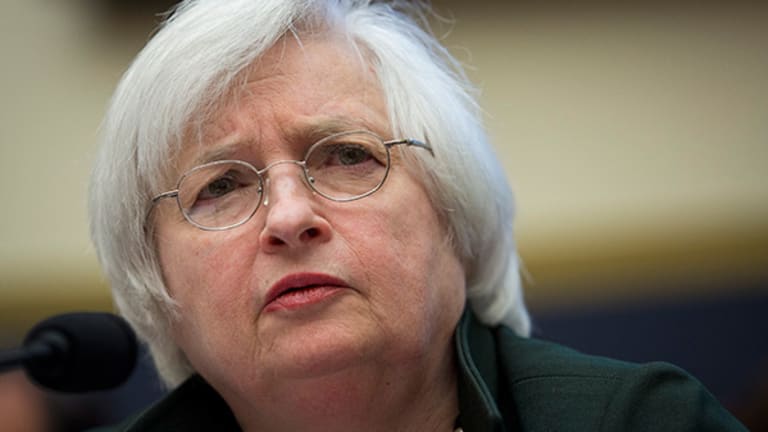 Stocks Choppy Ahead of Fed; Apple Beats, Twitter Slumps
Markets remained on edge Tuesday as investors wondered whether the Federal Reserve is still intent on raising interest rates this year.
Markets remained on edge Tuesday as investors wondered whether the Federal Reserve is still intent on raising interest rates this year.
The central bank, which ends a two-day meeting on Wednesday, is expected to keep rates unchanged for now but may signal whether a December rate hike is still a possibility.
Uncertainty about the Fed's intentions has kept trading choppy this week. The S&P 500 closed down 0.26%, the Dow Jones Industrial Average fell 0.23%, and the Nasdaq slid 0.09%.
In after-market earnings news, Apple (AAPL) - Get Apple Inc. Report climbed nearly 1% after iPhone sales in China boosted overall quarterly revenue. The tech giant earned $1.96 a share in its recent quarter, above estimates of $1.88. Revenue jumped 22% to $51.5 billion and beat forecasts. The company sold 48.04 million iPhones over the quarter, only two days of which included sales of the new iPhone 6S and 6S Plus.
Twitter (TWTR) - Get Twitter Inc. Report slumped more than 11% after releasing a disappointing sales outlook. The social network expects fourth-quarter revenue in the range of $695 million to $710 million. Analysts had expected an average $741 million. Twitter bested third-quarter estimates on the top- and bottom-line.
Stocks will remain focused on the Fed on Wednesday.
The Fed "has boxed itself into a serious situation that may not only cost it its credibility, but also may create a serious dilemma for the markets in the future," said Peter Cardillo, chief market economist at Rockwell Global Capital in a note.
The central bank opted to leave rates unchanged at its September meeting, making the question of 'when' even more ambiguous. Since then, economic data has weakened considerably and the Fed pounds its commitment to data-dependence even as it continues to suggest a rate hike before the end of the year is more than likely. 
Tuesday's data did little to encourage investors that the U.S. economy was on better footing or that it could improve significantly before year's end. Consumer confidence weakened in October to a three-month low as U.S. shoppers grew less optimistic over the current state of the economy. The labor market took the biggest hit as consumers described jobs as less plentiful than a month earlier.
Durable goods orders in September fell for their second straight month as the stronger U.S. dollar, weaker global economy and suffering energy sector reduced demand for capital goods. The reading was the last piece of data to be digested before the first third-quarter growth estimate is released on Thursday. Economists expect third-quarter GDP to drop to 1.6% after a final second-quarter reading of 3.9%.
"We anticipate the Fed is not likely to raise rates this year in spite of a more hawkish communiqué that may emerge at this week's FOMC gathering," added Cardillo. "In other words, the Fed may sound the alarms without acting."
Deals news in the afternoon session kept trading interesting on Tuesday. Rite Aid (RAD) - Get Rite Aid Corporation Report rocketed more than 30% higher on Wall Street Journal reports WalgreensBoots Alliance (WBA) - Get Walgreens Boots Alliance Inc. Report is considering an acquisition. Any deal between the two would combine two of the largest U.S. drugstore chains.
Starwood Hotels (HOT) jumped on reports at least three Chinese companies are exploring a potential bid, according to Dow Jones. Any deal could be the largest Chinese purchase of a U.S. company. 
IBM (IBM) - Get International Business Machines Corporation Report fell more than 3% on news the Securities Exchange Commission was conducting an investigation into revenue recognition in some of its transactions in the U.S., U.K. and Ireland. The hardware giant said it will fully cooperate with the agency's investigation.
Crude oil prices extended losses on Tuesday after closing at their lowest level since late August a day earlier. Worse-than-expected data including a drop in consumer confidence and weak durable goods added to already-present fears over global oversupply and soft demand. West Texas Intermediate crude was down 2.7% to $42.79 a barrel.
Energy stocks were the worst performers on markets. Exxon Mobil (XOM) - Get Exxon Mobil Corporation Report , Chevron (CVX) - Get Chevron Corporation Report , ConocoPhillips (COP) - Get ConocoPhillips Report , Royal Dutch Shell (RDS.A) , Total (TOT) - Get Total SA Report , and PetroChina (PTR) - Get PetroChina Company Limited Report moved lower, while the Energy Select Sector SPDR ETF (XLE) - Get Energy Select Sector SPDR Fund Report fell 1.6%.